November 19, 2019
In This Issue:
At the AMA, CAP Advocates to Reinstate Autopsy Standard, Pushes Back on Step Therapy Protocols
The CAP led a delegation of pathologists at the 2019 American Medical Association (AMA) interim meeting from November 16-19 in San Diego, Calif. As the leading voice for pathologists in the AMA House of Delegates, the CAP strongly advocated for policy to reinstate autopsy standards at hospitals, ensure proper availability and communication of medical test results, and advance prior authorization policies that protect high-quality patient care.
Reinstating Autopsy Standards at Hospitals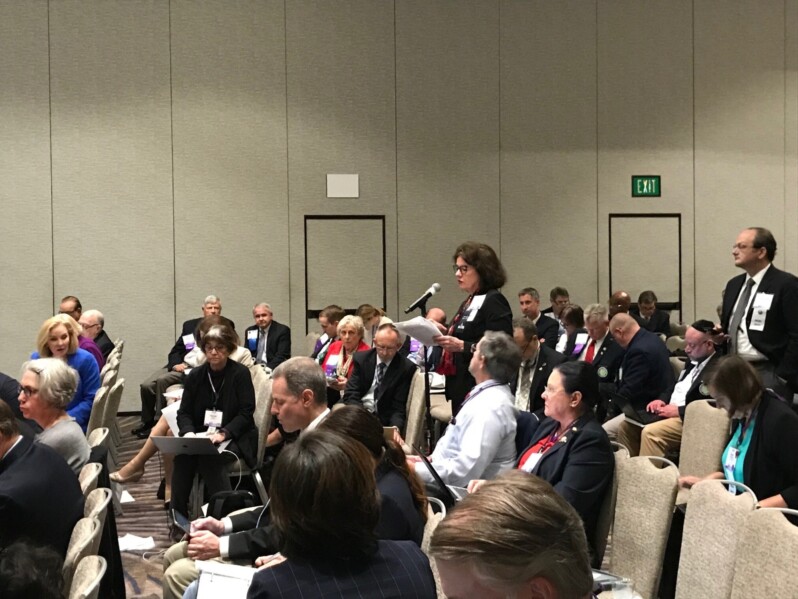 The CAP and the AMA strongly opposed the Centers for Medicare & Medicaid Services' (CMS) decision to remove the autopsy standards for hospitals. Previously, as a condition for Medicare reimbursement, hospitals were required to have an autopsy program. With this regulation change, hospitals are no longer required to have autopsy programs to qualify for Medicare reimbursement. The CAP and members of the Pathology Section Council called on the AMA to strongly oppose the CMS's decision as the removal of the autopsy standard will contribute to the further decline in the national autopsy rate, and the quality of patient care.
Prior Authorization
The CAP expressed concern that utilization programs, prior authorization protocols, and other volume control methods that dictate or limit health care provider decision-making may impinge on the practice of medicine. Moreover, these programs could improperly encumber and curtail medically necessary clinical laboratory and pathology services. CAP delegates supported existing AMA policy on prior authorization. However, the delegation also urged the AMA to push back on step therapy protocols imposed by health care plans. Delegates sought to further protect patients and allow timely clinician-initiated exceptions to, and place reasonable limits on, the step therapy protocols.
Medical Test Results
The CAP also discussed the importance of creating guardrails around the "immediate" availability of laboratory, pathology, and radiology results. The CMS is looking to require physicians to make patient health information available immediately through an application program interface no later than one day after it is available to the clinicians in the certified electronic health record technology (CEHRT). There are concerns about how this would work administratively as well as concerns relating to the immediate availability of medical test results because patients would have access to pathology reports prior to a consultation with their physician to aid in the understanding of the results. The AMA delegates also discussed the communication of abnormal test results and urged for additional study of the issue.
The CAP is a part of the AMA House of Delegates and encourages members to renew their AMA membership and work together to help shape a health care system that best utilizes pathologists to deliver high-quality care and meets the evolving demands of patient care. The CAP and AMA work together on many of the health and medical policies that affect the way you practice and your reimbursements. Join or renew your AMA membership today.
CAP President Dr. Godbey Honored on House Floor and in the Congressional Record
From the floor of the House of Representatives, Rep. Buddy Carter (R-GA) congratulated CAP President Patrick Godbey, MD, FCAP during a speech commemorating his election as president and recent inauguration.
"The college's 36th president, Dr. Godbey has been active with the organization for the last 25 years, serving on numerous committees and councils," Rep. Carter said. "His election is an extraordinary honor, with the College of American Pathologists being the world's largest association of board-certified pathologists. As president, Dr. Godbey will be tasked with continuing their commitment to creating accountable, high-quality, and cost-effective patient care. I know that he is up to the task."
Read a PDF of Rep. Carter's speech.
Dr. Godbey was sworn in as president of the CAP during our annual meeting in Orlando, Fla. He was elected by CAP Fellows as president-elect in the fall of 2017, during which time he had served on the Board of Governors and assumed various leadership duties, including chair of the Council on Government and Professional Affairs. Rep. Carter read the congratulatory declaration from the House floor on October 18 and later mailed a signed copy of the Congressional Record entry to Dr. Godbey.
2019 Practice Characteristics Survey: Download the Latest Trends for Pathology Practices
The CAP released the anticipated 2019 Practice Characteristics Survey Report. Data from the survey provided empirical support for setting advocacy priorities and for informing lawmakers and regulators of the important issues facing pathologists today. Since 1994, this survey is a primary source of data on board-certified pathologists, their practice settings, and compensation trends.
The 2019 Practice Characteristics Survey was sent to almost 14,000 board-certified pathologists, including members and CAP non-members.
Key Findings from 2019
Respondent Demographics. More than half of the respondents were between 40 and 59 years old, and nearly two-thirds were between 40 and 64 years old. Female respondents accounted for 48% of all respondents, and about 60% of respondents under age 50.
Services Provided by Pathologists. On average, respondents spend 67% of a typical work week providing services for individual patients, 17% providing services for patient populations, and 16% on other professional responsibilities. These percentages vary by practice setting.
Data Management Activities by Pathologists. About one-third of respondents regularly engage in data management activities, such as resolving issues related to laboratory information systems or electronic health (medical) records.
Practice Settings. The share of respondents who worked in practices of five or fewer full-time equivalent pathologists fell from 39.5% in 2017 to 33.5% in 2019.
Because the survey was designed to capture trends in economic practice arrangements of pathologists, this survey was not sent to junior members still in residency, to CAP members who identified as being in fellowship training, or to pathologists who are retired and/or who are living outside the US. The last Practice Characteristics Survey came out in 2017.
Check out the 2019 Practice Characteristics Survey and the executive report.
CAP Members Press Lawmakers on Solution to Surprise Medical Bills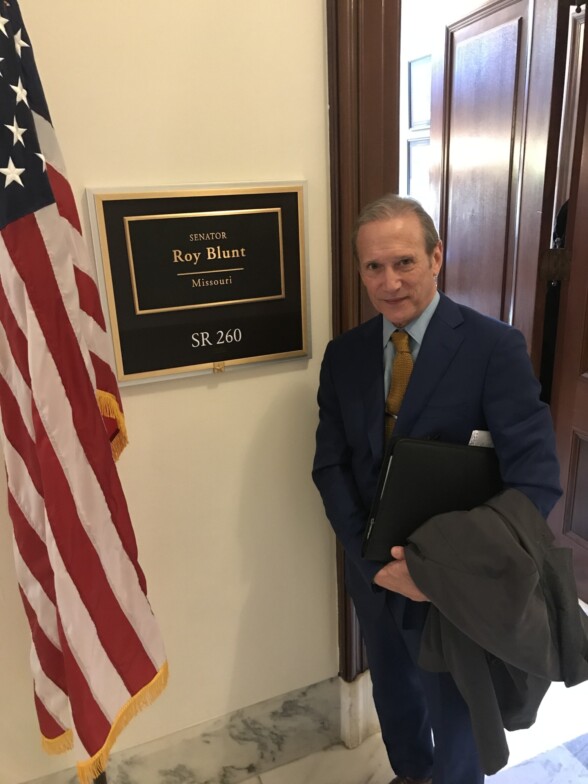 To protect patients from surprise medical bills, Missouri Pathology Society President and CAP member Joseph Lombardo, MD, FCAP, met with Sen. Roy Blunt (R-MO) congressional staff and urged them to support legislation to address surprise medical bills. On November 13, Dr. Lombardo asked Sen. Blunt's staff to back a fair payment formula and arbitration process when physicians' services are unexpectedly provided out of network to patients.
Dr. Lombardo discussed how legislation should include provisions for a fair payment formula and alternative dispute resolution between physicians and insurers while removing patients from disagreements on payment. Dr. Lombardo was not only advocating on the issue on behalf of the CAP, but also as a representative for all hospital-based physicians. The CAP is the only pathologist organization standing shoulder-to-shoulder with other physician associations that are lobbying to address surprise medical bills. The hospital-based physician coalition called Out of the Middle, advocates on behalf of patients to take them out of the middle of billing disputes between providers and insurers. Members of the coalition include the CAP, American Academy of Ophthalmology, American Association of Neurological Surgeons and Congress of Neurological Surgeons, American Association of Orthopedic Surgeons, American College of Emergency Physicians, American College of Radiology, American Society of Anesthesiologists, and National Association of Spine Specialists.
In addition, the CAP has asked Congress to require network adequacy standards for health insurers as part of the holistic solution to address the problem of surprise billing. The root cause of a surprise medical bill is a health insurance plan with an insufficient provider network.
Speak Out on Surprise Medical Bills
The CAP has urged all pathologists to contact their representatives and ask them to cosponsor the Protecting People from Surprise Bills Act, HR 3502, which was introduced by Reps. Raul Ruiz, MD (D-CA) and Phil Roe, MD (R-TN). CAP members can easily communicate with Congress on this important issue through our grassroots action network, PathNET, which is available for you to contact your federal legislators.
Test Your Advocacy Knowledge with the November News Quiz
Join over 50 of your fellow CAP members who have already taken the November Advocacy News Quiz. See how you compare to your fellow CAP members by sharing your results on social media.