Clinical Summary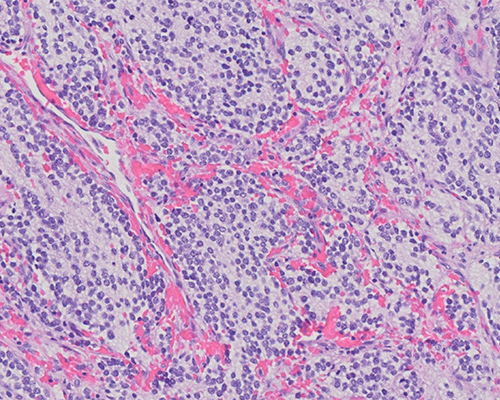 A 12-month-old boy presents with an enlarged abdomen during a routine well child checkup. An abdominal ultrasound scan reveals a 6 cm left adrenal/paraspinal mass. Exploratory laparotomy with adrenalectomy is performed, showing a 6 cm single, well-circumscribed, lobulated mass with a tan-white, soft cut surface. The tumor shows the following immunohistochemical profile: positive for neuron specific enolase (NSE) and synaptophysin; negative for CD45, CD20, desmin, CD99, and WT1.
Master List of Diagnoses
B-lymphoblastic lymphoma
Blastemal Wilms tumor
Desmoplastic small round cell tumor
Ewing sarcoma
Neuroblastoma
Rhabdomyosarcoma
View slide image with DigitalScope
Archive Case and Diagnosis
This case first appeared as Performance Improvement Program in Surgical Pathology (PIP) 2020, Case 35, and is a neuroblastoma in the adrenal gland. The information provided in this case was accurate and correct at the time of publication in 2020. Any changes in terminology since the time of publication may not be reflected in this case.
Criteria for Diagnosis and Comments
Based on the morphology and immunophenotype, this is a neuroblastoma (NB), poorly differentiated (Schwannian stroma-poor). Characteristic morphologic features identified in histologic sections include small round blue cells with minimal cytoplasm; hyperchromatic nuclei with coarsely granular chromatin; and indistinct nucleoli, nested architecture, thin fibrovascular septae, and neuropil (fibrillar material). Ganglion cell differentiation is minimal (less than 5%). Mitoses and karyorrhectic cells are rare and account for fewer than 2% of the lesional cells. There is no Schwannian stroma.
Neuroblastic tumors (NT) frequently occur in the adrenal gland and abdomen; however, other sites include the head and neck, mediastinum, pelvis and, rarely, the central nervous system. NT are the second most common childhood solid neoplasm. Ninety percent of cases are diagnosed in children under the age of 5 with an average age at presentation of 19 months. Most cases are sporadic; however, a small percentage of cases are familial or occur in association with a syndrome.
NT are a diverse group of tumors ranging from those that spontaneously regress to highly aggressive tumors with a propensity for metastasis. NT are classified based on the degree of neuroblastic differentiation and the amount of Schwannian stroma into 4 main categories according to the International Neuroblastoma Pathology Committee (INPC) (see Table 1). Ganglionic differentiation is seen in cells undergoing differentiation into ganglion cells and is described as enlargement of the nucleus and cell body such that the diameter of the cell is twice that of the nucleus, with prominent nucleoli and eccentric location of the nucleus. Schwannian stroma is characterized as dense pink stroma.
Table 1. Classification of NT
Neuroblastoma (Schwannian stroma-poor NT)

Undifferentiated

No ganglionic differentiation or neuropil

Poorly differentiated

<5% ganglionic differentiation, neuropil present, minimal Schwannian stroma (<50%)

Differentiating

>5% ganglionic differentiation, abundant neuropil, <50% Schwannian stroma

Ganglioneuroblastoma, nodular (Composite Schwannian stroma-rich/stroma-dominant and stroma-poor NT)

One or more well-defined nodules of neuroblastoma in background of ganglioneuroma or ganglioneuroblastoma

Ganglioneuroblastoma, intermixed (Schwannian stroma-rich NT)

Nests of neuroblasts and neuropil, >50% Schwannian stroma

Ganglioneuroma (Schwannian stroma-dominant NT)

Maturing

Neuroblasts merge into differentiating ganglion cells without nesting of neuroblasts

Mature

Mature ganglion cells and Schwannian stroma
PHOX2B is a nuclear stain that is considered the most specific for NB. NB also express neuronal markers such as neuron-specific enolase (NSE), NB84, CD56, CD57, and neuroendocrine markers (INSM1, chromogranin, synaptophysin). S100 may be positive in the Schwannian stroma. NB84 may also be positive in morphologic mimics: Ewing sarcoma, desmoplastic small round cell tumors, and rare rhabdomyosarcomas.
Favorable and unfavorable histology is assigned on the basis of the INPC classification, the mitosis and karyorrhexis index (MKI), and the age (Table 2). The MKI is derived from the percentage of cells undergoing mitosis and karyorrhexis per 5,000 cells. The MKI can be low (fewer than 100 cells, less than 2%), intermediate (100 - 200 cells, 2% - 4%), or high (greater than 200 cells, greater than 4%). Ganglioneuroblastoma intermixed and ganglioneuroma have favorable histology. Ganglioneuroblastoma, nodular type, is classified as favorable or unfavorable histology based on the histologic features of the nodule.
Table 2. Favorable (+) and unfavorable (-) histologic groups of neuroblastoma
Grade

MKI

Age (years)

<1.5

1.5 - 5

>/=5

Undifferentiated

Low

-

-

-

Intermediate

-

-

-

High

-

-

-

Poorly differentiated

Low

+

-

-

Intermediate

+

-

-

High

-

-

-

Differentiating

Low

+

+

-

Intermediate

+

-

-

High

-

-

-
There are two clinical staging systems: International Neuroblastoma Staging System (INSS) and the International Neuroblastoma Risk Group Staging System (INRGSS). In INSS, localized tumors are stage 1, 2A, and 2B. Stage 3 tumors are unresectable, with tumor infiltrating across the midline or contralateral lymph node involvement, and tumors that have metastasized are stage 4. Stage 4S is a special category for tumors that have only metastasized to skin, liver, and/or bone marrow in children less than 1 year old. INSS stage 1, 2, and 4S indicate a favorable prognosis, whereas stages 3 and 4 are associated with intermediate- to high-risk tumors. Staging is incorporated with prognostic parameters such as histology, age at diagnosis, MYCN status, and DNA ploidy to determine risk stratification. Unfavorable prognostic factors are older age at presentation (>12 - 18 months), unfavorable histology, MYC-N amplification, and near-diploid DNA content in patients <18 months with metastatic disease.
Molecular features of NB include MYCN gene amplification, loss of heterozygosity (LOH) of chromosome 1p, and gain of chromosome 17q. MYCN amplification is seen in 20% - 25% of neuroblastomas and is associated with a poor prognosis. Deletion of chromosome 1p and gain of chromosome 17q are also poor prognostic features. Hyperdiploid tumors are more often seen in infants; these tumors respond better to chemotherapy, and this is considered a favorable prognostic category.
The differential diagnosis includes other small round blue cell tumors that occur in a similar age group: desmoplastic small round cell tumor, lymphoblastic lymphoma, Ewing sarcoma, rhabdomyosarcoma, and blastemal Wilms' tumor. The presence of neuropil, pseudorosettes, and ganglion cell differentiation help make the diagnosis of a NT; however, in the absence of these features, immunohistochemistry is frequently necessary to make the diagnosis (see table 3).
B-lymphoblastic lymphoma may resemble NB, but expression of CD45, CD20 (or CD19), and terminal deoxynucleotidyl transferase (TdT) is helpful in making the diagnosis of lymphoma. CD45 may be negative in some cases of B-lymphoblastic lymphoma.
Blastemal Wilms tumor may be distinguished from NB based on positivity for WT1.
Desmoplastic small round cell tumor (DSRCT) is positive for cytokeratin, vimentin, and desmin.
Ewing sarcoma has a strikingly similar morphology to NB but lacks the neuropil background seen in some NB. CD99 and NKX2.2 are positive in Ewing sarcoma and usually negative in NB, and PHOX2B is negative in Ewing sarcoma and positive in NB. The t(11;22)(q24;q12) EWSR1-FLI1 gene fusion is found in approximately 85% of cases of Ewing sarcoma.
Rhabdomyosarcoma may show strap cells, which may be useful in making the diagnosis; however, some NB may show similar morphologic features. Positivity for desmin, myogenin, and MyoD1 are helpful in confirming a diagnosis of rhabdomyosarcoma.
Table 3. Immunohistochemical profiles of small round blue cell tumors
| | | | | | | |
| --- | --- | --- | --- | --- | --- | --- |
| Immunostain | NT | Ewing | RMS | Blastemal Wilms | DSRCT | B-lymphoblastic lymphoma |
| NB84 | ++ | + | +\- | +\- | + | - |
| NKX2.2 | -/+ | ++ | - | - | -/+ | - |
| NSE | ++ | + | + | - | ++ | +\- |
| PHOX2B | ++ | - | - | - | - | - |
| Synaptophysin | ++ | + | - | - | + | - |
| Chromogranin | ++ | - | - | - | +/- | - |
| CD57 | +/- | + | + | - | + | +/- |
| CD99 | - | ++ | + | + | + | +/- |
| Desmin | - | - | ++ | + | ++ | - |
| Myogenin | - | - | ++ | +/- | - | - |
| CD45 | - | - | - | - | - | ++ |
| WT1 | +/- | - | + | + | ++ | - |
- to ++ denotes relative quantity of cases positive; +/- indicates variably positive
Supplementary Questions
Which of the following indicates favorable prognosis in a neuroblastic tumor?



Age greater than 18 months
Ganglioneuroblastoma, nodular type
INSS Stage 1, 2, or 4S
MKI greater than 4%
MYCN amplification

What is the most specific immunohistochemical neuronal marker for neuroblastoma?



CD57
INSM1
NB84
NSE
PHOX2B

A 3-year-old girl presents with a 5 cm retroperitoneal mass. Histology shows a small round blue cell tumor that is negative for pancytokeratin, desmin, CD45, synaptophysin, PHOX2B, WT1, and CD99. What is the next logical immunohistochemical stain to order in order to determine the diagnosis?



Myogenin
NSE
S100
Terminal deoxynucleotidyl transferase
Vimentin
---
References
DeLellis RA, Mangay S. The Adrenal Glands. In:Mills SE, Carter D, Greenson J, Reuter VE, Stoler MH, eds. Sternberg's Diagnostic Surgical Pathology, 5th edition. Philadelphia, PA; Lippincott Williams & Wilkins; 2010.
Devoe K, Weidner N. Immunohistochemistry of small round-cell tumors. Semin Diagn Pathol. 2000;17(3):216-224.
El-Shazly SS, Hassan NM, Abdellateif MS, El Taweel MA, Abd-Elwahab N, Ebeid EN. The role of β-catenin and paired-like homeobox 2B (PHOX2B) expression in neuroblastoma patients; predictive and prognostic value. Exp Mol Pathol. 2019;110:104272.
Goto S, Umehara S, Gerbing RB, et al. Histopathology (International Neuroblastoma Pathology Classification) and MYCN status in patients with peripheral neuroblastic tumors: a report from the Children's Cancer Group. Cancer. 2001;92(10):2699-2708.
Hata JL, Correa H, Krishnan C, et al. Diagnostic utility of PHOX2B in primary and treated neuroblastoma and in neuroblastoma metastatic to the bone marrow. Arch Pathol Lab Med. 2015;139(4):543-546.
PDQ Pediatric Treatment Editorial Board. Neuroblastoma Treatment (PDQ®): Health Professional Version. PDQ Cancer Information Summaries. Bethesda: National Cancer Institute; 2002-2019.
Shimada H, Umehara S, Monobe Y, et al. International neuroblastoma pathology classification for prognostic evaluation of patients with peripheral neuroblastic tumors: a report from the Children's Cancer Group. Cancer. 2001;92(9):2451-2461.
Yoshida A, Sekine S, Tsuta K, Fukayama M, Furuta K, Tsuda H. NXK2.2 is a useful immunohistochemical marker for Ewing sarcoma. Am J Surg Pathol. 2012;36(7):993-999.
---
Answer Key
INSS Stage 1, 2, or 4S (c)
PHOX2B (e)
Terminal deoxynucleotidyl transferase (d)