Clinical Summary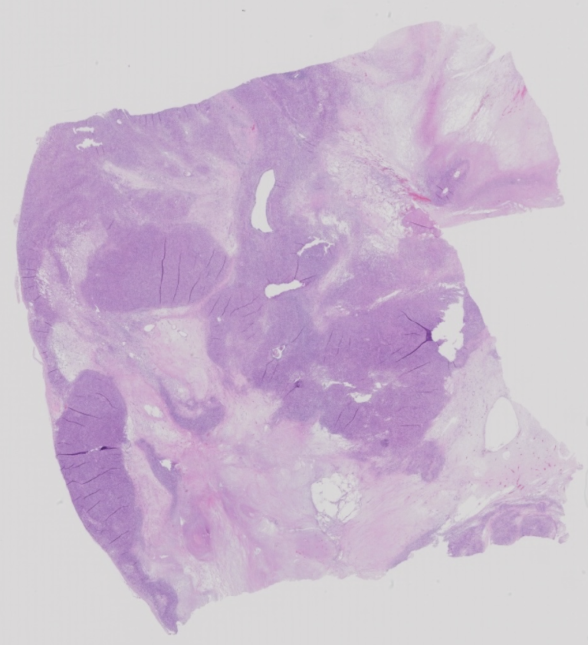 A 44-year-old woman presents with hematuria of 2 months duration. Urine cytology is negative for malignant cells. A computed tomography scan shows a large mass arising in the posterior wall of the bladder. Following cystourethroscopy and biopsy of the mass, the patient undergoes a radical cystectomy. The cystectomy specimen reveals a 9.4 x 7.3 x 6.5 cm submucosal mass arising from the posterior wall and protruding into the lumen. The overlying mucosa is intact. The cut surface is firm, grey-tan, and whorled with focal areas of necrosis.
Master List of Diagnoses
Gastrointestinal stromal tumor
Leiomyosarcoma
Malignant peripheral nerve sheath tumor
Sarcomatoid carcinoma (spindle cell/metaplastic urothelial cell carcinoma)
Squamous cell carcinoma with spindle cell component
View slide image with DigitalScope
Archive Case and Diagnosis
This case first appeared as Performance Improvement Program in Surgical Pathology (PIP) 2017, Case 15, and is leiomyosarcoma of the bladder.
Criteria for Diagnosis and Comments
Histologic sections show a hypercellular spindle cell proliferation arranged in an intersecting fascicular pattern. The nuclei are oval to cigar-shaped with inconspicuous nucleoli and coarsely clumped chromatin. Mitotic figures are readily apparent, with more than 20 per 10 high powered fields (HPF). There are multiple foci of necrosis and hyalinization. By immunohistochemistry, the tumor cells are positive for desmin and smooth muscle actin (SMA), and focally positive for muscle specific actin (MSA). The tumor cells are negative for CD117, S100 protein, estrogen receptor (ER), HMB45, and cytokeratin AE1/AE3. The Ki-67 proliferation index is high at approximately 30% - 40%. The morphologic features and immunohistochemical findings support the diagnosis of a high-grade leiomyosarcoma.
Non-urothelial tumors comprise less than 5% of urinary bladder malignancies. Leiomyosarcoma is the most common mesenchymal malignancy of the urinary bladder, but only accounts for approximately 0.1% of all urinary bladder malignancies. Patients are usually in the 6th - 8th decade of life. Presenting symptoms include gross hematuria, dysuria, obstructive symptoms, or abdominal mass. Leiomyosarcomas typically involve the dome of the bladder.
Leiomyosarcomas have varied appearances on gross examination depending on their grade. Lower grade tumors are typically firm, white, and whorled similar to a leiomyoma. Higher grade tumors can be fleshy with areas of myxoid change, hemorrhage, and necrosis similar to other sarcomas.
Histologically, leiomyosarcomas can have a fascicular or storiform growth pattern. The cells are elongated with abundant eosinophilic cytoplasm and cigar-shaped nuclei. They frequently have hyalinization or multinucleated giant cells. Some show nuclear palisading. Approximately 10% are anaplastic and have areas with highly pleomorphic nuclei. Rare histologic subtypes include myxoid leiomyosarcoma and inflammatory leiomyosarcoma. The criteria for determining malignancy include nuclear atypia, increased mitotic figures, necrosis, and size greater than 7.5 cm. A mitotic rate of more than or equal to 5 per 10 HPF is definitive, but lower mitotic rates are sufficient if other malignant features are present.
By immunohistochemistry, leiomyosarcoma cells are typically positive for muscle actin antibody (HHF35), SMA, vimentin, desmin, and caldesmon. Cytokeratin (CK), estrogen and progesterone receptor antibodies, S100, epithelial membrane antigen (EMA), and CD34 show variable staining. The tumor cells are negative for CD117.
The treatment for bladder leiomyosarcoma is surgical resection. While radical cystectomy is the gold standard, it has major effects on postoperative quality of life. Partial cystectomy is considered as an acceptable alternative if the tumor is small and negative margins can be achieved. The major poor prognostic indicators are metastatic disease and positive surgical margins. Adjuvant chemotherapy and radiation have shown to be beneficial.
Leiomyosarcoma of the bladder is considered an aggressive tumor and is usually found at an advanced stage. The survival rate is highly dependent on the tumor stage, but recent studies have shown that the 5-year disease-specific survival rate is greater than 50%. Approximately 16% of patients have local recurrences whereas distant metastases occur in approximately 53% of patients. The most common location for metastatic disease is the lungs followed by liver, bone, and brain. Patients who have disease recurrence should be treated with chemotherapy and/or radiation.
In the differential diagnosis of spindle cell lesions of the bladder, one should consider other more common entities. Squamous cell carcinoma accounts for 5% of bladder malignancies in the United States. These tumors generally arise from the lateral wall or trigone mucosa and may have surface ulceration. They frequently have keratinization and intercellular bridges, which can help diagnose squamous cell carcinoma. However, poorly-differentiated tumors or tumors with a significant spindle cell component may require immunostains. Squamous cell carcinomas can be differentiated by their immunopositivity for CK5/6 and CK14.
Although rare, sarcomatoid carcinoma is more common than primary sarcoma of the bladder. Sarcomatoid carcinoma has a predominant spindle-cell component, but typically has a history of or has a concurrent high-grade urothelial carcinoma. The distinction of sarcomatoid carcinoma from leiomyosarcoma generally requires immunohistochemistry. Sarcomatoid carcinoma is positive for low-molecular-weight cytokeratin and EMA and is typically negative for muscle markers.
Leiomyosarcoma of the bladder must also be differentiated from other mesenchymal tumors. Gastrointestinal stromal tumor of the bladder is a rare entity that typically arises from the external wall of the bladder. It consists of sheets of spindle cells in a collagenous background and can be differentiated from leiomyosarcoma by the immunohistochemical phenotype. The tumor cells express CD117, DOG-1 and CD34. They may be focally positive for SMA, but they are negative for desmin and S100 protein.
Malignant peripheral nerve sheath tumors of the bladder are aggressive tumors that arise from the trigone, lateral, or posterior walls. They may have surface ulceration, areas of necrosis, and involve perivesicular structures by direct invasion. Histologically, they are composed of interlacing fascicles of spindle cells with variable amounts of cytoplasm. The nuclei can be round, oval, or fusiform. The cells may be multinucleated or have prominent nucleoli. The tumor may also have a dense inflammatory infiltrate. Aside from these features malignant peripheral nerve sheath tumors can be distinguished from leiomyosarcomas using immunohistochemistry. Malignant peripheral nerve sheath tumors stain focally positive for S100 and neuron specific enolase. They do not express EMA, CK AE1/AE3, MSA, desmin, myoglobin, chromogranin, or neurofilament.
Supplementary Questions
From which of the following locations do leiomyosarcomas of the urinary bladder typically arise?

Dome
External surface
Lateral wall
Posterior wall
Trigone

A positive result for which of the following immunohistochemical stains helps exclude leiomyosarcoma in favor of a gastrointestinal stromal tumor?

CD117
CK AE1/AE3
EMA
Progesterone receptor
S100

Which of the following is true regarding leiomyosarcomas of the urinary bladder?

Intratumoral giant cells and inflammation are never seen.
Leiomyosarcoma is the most common sarcoma of the urinary bladder.
Patient age is usually less than 20 years.
To be considered malignant, the tumor must have >5 mitotic figures per high powered field.
Tumor cells are positive for high molecular weight keratin.
---
References
Beltran H, Robinson BD, Tagawa ST. Primary squamous cell carcinoma of the urinary bladder presenting as peritoneal carcinomatosis. Adv Urol. 2010:179250.
Bostwick DG, Cheng L. Urologic Surgical Pathology. Philadelphia, PA: Saunders; 2014.
Hamadalla NY, Rifat UN, Safi KC, Mohammed M, Abu-farsakh H. Leiomyosarcoma of the urinary bladder: A review and a report of two further cases. Arab J Urol. 2013;11(2):159-164.
Kalafatis P, Kavantzas N, Pavlopoulos PM, Agapitos E, Politou M, Kranides A. Malignant peripheral nerve sheath tumor of the urinary bladder in von Recklinghausen disease. Urol Int. 2002;69(2):156-159.
Labanaris AP, Zugor V, Meyer B, et al. Urinary bladder leiomyosarcoma in adults. Int Urol Nephrol. 2008;40(2):311-316.
Lasota J, Carlson JA, Miettinen M. Spindle cell tumor of urinary bladder serosa with phenotypic and genotypic features of gastrointestinal stromal tumor. Arch Pathol Lab Med. 2000;124(6):894-897.
Lopez-Beltran A, Cheng L. Histologic variants of urothelial carcinoma: differential diagnosis and clinical implications. Hum Pathol. 2006;37(11):1371-1388.
Sari A, Bal K, Tunakan M, Ozturk C. A case of a sporadic malignant peripheral nerve sheath tumor of the urinary bladder with concomitant in situ urothelial carcinoma treated by transuretheral resection. Indian J Pathol Microbiol. 2011;54(1):147-149.
Shin HS, Cho CH, Kum YS. Extragastrointestinal Stromal Tumor of the Urinary Bladder: A Case Report. Urol J. 2011;8(2):165-167.
Shokeir AA. Squamous cell carcinoma of the bladder: pathology, diagnosis and treatment. BJU Int. 2004;93(2):216-220.
Terada T. Spindle cell carcinoma progressed from transitional cell carcinoma of the urinary bladder. Int J Clin Exp Pathol. 2012;5(1):83-88.
Venyo AK, Titi S. Sarcomatoid variant of urothelial carcinoma (carcinosarcoma, spindle cell carcinoma): a review of the literature. ISRN Urol. 2014;794563.
Weiss SW, Goldblum JR. Enzinger and Weiss's Soft Tissue Tumors. Philadelphia, PA: Mosby; 2008.
Xu YF, Wang GC, Zheng JH, Peng B. Partial cystectomy: Is it a reliable option for the treatment of bladder leiomyosarcoma? Can Urol Assoc J. 2011;5(1):E11-13.
---
Author
Christine Rupcich, MD
Surgical Pathology Resident
Rush University Medical Center
Chicago, IL
Diana Murro Lin, MD
Surgical Pathology Resident
Rush University Medical Center
Chicago, IL
Vijaya B. Reddy, MD
Surgical Pathology Committee
Rush University Medical Center
Chicago, IL
Answer Key
Dome (a)
CD117 (a)
Leiomyosarcoma is the most common sarcoma of the urinary bladder. (b)