CAP Foundation Earns Top 2017 ASAE Power Of A Summit Award For Its See, Test & Treat® Cancer Screening Program
CAP Foundation Earns Top 2017 ASAE Power of A Summit Award for its See, Test & Treat® Cancer Screening Program
E-mail: media@cap.org
CAP's Pathology and Laboratory Quality Center also earns Gold Award for establishing rigorous standards to improve patient outcomes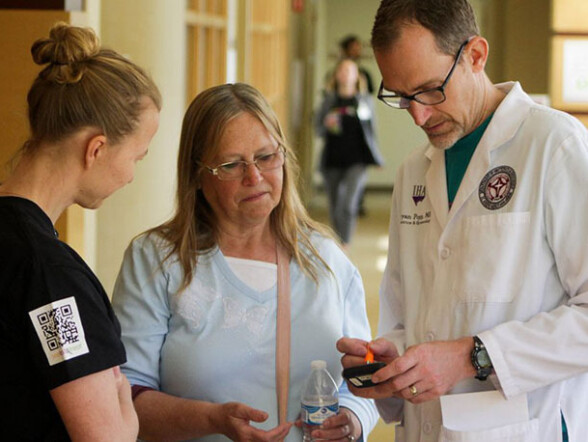 Northfield, IL—The College of American Pathologists (CAP) Foundation has earned a coveted 2017 Power of A Summit Award from the American Society of Association Executives (ASAE) for the pathologist-led See, Test, Treat® program, a free cervical and breast cancer screening and health education program for at-risk women and their families. In addition, The CAP's Pathology and Laboratory Quality Center has been awarded a 2017 Power of A Gold Award for establishing rigorous laboratory guidelines to improve patient outcomes.
"The College of American Pathologists' award-winning programs give us concrete examples of how associations are changing the world for the better,"" said ASAE President and CEO John Graham, FASAE, CAE. "The Power of A Awards program continues to highlight the essential role associations play in not just bettering the industries and professions they represent, but the quality of life we enjoy as citizens of the world."
ASAE honored CAP Foundation's "See, Test & Treat" program which provides same day results for breast and cervical cancer screening, HPV testing, and timely treatment for abnormal or cancer diagnoses to at-risk women who face hurdles in receiving health care. Because women are the generally the focal point for a family's health care, the Foundation believes providing health care services and education to women has a ripple effect, both within their families and communities.
"The CAP is honored to receive a pair of distinguished awards from ASAE; we believe it validates our vision for better patient outcomes overall, but also our comprehensive approach in providing critical care to at-risk women, their families and communities," said CAP President Richard C. Friedberg, MD, PhD, FCAP. "We hoped our 'See, Test & Treat' program would be recognized as a top cancer prevention program, and this recognition among hundreds of worthy and excellent associations is truly special."
Each one-day See, Test & Treat event typically includes dozens of volunteers and serves 50-125 women who receive health education while they await their results. Educators and interpreters deliver interactive information about breast and cervical health, healthy lifestyles, smoking cessation, nutrition and exercise. Additional community specific testing often includes HIV, Hepatitis B, diabetes, hypertension, dermatology, and kidney function. Since women typically bring family or community members who share in the education, the impact of helping one woman can have an exponential effect. Every attendee has the opportunity to meet with insurance and health experts to learn whether they qualify for existing programs, such as Medicaid and referrals to a wide range of community health and social services.
"See, Test & Treat is guided by the belief that no woman in America should die from undiagnosed cervical or breast cancer," said Karim Sirgi, MD, FCAP, President of the CAP Foundation. "Our program has become a national model not only in cancer prevention but in health education and improved outcomes for at-risk families, citizens and communities. We are seeing a surge in interest by pathologists, hospitals, health systems and clinics to host a See, Test & Treat program in their communities and we believe this award will help us meet, and expand, that demand and ultimately save lives."
The CAP Foundation assumed operational and fundraising support for the See, Test & Treat® women's cancer screening program in 2012. The program has grown significantly from two to 16 annual programs throughout the nation. By the end of 2017, nearly 5000 women will receive lifesaving screening, care and education. Two to three accompanying family or community members raise the impact to 15,000 to 20,000 people.
The CAP will take home two awards this year, with the CAP's Pathology and Laboratory Quality Center (the Center) earning a Gold Award. The CAP launched the Center in 2010 to strengthen and evolve its position as the leader in establishing quality patient care by creating rigorous standards for pathology and laboratory medicine. The Center develops evidence-based guidelines where the published evidence is compelling, and issues consensus statements where the evidence is evolving but solid, well-established practice patterns exist.
The Center enables pathologists to improve patient care and increase patient safety through accurate diagnosis, prognosis, and involvement in therapeutic decision-making. Evidence-based guideline development emphasizes the vital role pathologists play in the patient treatment team with tools to lead or directly participate in patient care activities, and gives patients the knowledge and confidence to take a more active role in their treatments.
"Our guidelines are focused on optimizing laboratory practice but have great influence in guiding patient care such as cancer therapy."" said Raouf Nakhleh, MD, FCAP, Vice Chair of the CAP's Council on Scientific Affairs "This widening impact into so many other areas of medicine reminds us of the central and collaborative role of the pathologist in the health care system. This award recognizes the pathologists' central role as a member of the healthcare team for the benefit of patients."
ASAE's Power of A (association) Awards, the industry's highest honor, recognize the association community's valuable contributions on the local, national and global levels. The Power of A Awards reward the outstanding accomplishments of associations and industry professionals who work tirelessly to strengthen lives, the workforce, our systems and structures, the economy and the world.
About the College of American Pathologists
As the world's largest organization of board-certified pathologists and leading provider of laboratory accreditation and proficiency testing programs, the College of American Pathologists (CAP) serves patients, pathologists, and the public by fostering and advocating excellence in the practice of pathology and laboratory medicine worldwide. For more information, read the 2017 CAP Annual Report at CAP.ORG.
About the CAP Foundation
The CAP Foundation, the philanthropic arm of the College of American Pathologists, supports patient-centered and humanitarian initiatives led by pathologists, striving to connect people in underserved communities with the specialized skills of pathologists. CAP Foundation funding for See, Test & Treat is made possible through the continued generous support of CAP member pathologists, staff, foundations, industry, and private donations. In 2017, See, Test & Treat is being supported by organizations such as CVS Health, Hologic, and Prevent Cancer. Learn more and donate: foundation.cap.org. Contact the CAP Foundation capfnd@cap.org or follow us on Twitter at @capfndn.
About the CAP Pathology and Laboratory Quality Center
The CAP Pathology and Laboratory Quality Center develops evidence-based guidelines and consensus statements related to the practice of pathology and laboratory medicine. Through this work, the CAP and its members continually improve the quality of diagnostic medicine and patient outcomes. The Center guidelines are developed consistent with the Institute of Medicine's evidence-based clinical practice guideline development recommendations.