New Color Atlas of Hematology Second Edition Now Available
New Color Atlas of Hematology Second Edition Now Available
Contact: Kerry Lydon
Phone: 847-832-7844
E-mail: media@cap.org
Essential Laboratory Reference Updated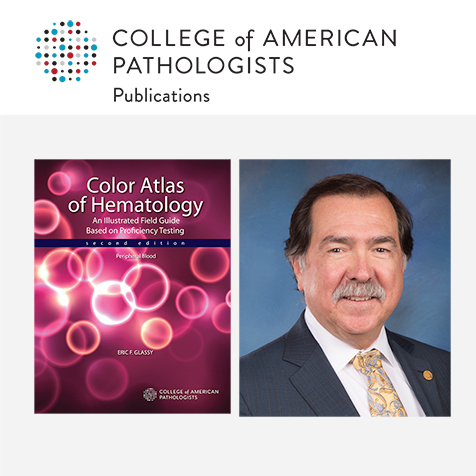 Northfield, IL—The College of American Pathologists (CAP) has published the second edition of the leading reference text for peripheral blood pathology, The Color Atlas of Hematology. Updated, expanded content builds on the original edition, but adds mixed-media content across more than 400 highly visual pages, many with images linked digitally to virtual peripheral blood smears, allowing the reader to view them as they would appear under a microscope. Other links take the user to educational videos from the authors.
"We've gone above and beyond a typical reference text," says pathologist and senior editor of the Atlas, Eric F. Glassy, MD, FCAP. "By leveraging technology, we've also produced a learning tool that reinforces vital facts and tips through audio-visual content that helps the user understand and retain new information."
Building on decades of laboratory proficiency data, the second edition focuses on peripheral blood pathology and includes the latest WHO terms and disease categories. New chapters offer insight into molecular and cytogenetics, flow cytometry, pediatric hematology, lymphocytes and granulocytes, as well as a grounding in the history of hematology and evolution of the microscope.
An essential reference for pathologists, hematopathologists, and medical and laboratory technicians in today's clinical laboratory, the new Color Atlas of Hematology uses QR codes throughout the book to immerse the user in detailed digital content.
Even as hematology workflows and laboratory technology evolve, the manual review of select slides and the expert interpretation of the pathologist and laboratory technologist remain essential to accurate diagnostics.
Order the second edition of The Color Atlas of Hematology at estore.cap.org (INSERT LINK) or call 1-800-323-4040, option 1. Reference the title, editor, Eric F. Glassy, MD, FCAP, Senior Editor, and item number PUB222.
About the Association for Molecular Pathology
As the world's largest organization of board-certified pathologists and leading provider of laboratory accreditation and proficiency testing programs, the College of American Pathologists (CAP) serves patients, pathologists, and the public by fostering and advocating excellence in the practice of pathology and laboratory medicine worldwide. For more information, visit read the 2017 CAP Annual Report at CAP.ORG.