New Illustrated Mycology Guide Aids Accurate Diagnostics
New Illustrated Mycology Guide Aids Accurate Diagnostics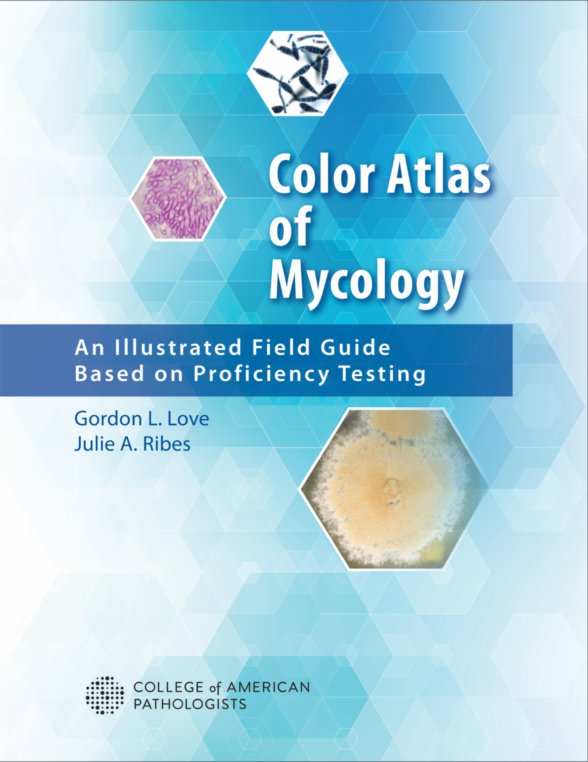 NORTHFIELD, IL — Helping pathologists and medical technologists quickly, correctly identify more than 100 types of pathogenic fungi, the new Color Atlas of Mycology from the College of American Pathologists (CAP) features more than 800 images and tables. Most fungi covered in the book have been verified by DNA sequencing, a powerful verification of accuracy.
"As microorganisms, fungi can produce a range of infections and diseases that are best treated when given a timely, accurate diagnosis from the laboratory," explained Atlas co-author Gordon L. Love, MD, D(ABMM) emeritus, FCAP. "And because these diagnoses can be challenging, we've included hundreds of color photos of look-alike fungi to avoid misidentification."
Based on more than 15 years of proficiency testing to highlight diagnostic clusters of incorrect identifications and address conceptual classification issues, this illustrated field guide uses the most recent taxonomic classifications as it expands on the CAP's popular Mycology Benchtop Reference Guide. The Atlas merges in vitro and in vivo mycology, and includes yeasts, hyaline molds, dimorphic fungi, dermatophytes, mucormycetes, and dematiaceous molds.
The Color Atlas of Mycology: An Illustrated Field Guide Based on Proficiency Testing is available in print and ebook formats. Order print books at estore.cap.org or call 1-800-323-4040, option 1. Reference the title, authors Gordon L. Love, MD, D(ABMM), FCAP, and Julie A. Ribes, MD, PhD, FCAP, and item number PUB226. Price is $144 for CAP members, $180 for non-members, and $144 as an eBook at ebook.cap.org.
About the College of American Pathologists
As the world's largest organization of board-certified pathologists and leading provider of laboratory accreditation and proficiency testing programs, the College of American Pathologists (CAP) serves patients, pathologists, and the public by fostering and advocating excellence in the practice of pathology and laboratory medicine worldwide. For more information, read the 2017 CAP Annual Report at CAP.ORG.