The CAP's Annual Report Highlights Progress in Diagnostic Medicine to Improve Patient Health
The CAP's Annual Report Highlights Progress in Diagnostic Medicine to Improve Patient Health
Contact: Catherine Dolf
Phone: 847-832-7472
E-mail: cdolf@cap.org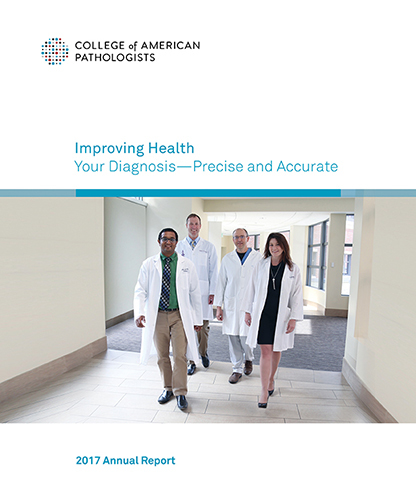 Northfield, IL— People are healthier today because of advances in pathology and laboratory medicine. Whether you have a tissue sample examined in a biopsy or get routine blood work, you can trust the expertise behind your results, according to the College of American Pathologists (CAP), which released its 2017 Annual Report.
CAP 2017 Annual Report
Pathologists run our laboratories and examine our tissue under a microscope; because of them, we can get back to living and doing the things we love," said CAP President R. Bruce Williams, MD, FCAP. "This report highlights what we've accomplished to help our pathologist members keep their skills sharp, develop resources for cancer reporting, and protect their practices and patients.
Among the achievements and milestones outlined in the annual report:
The CAP released a record number of cancer protocols, which provide guidance for collecting essential data for complete reporting on malignant tumors.
More than 20,000 laboratories enrolled in proficiency testing (PT) programs, which helps ensure that no matter where you are in the world, you can count on the quality of your laboratory results.
More than 8,000 laboratories worldwide are CAP accredited, demonstrating a commitment to the most stringent worldwide inspection processes in laboratory quality.
We developed a registry for pathologists to improve practice performance and optimize potential for reimbursement incentives.
Total CAP membership remained strong with close to 18,000 members, with 97% of newly board-certified pathologists becoming CAP Fellows.
The CAP offered 505 live and online education courses and physicians completed more than 58,000 continuing medical education (CME) activities.
More than 900 undeserved women received free cervical and breast cancer screenings at 13 See, Test & Treat programs through CAP Foundation program grants.
The annual report also includes stories of CAP pathologist members who are collaborating with clinical partners to guide the most effective care for their patients You can access the annual report here.
About the College of American Pathologists
As the world's largest organization of board-certified pathologists and leading provider of laboratory accreditation and proficiency testing programs, the College of American Pathologists (CAP) serves patients, pathologists, and the public by fostering and advocating excellence in the practice of pathology and laboratory medicine worldwide. For more information, read the 2017 CAP Annual Report at CAP.ORG.