Dr. R. Bruce Williams Inaugurated As President of the College of American Pathologists
Dr. R. Bruce Williams Inaugurated As President of the College of American Pathologists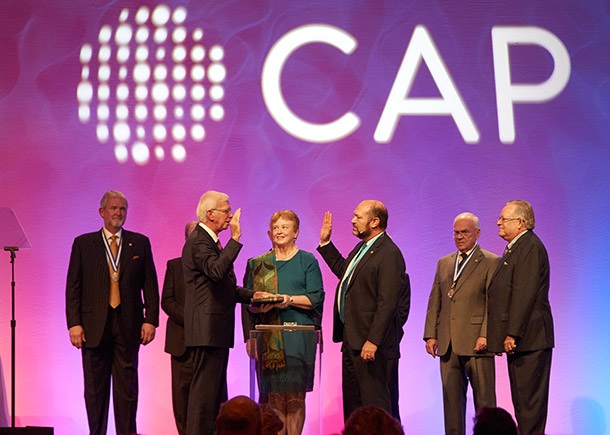 E-mail: media@cap.org
Driving Member Value, Improving Patient Care Among Williams's Top Priorities
Northfield, IL—R. Bruce Williams, MD, FCAP, has been inaugurated as the 35th president in a ceremony at the College of American Pathologists' (CAP) annual meeting near Washington, DC. Dr. Williams has been a CAP member for 40 years, holding leadership roles in the organization for the last 25 years. He has served on the Board of Governors since 2009 and, most recently, as its president-elect since 2015.
The CAP, founded in 1946, is the world's largest organization of board-certified pathologists and leading provider of laboratory accreditation and proficiency testing programs.
"As president, I plan to grow the value of the organization for our members beyond what we have built together over the last 70 years," Williams said in his inaugural remarks. "We fight for our patients and profession on Capitol Hill, we develop guidelines and protocols to improve patient care, and we ensure the highest level of laboratory quality and excellence worldwide through our accreditation inspections. What we built all those years ago, we will continue to improve upon over the next two years."
Dr. Williams has served the CAP on numerous committees, commissions, and councils, including chair and/or vice chair of the Council on Accreditation, Council on Membership and Professional Development, and Council on Scientific Affairs.
Dr. Williams is a founding member and laboratory director of The Delta Pathology Group, LLC, and is in full-time practice of anatomic and clinical pathology in Lafayette, LA. The Delta Pathology Group began in 1990 with the merger of several practices in Shreveport, LA, and since has grown into a statewide group of more than 40 pathologists. Dr. Williams serves on the executive committee as practice manager of the mid-Louisiana region of Delta Pathology.
A graduate of Vanderbilt University (BA, 1971) and Vanderbilt University Medical School (MD, 1975), Dr. Williams completed his anatomic and clinical pathology residency at Vanderbilt and Louisiana State University Medical Center (LSUMC)-Shreveport pathology departments. He is associate clinical professor of pathology at LSUMC-Shreveport. Dr. Williams has been active in organized medicine, serving as president of the Shreveport Medical Society and the Louisiana State Medical Society and serving on the Louisiana delegation to the American Medical Association.
Dr. Williams and his wife, Susan Williams, MD, currently reside in Lafayette. They have two sons, a daughter and son-in-law, and six grandchildren.
About the College of American Pathologists
As the world's largest organization of board-certified pathologists and leading provider of laboratory accreditation and proficiency testing programs, the College of American Pathologists (CAP) serves patients, pathologists, and the public by fostering and advocating excellence in the practice of pathology and laboratory medicine worldwide. For more information, read the 2017 CAP Annual Report at cap.org