Read the Latest Issue of Advocacy Update
November 17, 2020
In this Issue:
President-elect Biden Taps Physicians, Scientists for COVID-19 Advisory Board
President-elect Joe Biden named his COVID-19 advisory board, comprised of public health experts and scientists, that will develop actions to fight and mitigate the COVID-19 pandemic. Biden met with the advisory board on November 13 to review the current crisis.
Also on November 13, President Trump held a briefing to discuss the latest information regarding the development of COVID-19 vaccines and the government's plans to distribute vaccinations under "Operation Warp Speed." At this article's deadline, Pfizer and Moderna announced promising preliminary study data for vaccines that could be available as soon as December. While also applauding the progress of vaccine development, President-elect Biden has renewed his calls for all Americans to practice social distancing, proper handwashing, and to wear a mask until patient access to the vaccine is widely available.
Task Force Advisory Board Members
The new President-elect Biden's advisory board is comprised of health policy and agency heads from prior Democratic administrations and health care professionals with public health, infectious disease, and pandemic response experience. Many have served as advisors to President-elect Biden during the campaign.
Serving as co-chairs of President-elect Biden's advisory board are David Kessler, MD, who is a professor of pediatrics and epidemiology and biostatistics at the University of California, San Francisco; Vivek Murthy, MD, the former US Surgeon General from 2014-17, who lead the public health force that dealt with Ebola, Zika, and the Flint water crisis; and, Marcella Nunez-Smith, MD, who is an associate professor of internal medicine, public health, and management at Yale University.
Other members of the advisory board are:
Rick Bright, MD, an immunologist and virologist, who was the director of the Biomedical Advanced Research and Development Authority from 2016 to 2020.
Luciana Borio, MD, the vice president of technical staff at the In-Q-Tel strategic investment firm who until last year was a biodefense specialist on the National Security Council.
Ezekiel Emanuel, MD, an oncologist who is chair of the Department of Medical Ethics and Health Policy at the University of Pennsylvania.
Atul Gawande, MD, who is a professor of surgery at Brigham and Women's Hospital and Harvard Medical School. Dr. Gawande served as a senior adviser in the Department of Health and Human Services in the Clinton administration.
Celine Gounder, MD, who is a clinical assistant professor at the NYU Grossman School of Medicine. Dr. Gounder served as assistant commissioner and director of the Bureau of Tuberculosis Control at New York City's Department of Health and Mental Hygiene.
Julie Morita, MD, who is the executive vice president of the Robert Wood Johnson Foundation.
Michael Osterholm, who is the Director of the Center for Infectious Disease Research and Policy at the University of Minnesota and a former science envoy for health security for the State Department.
Loyce Pace, who is the executive director and president of the Global Health Council.
Robert Rodriguez, MD, who is a professor of emergency medicine at the University of California, San Francisco, School of Medicine.
Eric Goosby, MD, who is an infectious disease expert and professor of medicine at the University of California, San Francisco, School of Medicine.
More information following updates from the Biden COVID-19 advisory board and transition team will be published in future editions of our newsletter.
CAP Members Call on Congress to Stop Medicare Cuts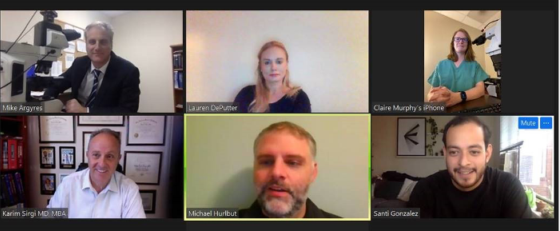 During direct meetings with congressional offices and through work with a coalition of physician organizations, the CAP continues to press congressional offices to take up legislation that stops Medicare cuts to payments for pathologists set to begin on January 1. To preserve patient access to laboratory care and mitigate financial distress due to the pandemic, the CAP and its members strongly oppose the payment cuts and have activated its grassroots advocacy program to discuss the issue with members of Congress.
On November 11, CAP members met with staff from Sen. Michael Bennet's (D-CO) office to discuss the impact these Medicare cuts would have on patient care and access. During the meeting, Michael Argyres, MD, FCAP, explained that the upcoming Medicare cuts "would drive quality pathologists away from practicing in Colorado," creating barriers for patient diagnostic care.
Additionally, Claire Murphy, MD, FCAP, also emphasized how COVID-19 testing and the lack of testing supplies have affected test access which is critical during the pandemic. Dr. Murphy also shared that for COVID-19 testing, "due to limited supplies they had to stop conducting drive through testing. At one point, our lab's caseload was reduced to about 10% of its normal volume. Luckily, we figured out a way to continue to operate without furloughing any employees, but if the cuts go through, that probably won't be the case." These critical conversations help federal legislators understand the dire impact of these cuts on patient access and care.
The CAP launched a campaign of virtual advocacy demanding that Congress mitigate the -9% Medicare cut to pathology services that will take effect on January 2021. The fight is not over. Our virtual campaign to advocate against these pending Medicare cuts will continue and we need your help.
Already, hundreds of CAP members have contacted, called, and virtually met federal legislators to educate them on the impact these cuts will have on patient access to care and reimbursement. Only Congress can stop the cuts and we are asking CAP members to ensure their representatives and senators know how destructive these drastic decreases in payment to pathologists will be to their constituents back home. In addition to working with pathologists to speak with staff working for leaders in the Senate, the CAP, together with a coalition of 48 health care professional groups, detailed how the pandemic has already stressed the health care community and further asked Congress to delay the budget neutrality requirement for the E/M cuts.
Go to the CAP's action center to send a message to your representatives in Washington, DC
CAP Asks CMS to Reduce COVID-19 Laboratory Reporting Burdens, Increase Testing Resources
The CAP urged the Centers for Medicare & Medicaid Services (CMS) and the Clinical Laboratory Improvements Advisory Committee (CLIAC) to reduce pathologists' reporting burdens during this unprecedented COVID-19 pandemic, especially when it comes to testing. To equip our pathologists during this crisis, the CAP asked the CMS for increased flexibility in COVID-19 laboratory data reporting, limit testing without an expansion order, and increase resources for testing for long-term care facilities' staff and residents.
Laboratory COVID-19 Data Reporting
In a November 2 letter to the CMS Administrator Seema Verma, the CAP asked the CMS to increase flexibility for laboratories when reporting COVID-19 diagnostic data given the continued confusion around laboratory results reporting requirements. The CMS previously responded to the CAP's advocacy by giving laboratories the flexibility in COVID-19 data reporting and would only penalize laboratories for failing to report positive or negative test results; however, confusion remains as the Administration requires clinical laboratories to comply with the June 4 guidance that includes additional data elements.
Before the CAP's engagement on this issue, laboratories had faced burdensome data requirements—some of which were impossible for laboratories to meet—and stiff penalties for failure to comply with the new rules. In the letter, the CAP recommended that the CMS "rescind June 4th guidance with the unworkable COVID-19 reporting requirements until a workable set of requirements has been developed; reduce the required number of data elements for COVID-19 reporting to those within the purview of the clinical laboratory and simplify reporting to a phased-in approach."
The CAP asked the CMS not to impose the monetary penalties on laboratories during the pandemic, "given the unfunded mandate with its complex and conflicting messages from the administration, agency, and local public health officials."
In an October 27 statement prepared for CLIAC, the CAP outlined lessons learned during the COVID-19 pandemic. For instance, the CAP supported the need for "improved public health reporting regarding SARS-CoV-2/COVID-19, the CAP believes that the new rules and penalties place unworkable requirements and undue burden on laboratories during a time in which laboratories' resources must focus on performing vital SARS-CoV-2/COVID-19 testing." The HHS will only penalize laboratories for failing to report positive or negative test results, and laboratories would further receive a three-week grace period to meet new rules.
Limits on COVID-19 Testing Without an Expansion Order Authority
The CAP is concerned that the CMS' revised policy that allows for one COVID-19 diagnostic test and one other related test without a physician's order includes language allowing a local coverage determination to override the policy. The CAP would like the CMS to recognize the potential for inconsistent access to important diagnostic testing among the different Medicare jurisdictions that this language presents. Therefore, "the CAP recommends that the CMS provide uniform coverage for the clinical diagnostic laboratory tests that may be performed without a practitioner order, by removing the local coverage barrier during the COVID-19 public health emergency."
COVID-19 Testing Expansion in Long-Term Facilities
The CMS required that all long-term care facilities have COVID-19 testing for both residents and staff without clear guidance for testing supplies and resources. The CAP agreed with the CMS and the Centers for Disease Control and Prevention (CDC) that COVID -19 testing is vital in nursing homes. However, the CAP is concerned that the requirements without the required testing support and resources needed "would further strain testing services for COVID-19 and impact our ability to ensure patients receive the testing and treatment they need." Therefore, the CAP asked that the CMS provide clear guidance to obtain COVID-19 testing supplies and resources to administer much-needed testing in long-term care facilities.
Webinar on December 11: Final 2021 Medicare Payment Policies for Pathologists
The CMS will soon release its final 2021 Medicare Physician Fee Schedule and the Quality Payment Program regulations, including the Merit-based Incentive Payment System (MIPS). The CAP will host an exclusive webinar on December 11 at 3 PM ET/ 2 PM CT, where CAP experts will review regulatory changes that will impact payment for services and pathologists' participation in MIPS.
Webinar presenters will be the Chair of the Council on Government and Professional Affairs Jonathan Myles, MD, FCAP; Chair of the Economic Affairs Committee W. Stephen Black-Schaffer MD, FCAP; and Vice Chair, Economic Affairs Committee Diana Cardona, MD, FCAP.
During the 60-minute webinar, attendees will learn about the final 2021 Medicare Physician Fee Schedule and the Quality Payment Program regulations and its impact on pathologists. The CAP panel will also answer questions from attendees.
Test Your Advocacy News Knowledge
It's November, and it's time to test your CAP Advocacy News Quiz. Last month, over 120 pathologists took the quiz. See how you compare against your fellow CAP members' in the November News Quiz.