Books from CAP Publications
Books from CAP Publications
CAP Publications produces books that address the needs of pathologists and laboratory professionals. Whether it is our Benchtop Reference Guides, review guides, or instructional books, rest assured you are using the highest quality books written and edited by recognized experts in pathology and laboratory medicine.
Our Newest Offerings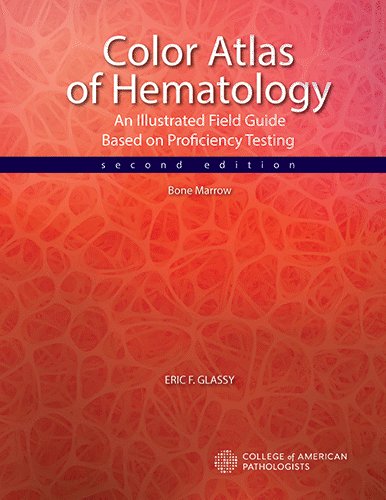 Color Atlas of Hematology Vol 2: Bone Marrow (PUB229)
This new volume on bone marrow pathology explores real-world cell identification with in-depth explanations and discussions of bone marrow biopsy and specimen processing.
"Volume 2 offers morphologic identification of bone marrow cells based on proficiency testing. With more than 1300 virtual smear examples, photomicrographs, illustrations, and online videos, it is an essential textbook for pathology students, educators, and laboratorians."
Eric M. Glassy, MD, FCAP
Expected release February 2023.
---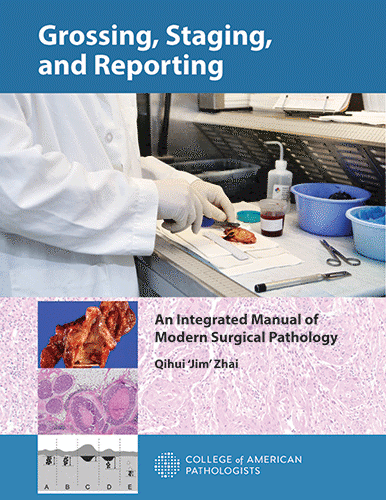 Grossing, Staging, and Reporting (PUB131)
Written to help establish standardized approaches for specimen handling and gross dissection, this book is organized by organ system and includes solutions to avoid staging pitfalls.
"Surgical pathology requires knowledge of all body systems, and maintaining that knowledge is a challenge. Anyone handling a specimen will find this manual useful. Written by recognized authorities, it provides practical tools and expertise for effective grossing, staging, and reporting to benefit patient care."
Qihui "Jim" Zhai, MD, FCAP
Want to hear the author's thoughts? Listen to this podcast interview with Dr. Zhai, or read the interview in CAP Today.
---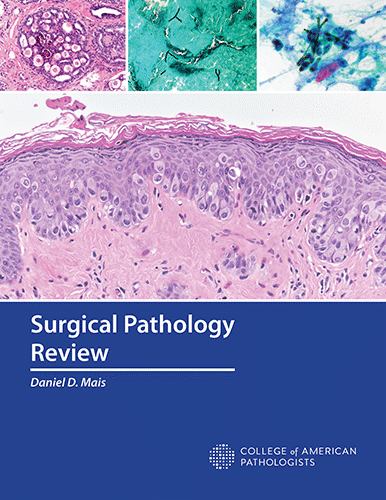 Surgical Pathology Review (PUB130)
In between pure theoretical overview and detailed diagnostic explanations, there is a knowledge gap that this text connects and fills. A must-have text that prepares the pathologist for successful completion of AP board examinations.
"The amount of information residents need to learn and understand can be daunting. Surgical Pathology Review offers insights from experts who work regularly in resident education and understand what knowledge they need for board certification."
Daniel D. Mais, MD, FCAP
Want to hear the author's thoughts? Listen to this podcast interview with Dr. Mais, or read the interview in CAP Today.
---
Our Current Books
CAP Publications offers books in Clinical Pathology, Anatomic Pathology, Laboratory & Quality Management, Benchtop Reference Guides, and more. To browse our entire portfolio of books, download our 2022-2023 Publications Catalog (PDF) or visit the CAP online store.
Preview our current offering in the topic areas below:
Resources for Interested Authors
Authors working with CAP Publications receive individualized attention, including expert copy editing, professional graphic design, and multichannel promotional and marketing efforts. The CAP Publications Committee oversees publications and reviews all publication proposals. The committee assesses all proposals based on perceived value to pathologists and laboratory professionals, author qualifications, quality of writing, and market need. Authors also report a high degree of satisfaction working with the CAP:
"The special individualized attention that you gave the authors and editors was a great experience. It was superior compared to the huge impersonal corporate publishers."
"Thank you for the close editing of this project. You really did add so much value to the publication."
"The book is organized in a very beautiful way. Thank you so much for all your effort, help, and guidance."
Do you have an interesting idea for a new book? Whether you want to write it alone or with other experts, we'd like to hear from you! Start the process today:
Download and complete the Publication Proposal Form. (For more information, you can also download the Proposal Form Instructions and Guidelines for Authors.)
Once you complete the proposal form, or if you have any questions, please contact Katy Meyer at kmeyer@cap.org.
For permission requests to reuse content and related questions, please contact Jaimie Halley at jhalley@cap.org.
Errata
Corrections to current publications: