Laboratories Outside the USA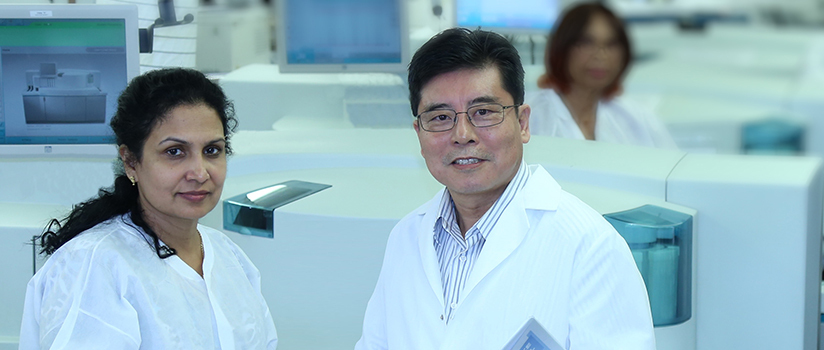 Global Standard for Quality and Performance
At the College of American Pathologists (CAP), we give you the confidence of knowing your laboratory is operating consistently at the highest standards of quality and patient care. With 65+ years of exclusive focus on laboratory medicine and pathology serving more than 20,000 participating laboratories in over 100 countries, we bring a global perspective that gives your laboratory team the courage to meet any challenge.
CAP programs, services, and tools are designed to deliver diagnostic and operational excellence to your laboratory and include:
A full range of the most current programs—from routine to specialty—to support your laboratory's continuous quality improvement efforts.
An unparalleled level of expertise and guidance to help your laboratory keep pace with the latest advances and needs.
A singular dedication to laboratory medicine and pathology, providing globally relevant solutions that can help your laboratory succeed.
Proficiency Testing (PT)/ External Quality Assessment (EQA) Programs

Improve the accuracy of your results and gain actionable insights to identify issues before they affect patient care. Global pathology leaders develop and design our industry-leading programs, which are accredited to the ISO17043 standard.


Laboratory Accreditation Program

Be confident that with CAP accreditation, your laboratory is performing at the highest global standard for quality and better patient outcomes while operating at optimum efficiency. From the moment you engage with us, we join your pursuit of accreditation by providing the tools and support to help you achieve success.
Leverage Expertise and Community of CAP Members
We understand what it takes to run a successful laboratory. As the largest member association for board-certified pathologists, our 18,000 global members provide a unique network of knowledge and leadership to stay current with changes in laboratory medicine and pathology.
Working together on committees, CAP members and staff, along with experts throughout the field of laboratory medicine, leverage their practical experience to design the discipline-specific programs you need to meet day-to-day challenges.
Participating in our programs engages a community of CAP experts—from the committee members who develop our programs to the inspectors and experts in advanced subspecialties on our accreditation inspection teams—to provide high-quality laboratory medicine to the patients you serve.