Reimbursements made by insurers ultimately affect your pay, your equipment and your resources. The CAP has been intrinsically involved to ensure adequate representation for coverage and reimbursement issues facing pathologists in the legislative and regulatory landscape. We represent pathologists' interests in nearly every payment-related policy discussion, including:
The only pathologist organization on the American Medical Association (AMA) Relative Value Scale Update Committee (RUC), a committee that recommends what Medicare and most private insurers pay for physician services.
Representatives on councils across the country that advise on local coverage determinations (LCDs) by insurers, so pathologists are appropriately reimbursed for medically reasonable and necessary services.
Staff advocating on your behalf on the Medicare fee schedule via submission of formal comments and face-to-face meetings.
Producing Results that Matter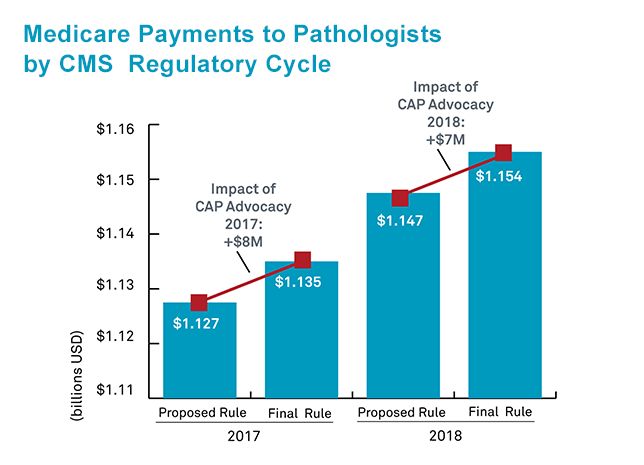 Through our advocacy to protect the value of pathology services, overall Medicare payments to pathologists are projected to increase between 2017 and 2018. Due to the CAP's engagement with the CMS and other stakeholders, our advocacy achieved positive changes, resulting in increases in payment for pathology services between the proposed and final Medicare Physician Fee Schedule (PFS) rulemakings (see graph). Without the CAP's advocacy on Medicare payment, it was estimated that reimbursements from Medicare to pathologists in the final rules would have been $15 million lower over the two years. Read more in our Annual Report.

What We Are Doing
Learn more about the ways we are fighting for fair pay for the value you provide as a pathologist: