STATLINE is a premier CAP member benefit. Delivered weekly to members' email, STATLINE provides news that affects pathology and laboratory medicine, including:

Policy
Legislation and political action
Economic and regulatory affairs
In addition, CAP members receive STATLINE special alerts throughout the year when news breaks.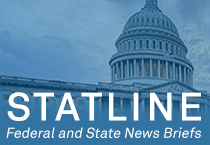 Latest Issue: March 12, 2019 - Still haven't reported improvement activities for MIPS? The CAP has resources to help members report using the Medicare's improvement activities attestation portal. And the CAP supports federal agencies for a taskforce to help combat global health outbreaks with critical diagnostic tests.
Read this Issue
---
Browse Previous Issues
Policy, Advocacy, and Action Update
Our Policy, Advocacy, and Action Update provides a snapshot of the key issues, strategies, and accomplishments of our advocacy efforts at the federal and state level.
Practice Data
To fight for your interests, we must stay in touch with you on the issues that matter most. That's why our advocacy efforts are informed by ongoing research and comprehensive surveys of pathology practices.
The CAP's Policy Roundtable provides timely, well-researched, and objective policy analysis to advance the specialty and address changes in the health care system that affect pathology and pathologists' ability to provide benefits to patients. Learn more about our Pathology Practice Survey work.
---
- Login and membership required
Contact Information
Direct questions or comments to: