Accreditation for Laboratories Outside the USA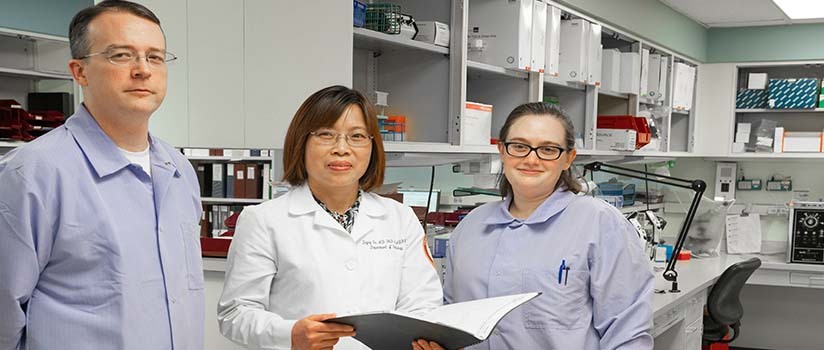 A Global Standard for Premier Reputation, Excellence, and Value
Whether in Dubai, Chicago, Sao Paulo, Munich, or Shanghai, we hold every laboratory to the same high standards. The CAP Laboratory Accreditation Program has earned a worldwide reputation for excellence because we set a high bar with an exclusive focus on laboratory medicine and pathology—but we also support you to make it achievable.
By becoming CAP-accredited, you will realize numerous benefits, including:
Quality process improvements through our PT/EQA programs (required)
Greater confidence in your test results
Laboratory management support and oversight to changes in laboratory medicine
Risk reduction/mitigation
Higher competitiveness in the marketplace
In preparation for our first CAP inspection, I've seen our day-to-day quality systems improving, a new level of discipline in documentation, and increased mindfulness of our staff to ensure we are following processes.

Shivani Sharma, DCP, DNB
CORE Diagnostics, Gurugram, Haryana, India
What Sets Us Apart: Peer Inspectors and Checklists
Our peer-based inspection model uses laboratory professionals who have been in your position; they understand the challenges and risks you encounter. Rather than simply noting deficiencies, they work collaboratively with you during an onsite inspection and often become a resource of knowledge and new ideas.
Our 21 discipline-specific accreditation checklists serve as a detailed guide, not only for achieving accreditation, but also for leadership and running a high-quality laboratory. The checklists are annually updated, incorporating worldwide best practices and reflecting the most recent advances in laboratory medicine.
Having a set of objective requirements created exclusively for laboratory medicine and pathology — and clear criteria for demonstrating compliance — helps eliminate subjectivity. Both the laboratory staff and the inspectors know what to expect, and our inspectors will help you understand exactly what you need to do to meet the requirements.

---
"The CAP serves patients, pathologists, and the public by fostering and advocating excellence in the practice of pathology and laboratory medicine worldwide."
From the CAP Mission Statement
Pathology and Laboratory Medicine: Our Commitment, Our Mission, Our Passion

We are experts in laboratory medicine because pathology (anatomic and clinical) is our exclusive focus. While other accreditation programs and quality management systems may review overall laboratory processes, they often don't address laboratory-specific procedures and lack in-depth knowledge, especially for new and emerging technologies like next-generation sequencing.
We want to help you succeed in ensuring quality patient care and advancing the value of the laboratory within your organization. Our mindset is one of continuous improvement and forming partnerships to leverage all the tools and educational resources of the CAP.
---
Getting Started: Our Accreditation Process
We want you to succeed. That is why the CAP provides you with step-by-step guidance, tools, and support. We help your teams understand and successfully complete each step on your accreditation journey.

The first step is participating in CAP PT/EQA for at least six months prior to applying for accreditation. In addition to the insights and quality process improvements you will gain with our PT/EQA programs, this mandatory participation will also make your accreditation journey smoother and help ensure quality from the beginning.
Visit our Accreditation process page to learn more about the key steps to participate in our program and understand more about what to expect.
*Laboratories outside the USA and Canada must be enrolled in CAP proficiency testing/external quality assessment (PT/EQA) for a minimum of six (6) months before requesting an application.
**The initial inspection is announced for all CAP accreditation programs. Subsequent inspections are announced and performed within the 90-day period preceding the anniversary date.