April 18, 2023
In this Issue:
Pathologists Call on Congress to Stop Medicare Cuts and Support Workforce Initiatives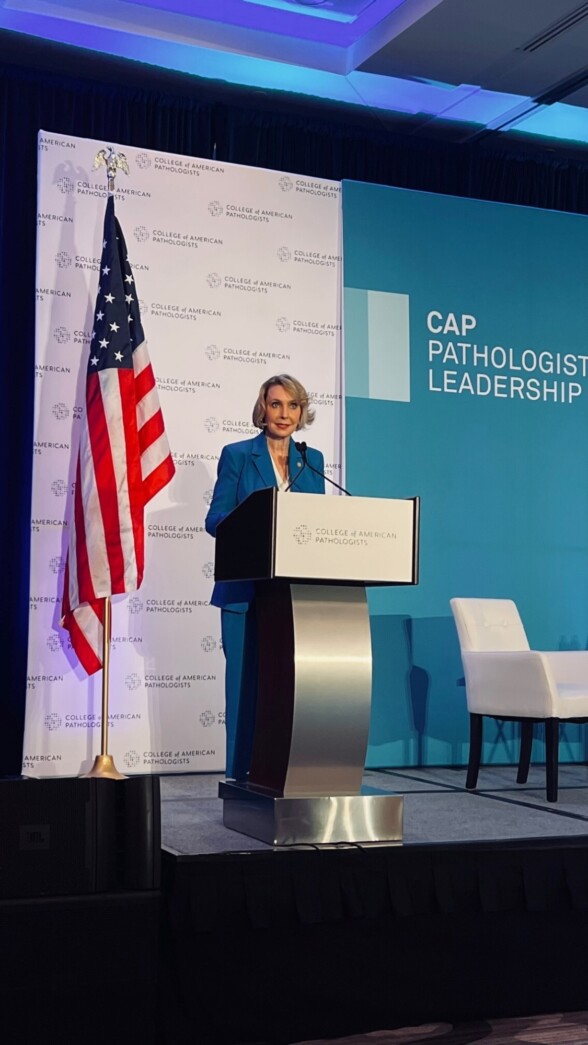 To prepare for the CAP's annual Hill Day, CAP members discussed strategies for how they will engage their members of Congress at the Pathologists Leadership Summit on April 17. CAP Advocacy leaders prepared pathologists to lobby Congress on three main policies affecting the specialty: stopping Medicare cuts to pathology services, including laboratory service reimbursements, and resolving workforce shortage issues.
In her opening remarks, CAP President Emily E. Volk, MD, FCAP, ardently described the significance of pathologists advocating for their profession and educating legislators on the impact of their payment policies.
"As the only 501c6 nonprofit organization representing board-certified pathologists, the CAP is unique in our ability to lobby to the fullest extent of the law. So only pathologists can honestly tell our stories and tie them to the health policies created by our lawmakers. Only pathologists can use our unique knowledge and perspective to educate lawmakers about our specific issues and how they impact our ability to practice medicine and serve patients," Dr. Volk said.
Council of Government and Professional Affairs Chair Jonathan Myles, MD, FCAP, provided an overview of the current political landscape, the CAP's advocacy agenda, private-sector advocacy, and the Hill Day asks for participants.
Joe Saad, MD, FCAP, Vice-Chair of CGPA moderated an interactive Q & A with Dr. Myles, Diana Cardona, MD, FCAP Chair of the Quality and Clinical Data Registry Affairs Committee; Ronald McLawhon, MD, FCAP, Chair of the Economic Affairs Committee and Matthew Foster, MD, FCAP Chair of Federal and State Affairs Committee. These issues include laboratory-developed tests, reimbursement issues and possible Medicare cuts.
A great number of CAP members signed up to lobby the Hill and ask lawmakers to:
Pass legislation providing additional relief from Medicare cuts scheduled to take effect in 2024.
Cosponsor the Resident Physician Shortage Reduction Act of 2023
Support the passage of the Saving Access to Laboratory Services Act (SALSA)
Advocacy Update will provide more coverage of the Pathologists Leadership Summit in the next issue.
PathPAC Raises $51,000 During HOD Competition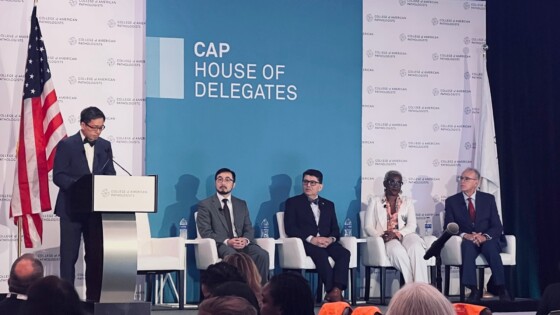 The 2023 Pathologists Leadership Summit kicked off on April 15 with the Spring House of Delegates (HOD) meeting with hundreds of pathologists from around the country participating in-person and virtually.
The meeting started with HOD Chair Sang Wu, MD, FCAP by opening the Spring session which was followed by a lively discussion on challenges on payment cuts on pathologists and how advocacy is the answer to this ongoing challenge and being involved in your hospital administration.
At the close of the HOD session, Dr. Wu announced that the Coastal Team won the Back the PAC HOD competition raising $13,402 total from Alabama, Delaware, Florida, Georgia, Mississippi, North Carolina, South Carolina, Tennessee, and Virginia Delegates. Overall, the HOD raised a record-breaking $51,000 for PathPAC. The goal of the competition was to garner more support for the CAP's political action committee (PAC) and further raise awareness for PathPAC's role to advance the CAP's legislative objectives. PathPAC is nonpartisan and the only PAC representing pathologists at the federal level.
In addition, pathologists received an Advocacy overview from Council of Government and Professional Affairs Chair Jonathan Myles, MD, FCAP. Helen Burstin, MD, who is the Chief Executive Officer of the Council of Medical Specialty Societies, discussed the challenges and opportunities faced by pathology and specialty care clinicians in addressing ongoing workforce issues.
The hybrid audience sharpened their leadership skills during the second day of the Pathologists Leadership Summit on April 16.
CAP Ads Support Pathologists Lobbying During Pathologists Leadership Summit
In the week leading up to the Pathologists Leadership Summit, the CAP placed several advertisements raising awareness about the pathologists' role in patient care that targeted policy influencers in Washington. The main messages in the ads emphasized that pathologists diagnose disease to inform care and treatment decisions by patients and their treating physicians. The coordinated ad campaign sought to complement the CAP's Hill Day activities on April 18.
Physical ad boards were placed along the downtown area of Washington near bike sharing stations. The CAP also used digital ads that targeted policy influencers in Washington. The ad campaign will continue for two more weeks after the Pathologists Leadership Summit concludes.
ONC Announces New 'HTI-1' Proposed Rule Underscoring Interest in Laboratory Data and Laboratory Interoperability
On April 11, the Office of the National Coordinator for Health Information (ONC) released its Health Data, Technology, and Interoperability: Certification Program Updates, Algorithm Transparency, and Information Sharing (HTI-1) proposed regulation, which continues to implement various aspects of the 21st Century Cures Act. The proposed regulation will advance interoperability, improve transparency, and support accessing, exchanging, and using electronic health information. However, the proposed regulation does not address exceptions to information blocking that the American Medical Association (AMA) and CAP advocated for, such as expanding the definition to include psychological harm. The ONC has indicated that they will address these in a separate proposed rule at a later date. The CAP will advocate to ensure that regulations protect patients without overburdening pathologists and laboratories.
The proposed regulation spans the health information technology horizon, including proposals on the movement of health information electronically, on new data standards that help ensure that information can be understood when it enters and leaves a system, on electronic case reporting that supports public health and emergency response across the country, and on algorithm transparency so that health IT users have more information about the algorithms enabled by or interfacing with the certified technology they use for care.
The current proposed regulations that could have implications for laboratory and pathology data include:
Information blocking and patient access to health information: The ONC continues to seek to increase patient access to information, including a proposed provision to provide patients access to predictive DSI (Decision Support Interventions) – underlying data used to generate recommendations. If a patient requests access to their information held by a health care provider, the information required to be sent could include, for example, the underlying data used to generate recommendations about their health care.
Interoperable data to support public health/emergency response: The proposed regulation talks about the need to increase data sharing for public health and emergency response; this would mean interoperable data sets including laboratory data.
Laboratory interoperability: In addition to proposing new standards to support public health initiatives, the proposed regulation seeks input to strengthen and advance laboratory interoperability.
Algorithm transparency: The proposed regulation calls for algorithm transparency to reduce the potential for "algorithmic discrimination."
The CAP will review the proposed regulation and submit its comments by June 20.
Nominate a House of Delegates Leader for Pathology Achievement Award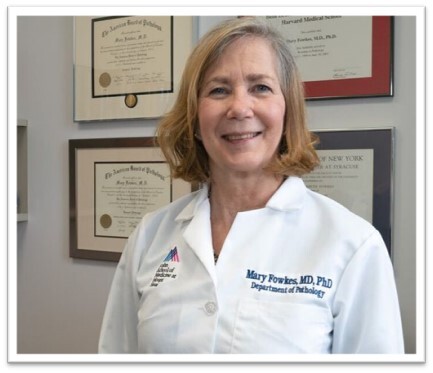 Nominations are open for the Dr. Mary Fowkes HOD Pathology Achievement Award.
This new award will honor the legacy of the late Mary Fowkes, MD, FCAP, who demonstrates commitment, achievements, bridging state, federal resources to advance pathologists; or effectively works for the specialty across organized medicine. This annual award will be presented to a current or former CAP House of Delegates member.
Any current or former HOD can submit nominations. The 2023 nomination period is open through May 31, 2023.
Feeling Lucky? Then Test Your Advocacy Knowledge
Test your knowledge with the April Advocacy News Quiz. See how you compare against your fellow CAP members and brag about your top scores on social!