August 8, 2023
In this Issue:
Pathologists Encourage Congress to Prioritize Medicare Payment Reform
The CAP sent out an Action Alert to its grassroots advocacy network encouraging outreach to their legislators to sign a Dear Colleague letter to House leadership that emphasized the urgent need of Medicare physician payment reform.
Last week, Reps. Ami Bera, MD (D-CA), Larry Bucshon, MD (R-IN), and over 90 members of Congress sent that bipartisan letter to House Speaker Kevin McCarthy (R-CA) and Minority Leader Hakeem Jeffries (D-NY). In the letter, the lawmakers called for reforms to the Medicare Access and CHIP (Children's Health Insurance Program) Reauthorization Act (MACRA) that appropriately pay providers for health outcomes. While the goal of MACRA was to shift the Medicare payment system to one that pays providers based on quality, value and the results of care delivered rather than the number of services provided, it has been plagued with issues since 2015.
This letter builds off the congressional request for information these bipartisan lawmakers issued last September, soliciting feedback from stakeholders to update the physician Medicare payment program. It also comes shortly after the first MACRA oversight hearing held by the House Energy and Commerce Subcommittee on Oversight and Investigations on June 22.
Grassroots advocacy is at the root of driving change at the federal and state level on health care policies that will impact pathologists' ability to practice and protect the patients they serve. Learn more about CAP's grassroots advocacy network, PathNET.
CAP Proactively Working to Strengthen Enforcement of Payment Decisions Under No Surprises Act
The CAP is aware of some insurers delaying payment or refusing to honor decisions rendered after pathologists win a decision following the federal independent dispute resolution process.
In April, the CAP wrote a letter to the Center for Medicare and Medicaid Services (CMS) urging the agency to strengthen enforcement of the No Surprises Act dispute resolution requirements – including implementing financial penalties in the case of nonpayment – and to improve the process of submitting a formal complaint against a private insurer.
The No Surprises Act requires that insurers and providers undergo an independent arbitration process to settle their differences without involving patients. As highlighted in an August 3 story featured in Axios titled "Doctors say insurers are ignoring orders to pay surprise billing disputes," instances of insurance nonpayment regarding surprise billing continue to affect physicians in all specialties.
A survey by Americans for Fair Health Care of more than 48,000 physicians in 45 states across 12 specialties found:
52% of all arbitration-determined payment amounts were not paid at all.
On average, it has taken 236 days (approximately 8 months) for a payment dispute to be resolved and paid.
Only 24% of Independent Dispute Resolution (IDR) submissions are completed – an average of 67% remain pending.
And many payers are not engaging in mandatory open negotiations.
The Texas Medical Association recently sued CMS over several aspects of the No Surprises Act. CMS suspended the IDR process after a federal court judge ruled in favor of the Texas Medical Association last week. The judge found that the CMS did not follow processes to increase fees. The CAP also objected to the fee increase in the past.
The CAP continues to work with the CMS to address problems members and others are experiencing.
Research by the CAP Featured in CDC Paper on Laboratory Supply Shortages During Pandemic
PHOTO: Dr. Guillermo G. Martinez-Torres and U.S. Senator Susan Collins
CAP Governor and former CAP Foundation Board President, Guillermo G. Martinez-Torres, MD, FCAP and U.S. Senator Susan Collins (R-ME) pose for a photo at a Red Cross event in Maine.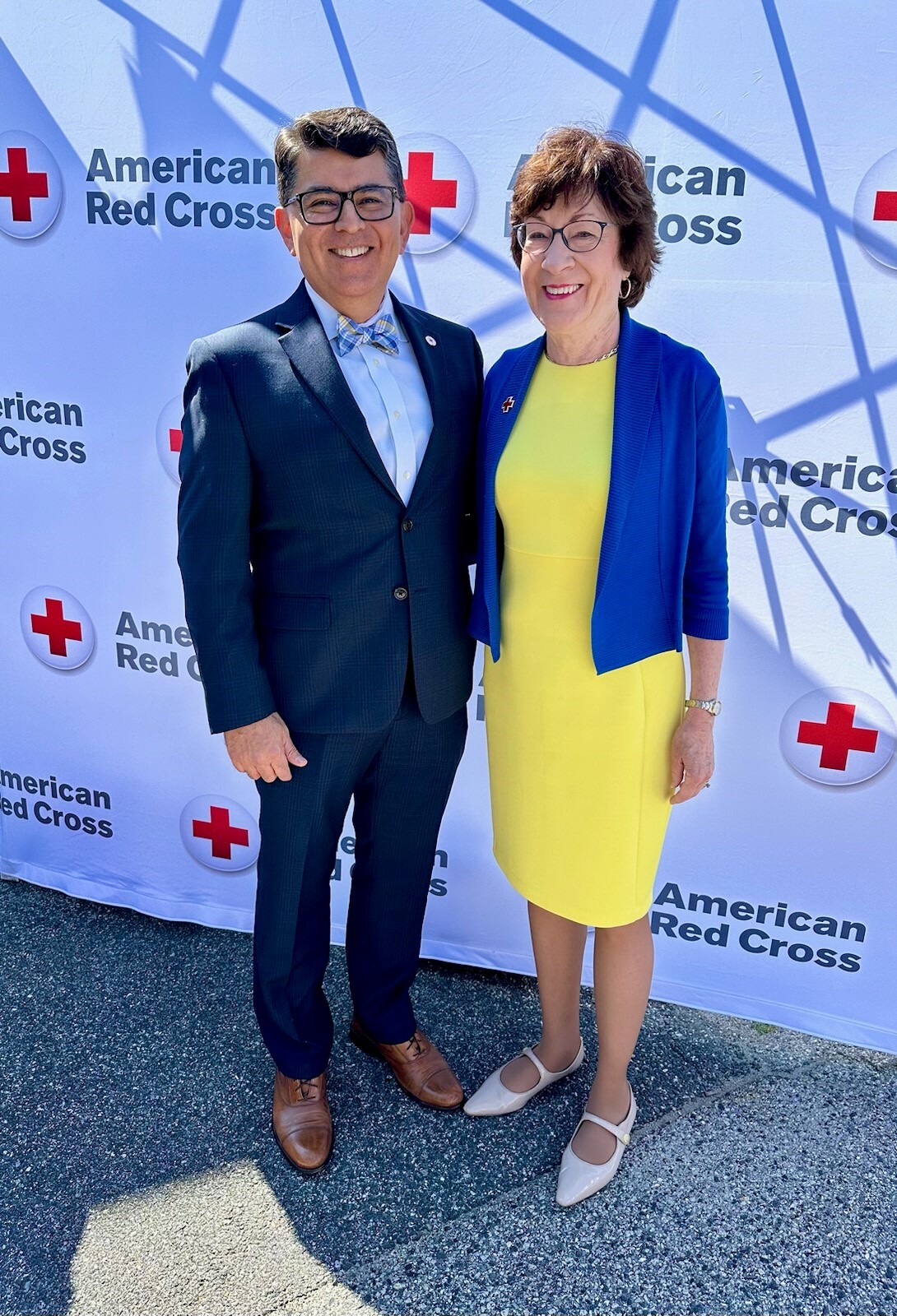 PODCAST: Catch-Up on CAP Advocacy Highlights for July
Our monthly Advocacy Recap podcast is live to catch you up news and information affecting pathologists. Give it a listen when you have a moment.
Take Our News Quiz for August
Are you up to speed on CAP advocacy news? Take our new monthly news quiz and see how many you can get right and share your results on social media.