June 27, 2023
In this Issue:
Organizations Cite Scope Expansion for Cytotechs as Reason to Support Name Change Opposed by CAP
The Commission on Accreditation of Allied Health Programs (CAAHEP) is considering a name change for the profession from cytotechnologist to "cytologist." Of greatest concern is that the name change will create confusion throughout the health care system. Some, including patients, might mistake cytotechnologists using the "cytologist" name to be physicians.
Since August 2020, the CAP has communicated its opposition to the name change citing a lack of baseline data that independently validated the necessity for the change. Furthermore, the impacts of the name change on the medical community have not been evaluated.
In a joint statement, the American Society of Cytopathology (ASC), American Society for Clinical Pathology (ASCP), and American Society for Cytotechnology (ASCT) fully endorsed changing the name of cytotechnologists to "cytologists" and further cited efforts to expand the scope of practice expansion for the profession. The CAP has strongly opposed the name change as it is a risk to pathology and ultimately patients.
In the ASC-ASCP-ASCT statement, organizations said changing the professional name from cytotechnologist and cytotechnology to cytologist and cytology would better reflect "the elevated degree as well as the expanded skills and responsibilities" for the profession.
"As the scope of practice expands for cytologists, we feel that it is important to enhance the curriculum of the cytology programs with more research, molecular diagnostics and management training," the groups said.
It is well documented that name changes are often the first step in scope of practice expansions. The AMA and the CAP have both prioritized fighting scope creep that tries to expand the scope of non-physician providers, which can confuse and ultimately endanger patients. For example, the AMA has opposed efforts by physician assistants to change their name to "physician associate." The CAP is an active participant in the AMA's initiatives to fight scope of practice expansion that are inappropriate and threaten patient safety.
Call to Action for Pathologists
The CAP is calling on its members to oppose the professional title change of cytotechnologists to cytologists. CAP members should take immediate action to provide public comments to the Commission on Accreditation of Allied Health Education Programs. They will collect comments until Monday, July 3, 2023, at 5:00 PM Eastern. Follow these steps:
Click the link Access the Comment Collection Survey Tool here
Check the circle for Description of Profession (listed third) and click next
For the line number section, enter "50"
You can then copy and paste this comment and click next: As a pathologist I am concerned about the proposed cytology professional titles new designation of cytologist. I believe we need a strong cytotechnology workforce, but the name change is not a necessary step to achieve this objective. In this proposed change there are still outstanding questions about the standards and guidelines that have not been addressed or agreed to by all parties. Until there is baseline data independently validated regarding this change, I question the need to move forward. No action should be taken without the data to thoroughly evaluate the impact of this proposed change on the current and future medical community. Time would be better spent focusing on standardizing the cytotechnologist curriculum to ensure a sustainable supply of cytotechnologists. Moreover, consideration needs to be given to the costs associated with federal and state regulatory changes. Given the current reimbursement climate any additional cost will be detrimental to laboratory operations. For all of these reasons I oppose the proposed name change and strongly recommend you reconsider your decision.
Then click the first button for "I have completed my comments" and click next
Click done
CAP Opposes Insurer Optum's Move to Restrict 88305 Usage with Arbitrary Thresholds
The CAP has objected to the private insurer Optum's new laboratory benefit management program and its efforts to establish limits on the number of CPT code 88305 units that will be reimbursed by specimen type. The CAP is seeking a meeting with Optum officials to further explain our position and to provide examples where it is common clinical practice to bill more 88305 codes.
The laboratory benefit management program seeks to address "inappropriate utilization" by limiting the number of CPT 88305 units that will be reimbursed by specimen type and automatically denying payment for "inappropriate add- on tests." In a June 2 letter to Optum, the CAP said it is committed to addressing overutilization of testing, but policies or programs that interfere with a patient's ability to receive timely and appropriate services/care risk negatively affecting patients, providers, and the entire health care system.
Pathologists are uniquely positioned to assist in adding value to patient care and controlling costs through application of evidence-based approaches, yet we have seen little detail on the clinical guidelines being used by the Optum [laboratory benefit management] or other details on how laboratory claims are evaluated," the CAP said.
Restrictive policies do not account for the fact that pathologists and clinical laboratories do not control the number of specimens sent to them. It is the ordering physician that determines the number of specimens and the outlier providers who engage in overutilization who should be specifically targeted.
FDA Launches Cancer Biomarkers Pilot
The U.S. Food and Drug Administration (FDA) announced a new voluntary pilot program for certain oncology drug products used with certain corresponding in vitro diagnostic tests to help clinicians select appropriate cancer treatments for patients. According to the FDA, the pilot will increase the transparency and safety of diagnostic tests used to select certain oncology drug treatments.
Through the pilot program, the FDA will request, from drug manufacturers, performance information for the tests used to enroll patients into the clinical trials that support drug approval. Based on an assessment of that information, the FDA will post to the FDA website the minimum performance characteristics recommended for similar tests that may be used to select patients for treatment with the approved drug. Laboratories may use this information to guide their development of laboratory-developed tests (LDTs) to identify specific biomarkers used for selecting cancer treatment. This transparency aims to help facilitate better and more consistent performance of these tests, resulting in better drug selection and improved care for patients with cancer. The initial phase of the pilot program is anticipated to last up to one year.
CMS Details Patients' Rights Under No Surprises Act
With unexpected medical bills a significant source of stress, frustration, and confusion for patients, the Centers for Medicare & Medicaid Services (CMS) published new guidance on patients' rights under the No Surprises Act. The CAP advocated during the enactment of the No Surprises Act in 2020 for patients to be held financially harmless when an out-of-network physician provides services to patients at an in-network hospital or facility. The CAP continues to engage with the CMS to represent pathologists and the patients they serve as the federal agency implements the law.
On June 14, the CMS) released new consumer-friendly webpages with easy-to-read information regarding consumer protections in the No Surprises Act. The new web pages aim to be inclusive and accessible by providing plain language, mobile-friendly resources that include a Q&A tool as well as guides that will help patients navigate medical billing questions and a No Surprises Help Desk feature. Pathologists should be aware of the information the CMS is providing to patients with regards to protections and expectations under the No Surprises Act.
Reminder: CMS Accepting 2023 MIPS Hardship Exception Applications
Merit-based Incentive Payment System (MIPS) applications for MIPS Extreme and Uncontrollable Circumstances Exception and MIPS Promoting Interoperability Performance Category Hardship Exception are available for the 2023 performance year. Applications can be submitted until 8 PM. ET on January 2, 2024. MIPS eligible clinicians, groups, and virtual groups may apply to reweight any or all MIPS performance categories if they have been affected by extreme and uncontrollable circumstances that impact these performance categories.
For the 2023 performance year, CMS continues to use the MIPS exception policy to allow clinicians, groups, virtual groups, and alternative payment model entities to apply requesting reweighting of MIPS performance categories due to COVID-19. CAP encourages MUPS-eligible pathology practice that may be affected by COVID and other hardships to apply sooner rather than later. If CMS denies the application, pathologists will need to report MIPS, or be subject to a penalty. For more information visit the Quality Payment Program Resource Library.
PathPAC Members Make In-District Connections with Lawmakers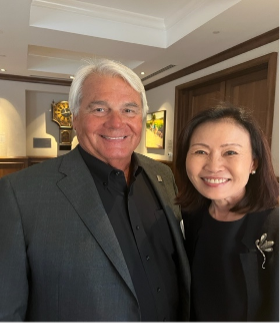 Throughout the year, the CAP's political action committee, PathPAC, identifies and coordinates opportunities for CAP members to connect locally with their members of Congress. This in-district congressional engagement is key in helping grow personal relationships with lawmakers and educating them on the legislative issues most impacting the pathology profession.
Recently, Thomas Cooper, MD, FCAP represented PathPAC at an in-district fundraising event for Representative Michelle Steel (R-CA). Rep. Steel is a newcomer to the powerful House Committee on Ways and Means, and she also sits on its Health subcommittee. The event provided a more personal setting for Dr. Cooper to get to know the Congresswoman and to thank her for supporting two bipartisan CAP-backed bills, the Resident Physician Shortage Reduction Act of 2023 and the Saving Access to Laboratory Services Act.
Dr. Cooper shared his takeaways from the event, which took place right before the crucial House vote on raising the debt ceiling:
"I was extremely impressed by her presentation, mostly around the budget deadline (this was the evening before the vote on raising the debt ceiling. She was on the red-eye flight right after the event. With that I was able to spend time talking about the issues that were discussed at the Pathologists Leadership Summit earlier in the year in DC."
Dr. Cooper was also pleased with Rep. Steel's knowledgeable and approachable staff, remarking that "she has assembled a very effective and diverse group of both experienced political actors and very energetic and dedicated young people." Given her position on one of the CAP's committees of jurisdiction, and her demonstrated support for policies that would expand the physician workforce and address harmful Medicare cuts to clinical laboratory services, Rep. Steel is certainly a relationship that PathPAC will continue to invest in growing.
Additionally, C. Leilani Valdes, MD, FCAP was able to catch up with Rep. Lloyd Doggett (D-TX) at a fundraiser in Austin last month. Rep. Doggett is another pathology champion on House Ways and Means, and he currently serves as Ranking Member on the Health subcommittee. Dr. Valdes thanked him for being a long-time pathology champion and for his recent co-sponsorship of the Resident Physician Shortage Reduction Act--one of the CAP's Hill Day asks in April.
While there will be plenty of legislative action on Capitol Hill to look forward to this summer, the in-district work periods (including one lasting the entire month of August) will allow for CAP members to continue making valuable advocacy touchpoints from home and maximizing pathologists' political impact nationwide.
Register: Proposed 2024 Medicare Physician Fee Schedule
Do you know how much your Medicare pay will increase or decrease in 2024? Register in advance for our proposed 2024 Medicare Physician Fee Schedule webinar on July 26 at 1 PM ET/ Noon CT. During this session, you will learn the latest Medicare payment policies concerning individual pathology services and the Quality Payment Program next year.
Our expert presenters will also answer your questions. They are Jonathan Myles, MD, FCAP, chair, Council on Government and Professional Affairs; Diana Cardona, MD, FCAP, chair, Quality and Clinical Data Registry Affairs Committee; and Ronald W. McLawhon MD, PhD, FCAP, chair, Economic Affairs Committee.
Secure your attendance for this complementary program today.
Take Our News Quiz for June
Are you up to speed on CAP advocacy news? Take our new monthly news quiz and see how many you can get right and share your results on social media.
Editor's Note
Due to the Fourth of July holiday, the next edition of Advocacy Update will be July 11. If important news breaks, the CAP will send a special edition of the newsletter or post information on our Twitter account @CAPDCAdvocacy.