March 22, 2022
In this Issue:
Senate Health Committee Advances PREVENT Pandemics Act
On March 15, the Senate Health, Education, Labor and Pensions (HELP) Committee approved the Prepare for and Respond to Existing Viruses, Emerging New Threats, and Pandemics Act (PREVENT) Pandemics Act by a bipartisan vote of 20-2. The CAP advocated for and supported several provisions in the PREVENT Pandemics Act.
The PREVENT Pandemics Act would strengthen the nation's public health and medical preparedness and response systems. The legislation is the result of bipartisan efforts by members on and off the of the HELP Committee to examine what has worked, and what has not, during the nation's response to the COVID-19 pandemic. The CAP has engaged with congressional leaders and submitted comments to the HELP Committee on PREVENT Pandemics Act.
Key elements of the legislation supported by the CAP include:
Addressing social determinants of health: Authorize $70 million in each fiscal year from 2023 to 2027, to address social determinants of health and improve health outcomes.
Increasing Genomic Sequencing, Analytics, and Public Health Surveillance of Pathogens: Authorize $175 million in each fiscal year from 2023 to 2027, to strengthen and expand activities related to genomic sequencing of pathogens, including new and innovative approaches and technology for the detection, characterization, and sequencing of pathogens, analytics, and public health surveillance.
Supporting Epidemic Forecasting and Outbreak Analytics by the Centers for Disease Control & Prevention (CDC): Require the CDC to identify strategies to include and leverage the capabilities of public and private entities.
Improving access to Specimen Samples and Diagnostic Tests: Make publicly available policies and procedures related to accessing specimens for emerging infectious diseases.
Modernizing and Strengthening the Supply Chain: Modernize and strengthens supply chains.
Modernizing clinical trials: Modernize clinical trials by requiring the Food and Drug Administration (FDA) to issue new guidance documents.
Strengthening medical device supply chains: Require manufacturers of certain critical medical devices to develop, maintain, and implement a redundancy risk management plan.
Sen. Paul Amendment on LDT Oversight Fails
During the committee hearing, Sens Rand Paul (R-KY) proposed adding his laboratory-developed testing (LDT) oversight bill, the VITAL Act, to the legislation. His amendment failed by a vote of 19-2, with most Republicans and all Democrats voting against the amendment. The CAP does not support the VITAL Act.
The CAP supports the bicameral, bipartisan process that is working to develop legislation to address the oversight of LDTs. This process includes a broad coalition of stakeholders and key federal agencies. While there is more work to be done, significant progress has been made to develop a LDT oversight legislation that takes into consideration safety issues, process issues, removing duplication, and ensuring public health and safety.
Back to PAC Competition- Is Your Region Winning?
The CAP House of Delegates (HOD) is running a Back the PAC competition between national regions. The goal is to garner more support for the CAP's political action committee (PAC) from HOD members and further raise awareness for PathPAC's role to advance the CAP's legislative objectives. PathPAC is nonpartisan and the only PAC representing pathologists at the federal level.
Due to the wide-ranging number of CAP members per state Delegation, individual states are grouped loosely by region to form teams of equal numbers. The winning team(s) will be determined by:
Participation rate of the team
Highest amount raised
There can either be two winning teams or one winning team, should a team win both the highest participation rate and amount raised. Each week, the HOD will receive an update on the team rankings. The teams are as follows: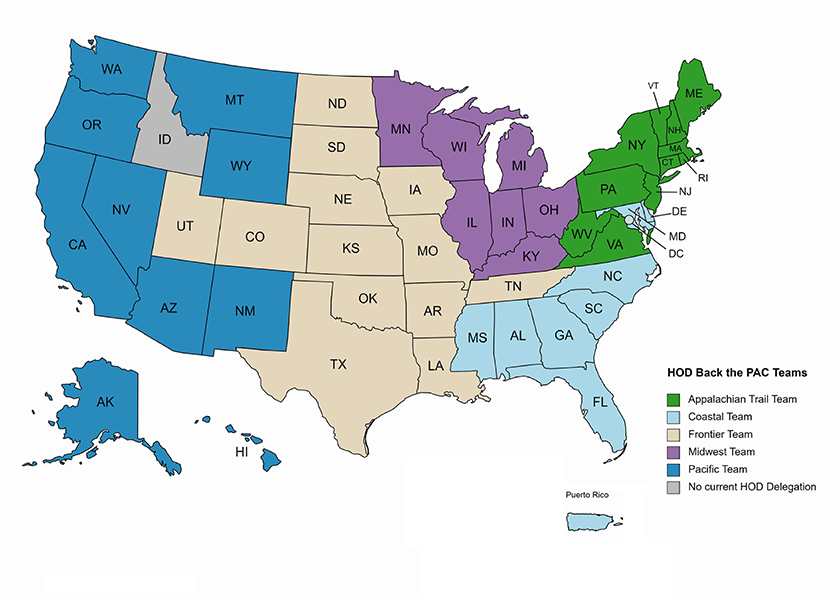 Currently the standings are:
Total $ Raised
1st: Frontier Team ($7,588)
2nd: Midwest Team ($3,950)
3rd: Pacific Team ($3,360)
Highest Participation Rate
1st: Frontier Team (14.29%)
2nd: Appalachian Trail Team (11.34%)
3rd: Midwest Team (10.75%)
The competition will close on April 30, 2022, one day before the HOD meeting at the Pathologists Leadership Summit, where the winners will be announced. Donors from the winning team(s) will receive PathPAC-branded prizes. For the top prize, the ten highest donors from the winning team(s) will be invited to attend a dinner at the Pathology Leadership Summit in Washington, DC on Monday, May 2, along with CAP leaders and a member of Congress.
PathPAC is the only political entity that pursues the election and reelection of candidates for federal office who understand the value of pathology in improving patient care and help advance the CAP's position on key issues related to pathology. The PAC is crucial in providing opportunities to educate Congress on issues of importance to pathologists. You can donate now via cap.org. For any further questions, please email PathPAC@cap.org.
Test Your Advocacy News Knowledge
Think you know CAP Advocacy? Well test it with the March Advocacy News Quiz. See how you compare against your fellow CAP members and brag about your top scores on social!