November 22, 2022
In this Issue:
CAP Tells Highmark to Abandon Third Party Validation for NGS Testing
The CAP strongly opposed the health insurer Highmark's new credentialing requirements for next-generation sequencing (NGS) testing that imposes independent third-party validation of NGS results and/or variants of uncertain significance interpretation. The CAP is concerned with the burdens placed on NGS testing laboratories to require meritless new credentialing requirements.
In a November 14 letter, the CAP asked Highmark to stop this requirement as its not based on scientific basis and presents a conflict of interest. "The purported scientific basis for the use of this proposed proficiency testing methodology is contrived, misapplied, and misrepresented, and further confounded by an apparent conflict of interest. For these reasons, we believe this new requirement would not only fail to improve patient care but would distract laboratories from clinically relevant aspects of testing that could improve quality. Therefore, we request that Highmark abandon this requirement," the CAP said in the letter.
Specifically, the CAP disagrees with the recommendation for the Center for Genomic Interpretation (CGI) to validate laboratory standards and the assertion that certifications from the CAP and CLIA are insufficient guarantees of quality from high-complexity laboratories.
Highmark said in an August letter to 18 high-complexity laboratories that requirements under CLIA and CAP accreditation are "necessary but are not sufficient guarantees of quality from high-complexity labs."
The CAP is a deemed accreditor on behalf of the Centers for Medicare and Medicaid Services (CMS), under the CLIA law, with a longstanding and respected record of serving the public by overseeing the quality of laboratory operations and proficiency testing. CAP Accreditation Checklists consist of 21 discipline-specific documents including Molecular Pathology. The first CAP Molecular Pathology Checklist (MOL) was published by the CAP in 1993 and the NGS section of the MOL checklist was first introduced to the laboratory community in 2012.
The CAP has requested a meeting with Highmark to further discuss its policy.
At AMA Meeting, CAP Protects Physician Scope of Practice
At the interim meeting of the American Medical Association (AMA) House of Delegates, the CAP worked on policy to defend the physician's scope of practice, prevent future Medicare cuts to physician payment, promote Medicare Advantage Oversight, and address reproductive health care issues following the Dobbs v. Jackson Health Supreme Court decision earlier this year. The CAP led a delegation of the Pathology Section Council, which includes the American Society of Clinical Pathology, American Society of Cytopathology, College of American Pathologists, US and Canadian Academy of Pathology, National Association of Medical Examiners along with a new member organization, the American Society of Dermatopathology Nearly 700 physicians, residents, and medical students gathered in to consider proposals across a wide range of clinical practice, payment, medical education, and public health topics.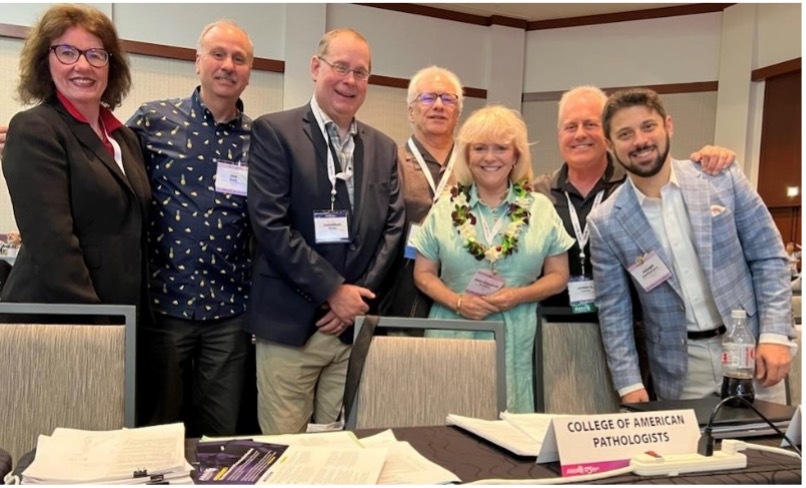 CAP President Emily E. Volk, MD, FCAP, during the AMA's Scope of Practice Partnership Meeting on Monday, November 14, testified about scope of practice issues impacting practicing pathologists and laboratory medicine as there is evidence that providers are creeping into physicians' medical scope of practice issues and policies. Dr. Volk emphasized how physicians should ensure that they are protected from scope of practice encroachment from allied health professionals and that health care teams should always be led by medical trained physicians and that limited-license providers are valued as members of the physician led team. Without that guarantee, patients are the ones who will suffer from the lack of quality care only medically trained physicians can provide. Dr. Volk also emphasized how physicians need to advance to become leaders in health systems leadership teams to ensure that physicians remain leaders of the patient care team.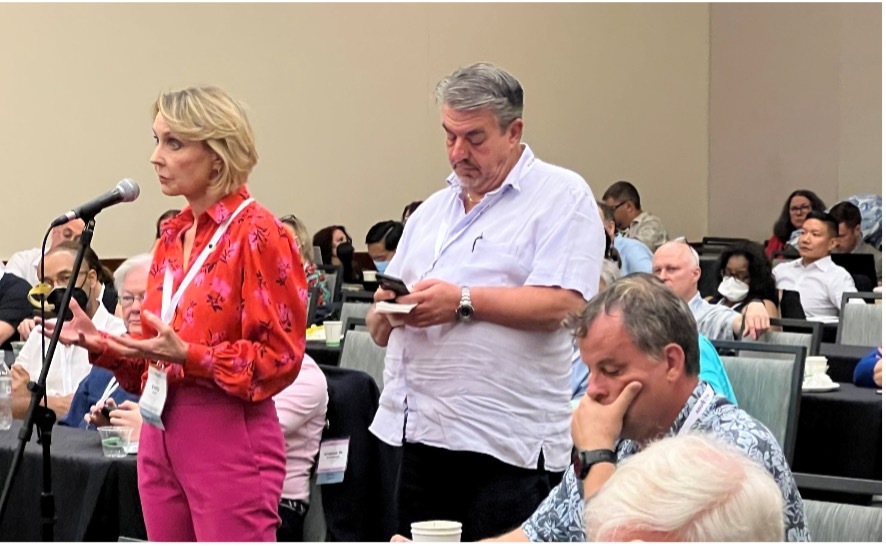 Urging Medicare Advantage Oversight
Older adults trying to determine whether a Medicare Advantage plan makes sense for them—and which of the options are best for their needs—often face confusion and a lack of clarity in exactly what each plan offers, according to a resolution presented by the AMA Senior Physicians Section, which the CAP supports.
To promote uniformity and enforcement of Medicare Advantage plans and regulation and to help older adults more easily determine the differences between plans, the AMA will advocate:
Enforce better Medicare Advantage regulations to hold the CMS accountable for presenting transparency of minimum standards and to determine whether those standards are being met for physicians and their patients.
Require that Medicare Advantage plans to post all components of Medicare covered and not covered in all plans across the US on their website, along with the additional benefits provided.
Require that the CMS maintain a publicly available database of physicians in network under Medicare Advantage and the status of each of these physicians regarding accepting new patients in a manner least burdensome to physicians.
Employed Physicians
The CAP also engaged on several other initiatives, including studying the trend of employed physicians and how the AMA can support their needs. Pathology Delegates discussed how physicians are moving away from private practice and toward health care entity employment. Pathology delegates spoke to the issue and explained the importance and complexity of the trend and unique needs of employed physicians. As a result, the House of Delegates asked for the AMA to produce a report with proposed solutions by the interim 2023 meeting.
Reproductive Health
The CAP also discussed reproductive health changes and its impact on pathology. The CAP believes that changes to state reproductive health laws, which we expect to be introduced during the 2023 legislative session, present several unique threats to pathologists and clinical laboratories. The CAP's delegation agreed with adopted AMA policies regarding reproductive health, including:
Oppose the criminalization of pregnancy loss resulting from medically necessary care and supporting expanded access to abortion care including clarifying the ethical guidance regarding abortion bans.
Preserve access to abortion training for physicians-in-training.
AMA Residents and Fellows Section and AMA Young Physicians Section
The AMA Residents and Fellows Section and AMA Young Physicians Section were active in fulfilling the objectives of organized medicine to ensure that new-in-practice pathologists are positioned to play a significant role in policy-making discussions.
The AMA passed a new policy aimed at protecting new residents who train at teaching hospitals acquired by private equity firms and there was extensive discussion about unmatched medical graduate and the need to address this matter on behalf of organized medicine.
During the meeting, AMA President Jack Resneck Jr., MD, addressed the HOD and outlined ongoing challenges physicians face and the sheer rise in physician burnout because of a broken health care system
Dr. Resneck outlined the challenges facing physicians and patients following the Dobbs decision, the threats stemming from disinformation on topics of health and medicine, and the consequences of years-long disinformation campaigns that threaten the patient-physician relationship. Dr. Resneck told physicians that being resilient "isn't going to heal the burnout. While wellness has its place, to focus solely on resilience is to blame the victim," the AMA's president said. "We need to fix what's broken—and it's not the doctor," he said drawing considerable applause from delegates.
CAP Wants Reduced Burden and Added Safeguards in Upcoming Good Faith Estimates Regulations
The CAP asked the Biden administration to consider the burden and potential misuse of data by insurers in comments regarding upcoming good faith estimates (GFE) regulations. The new regulations, which have not yet been released, would implement requirements around an "advanced explanation of benefits" and additional GFE requirements of the No Surprises Act.
Specifically, the new regulations will address those circumstances where an individual has health insurance and is seeking to have a claim for an item or service submitted to their insurer. Providers and facilities must already provide a GFE to uninsured or self-pay patients, but for covered individuals, will eventually have to provide a GFE of the expected charges to the insurer. The insurer will then use this information to send the patient an advanced explanation of benefits (AEOB).
In the November 14 letter, the CAP urged the CMS to streamline the GFE process while reducing burdens on pathologists. Additionally, the CAP asked the CMS to maximize the information that health insurers can provide to avoid duplication of efforts. The CAP has repeatedly emphasized the significance and complications in determining the cost of pathology services in advance of services conducted by the pathologist.
The CAP also asked the CMS to add protections and limits on data disclosed to insurance companies. This should include "measures to explicitly prevent insurers from using AEOB and GFE data for anything other than the provision of advanced estimates."
Reminder: Good Faith Estimates Resources Available for Pathologists
Beginning in 2022, the CMS implemented good faith estimate requirements for physician and other provider practices. Specifically for pathologists, these requirements mandate that a good faith estimate of expected charges be provided to uninsured or self-pay patients at least three business days before a scheduled service or upon request. This must include expected charges for the items or services provided in conjunction with the primary item or service. A good faith estimate is not required to include charges for unanticipated items or services that are not reasonably expected and that could occur due to unforeseen events.
The CAP has resources to help members understand the good faith estimates and price transparency for diagnostic medicine, including a webinar, toolkit, and a podcast.

New Monkeypox Test Code Mapping Guide; HHS Extends Public Health Emergency
The Centers for Disease Control and Prevention (CDC) announced a new test code mapping guide for monkeypox on November 14. The  LOINC In-Vitro Diagnostic (LIVD) Test Code Mapping Guide is available for all monkeypox virus diagnostic tests that received Food and Drug Administration (FDA) Emergency Use Authorization. This guide supports the use of harmonized LOINC and SNOMED Clinical Terms (CT) codes to help improve the accuracy and standardization of monkeypox virus test reporting across the United States.
Public Health Emergency Extended to April 2023
The Department of Health and Human Services (HHS) is also expected to extend the COVID-19 public health emergency declaration until April 2023. The public health emergency is set to end on January 12, 2023, but health care stakeholders urged the HSS to extend the emergency declaration through the winter to address a potential COVID surge. However the PHE will last through mid-April 2023 since the Biden administration promised to give 60-days' notice before the PHE ends. That 60 days' deadline passed last week. The extension allows states more time to prepare for the Medicaid redetermination process slated to restart once the emergency ends.
The HHS pledged to give stakeholders 60 days' notice before officially ending the declaration so they could prepare for the end of the various waivers and other policies that are only in effect through the emergency. These include the requirement that states keep Medicaid beneficiaries on their rolls to get higher federal matching funds, waivers for telehealth services, and waivers that allow providers staffing flexibility.
2 MIPS Pathologists Measures Are Now Reported on Public Website
For the first time, the CMS is placing two pathologists measures on its publicly available Medicare Care Compare website intended for access by patients. The two measures are CAP22 (Turnaround Time for Biopsies) and CAP28 (H pylori status and Turnaround Time). The CMS allows physicians to preview the information before it is posted publicly, so any pathologists who reported either of those two measures in 2021 should be aware that the information will be shared on the public CMS website and should preview their information before December 20.
The CMS will open the preview period on November 21 through December 20 where MIPS participants can preview their 2021 measure performance information before it goes public. The information will appear on clinician and group profile pages on the Medicare Care Compare and in the Provider Data Catalog Webpages. In addition, Quality Payment Program (QPP) participating physicians can access the secured preview through the QPP website.
If you have any questions about public reporting for doctors and clinicians on Care Compare, contact the QPP help desk.
December 2 - Coming Reimbursement Opportunities for Digital Pathology Webinar
The new Digital Pathology CPT Codes will be available starting January 1, 2023. On Friday, December 2, CAP experts Marilyn Bui MD, FCAP; Savitri Krishnamurthy, MD, FCAP; and S. Joseph Sirintrapun, MD, FCAP; will lead a discussion on how laboratories should use the codes and how these new codes may impact future reimbursement for digital pathology.
Panelists include W. Stephen Black-Schaffer, MD, FCAP; who as Chair of the Economic Affairs Committee was a leader in the CAP's effort to establish the new codes, and Anil Parwani, MD, FCAP; and Juan Santa-Rosario, MD, FCAP; who both use digital pathology in their practices.
What Will Be the Impact of the Final Fee Schedule on Your Practice?
On November 1, the CMS released the final 2023 Medicare payment regulations, including the final Medicare Physician Fee Schedule and the Quality Payment Program regulations.
On Monday, December 5 at 3 PM ET/ 2 PM CT, the CAP will offer a complementary live webinar where CAP experts will review final regulations that will impact Medicare payment for services and pathologists' participation in the quality initiatives. Webinar presenters will be the Council on Government and Professional Affairs Chair Jonathan Myles, MD, FCAP; Economic Affairs Committee Chair Stephen Black-Schaffer, MD, FCAP; Economic Affairs Committee Vice-Chair Ronald McLawhon, MD, FCAP; and Quality and Clinical Data Registry Affairs Committee Chair Diana Cardona, MD, FCAP.
Last Week to Test Advocacy Your Prowess
It's almost the end of November and time is almost up to test your advocacy prowess. Last month over 100 fellow members took the quiz. See how you compare against your fellow CAP members and brag about your top scores on social! 

Editor's Note: Next CAP Advocacy Update is December 6
Your Advocacy Update newsletter will take a scheduled break November 29 for the Thanksgiving holiday. The next issue will be on December 6, 2022. For more immediate updates, please check out our Twitter feed @CAPDCAdvocacy.