September 19, 2023
In this Issue:
CAP Urges Pathologists to Contact Congress to Stop 2024 Medicare Cuts
As congressional discussions about funding the government continue, the CAP is urging pathologists to contact their members of Congress to urge them to pass legislation to provide additional relief from the Medicare cuts scheduled to take effect in 2024. This desperately needed relief will help provide crucial short-term financial stability until permanent, bipartisan payment reforms are enacted. Absent congressional action, pathologists face Medicare payment cuts of 2.75% in 2024 even with the 1.25% conversion factor adjustment Congress provided physicians at the end of 2022 for 2024.
While Congress has taken action to address some of these fiscal challenges by mitigating some of the recent Medicare Physician Fee Schedule cuts, payment continues to decline. These cuts combined with the lack of an inflationary update to the Medicare Economic Index represent significant negative financial factors. It is essential for pathologists to let Congress know that with workforce shortages, preparing for future pandemics, and inflationary pressures, now is the time to invest in our nation's laboratory infrastructure, not erode it. Take action now!
CAP23 HOD Keynote Speaker: Critically Acclaimed Author Examines Moral Crisis of American Doctors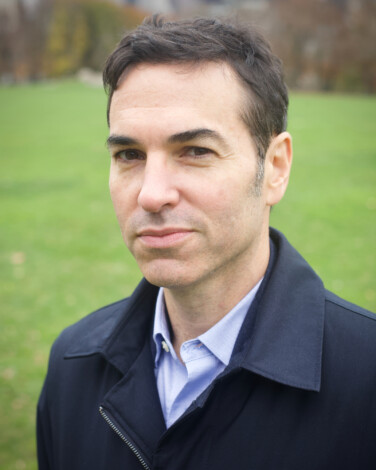 On October 7, join either in-person, virtually or on-demand the House of Delegates/Residents Forum Luncheon sponsored by PathPAC at CAP23. During the luncheon, you will hear from journalist and author of several books, Dr. Eyal Press discuss how market forces are altering the practice of medicine and causing many physicians to feel alienated. He will engage and challenge CAP members in considering how the health care system has changed – and continues to do so – impacting the practice of medicine and the workplace for pathologists at all stages of their careers. Register today!
CAP Asks First Coast and Novitas to Revise Proposed Genetic Testing for Oncology LCD
The CAP and 44 other health care organizations expressed deep concern over First Coast's and Novitas's proposed local coverage determination (LCD) framework that outsources review to three third-party compendia to govern coverage policy. In addition, the CAP engaged separately to raise additional concerns regarding the revised LCD. The CAP and other groups said in a September 8 letter if the LCD is not revised, Medicare beneficiaries with cancer will lose access to clinically appropriate genetic testing – and their treatment teams will lose access to critically important tools for diagnosing and managing their disease. Furthermore, the policies appear not to comply with requirements for issuing LCDs, as set forth in the Social Security Act and the Medicare Program Integrity Manual.
As a result of the statutory mandates of the 21st Century Cures Act of 2016, the Centers for Medicare & Medicaid Services (CMS) updated Chapter 13 of the Medicare Program Integrity Manual, detailing changes to the LCD process, which makes clear that a Medicare contractor must make its own review of the scientific evidence used to support a local coverage determination. In its own letter also submitted on September 8, the CAP recommended that First Coast and Novitas remove any reference to third party compendia from their final LCDs. The CAP also recommended First Coast and Novitas allow for additional genetic testing for hereditary cancer syndromes, which are considered germline testing, as science advances and additional tests become available that help contribute to the management of patient care.
In addition, the CAP requested the following CPT codes be added to ensure uniform coverage for tests currently covered under the Biomarkers for Oncology LCD, which will be superseded by the final Genetic Testing for Oncology LCD.
| | |
| --- | --- |
| 81503 | Oncology (ovarian), biochemical assays of five proteins (CA-125, apolipoprotein A1, beta-2 microglobulin, transferrin, and pre-albumin), utilizing serum, algorithm reported as a risk score |
| 81538 | Oncology (lung), mass spectrometric 8-protein signature, including amyloid A, utilizing serum, prognostic and predictive algorithm reported as good versus poor overall survival |
| 81540 | Oncology (tumor of unknown origin), mRNA, gene expression profiling by real-time RT-PCR of 92 genes (87 content and 5 housekeeping) to classify tumor into main cancer type and subtype, utilizing formalin-fixed, paraffin-embedded tissue, algorithm reported as a probability of a predicted main cancer type and subtype |
The CAP will continue to work with and provide feedback to First Coast and Novitas to ensure proposed coverage policies for Genetic Testing for Oncology are in the best interest of patients.

Pathologists: Get Ready to Tweet for SALSA Day of Action on September 21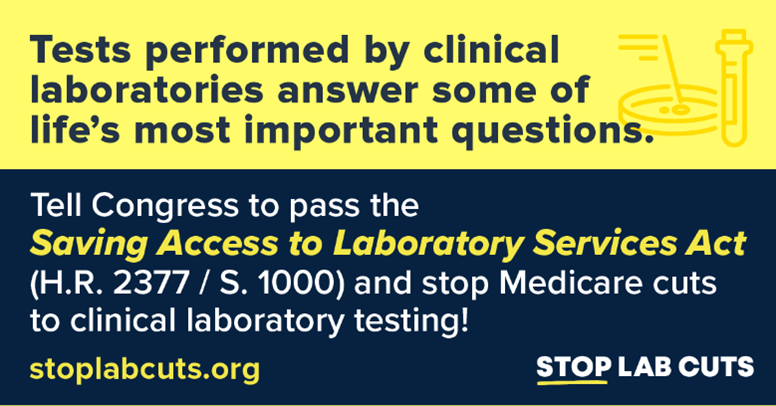 The CAP is encouraging pathologists to post messages to their social media accounts tagging their local members of Congress on Thursday, September 21, to support the Saving Access to Laboratory Services Act (SALSA) Day of Action urging Congress to enact the legislation this year. To help you get started, use the sample language and graphics included here.
SALSA is bipartisan legislation that would strengthen clinical laboratory infrastructure that protects public health and innovation while providing access to improve patient health. The CAP has urged Congress to pass legislation to reduce the administrative burden on laboratories and ensure accurate collection of private market data through statistically valid sampling from all laboratory segments while avoiding drastic cuts to clinical laboratory payment rates.
It is necessary to improve how data is collected and validated under the Protecting Access to Medicare Act, to ensure an accurate, market-based payment system for laboratories paid through the Medicare clinical laboratory fee schedule (CLFS). This legislation would allow laboratories to focus on providing timely, high quality clinical laboratory services for patients, continuing to innovate, and building the infrastructure necessary to protect public health.
Last year more than 100,000 messages flooded Capitol Hill in support of SALSA. It is vital that your local representatives hear from you about this important piece of legislation on Thursday.
Dr. Volk Asked to Serve on National Quality Forum's Advancing Measurement of Diagnostic Excellence Committee
CAP President, Emily E. Volk, MD, MBA, FCAP, has been invited to participate in the Diagnostic Excellence Committee for NQF's Advancing Measurement of Diagnostic Excellence for Better Healthcare Initiative. Under Dr. Volk's leadership, the CAP has significantly widened its portfolio of work on an ecosystem of approaches that will have significant cumulative effect on diagnostic safety and excellence.
As part of this Committee, Dr. Volk will aid in identifying the existing barriers to diagnostic excellence measurement and help find innovative solutions to overcome barriers. The Committee's work will not only focus on the near term, but where the healthcare quality measurement landscape needs to be.
In a letter to Dr. Volk, NQF states, "We received many compelling statements of interest, underscoring the strong desire and critical need for this work. While it was challenging to narrow down such a highly qualified pool of applicants, we believe this group brings the right mix of unique perspectives and deep expertise that will help shape the future of this critical area of healthcare. We are excited to get started in September."
CAP Focuses on the Future of Sickle Cell Disease Care for Patients
As a member of the Sickle Cell Disease Coalition (SCDC), the CAP has been discussing the diagnosis and treatment of the disease with various stakeholders during National Sickle Cell Awareness Month for September. The coalition was formed to amplify the voice of the sickle cell disease stakeholder community to improve outcomes for individuals with the disease. Its membership includes public health, research, and provider organizations, patient groups, faith-based organizations, federal agencies, industry representatives, and foundations.
Innovative approaches in managing this disease have improved diagnosis and supportive care over the last few decades, but many patients still must overcome severe barriers to care. At the recent 2023 Sickle Cell Disease Coalition Annual Summit on September 8, the CAP pledged to support the mission of the coalition by assisting in the following priority areas:
Helping to increase blood donor diversity with ideas for outreach opportunities.
Providing recommendations on a Sickle Cell Disease Data Registry.
Helping find ways to increase workforce development efforts that focus on training more Advanced Practice Providers in SCD to make up for shortage of hematologists.
The CAP recently interviewed Dr. Glenn E. Ramsay of Northwestern medicine about the importance sickle cell disease awareness and the fight to ensure adequate treatment and care for all those impacted with the condition. Listen to the podcast here!

Take Our News Quiz for September
Are you up to speed on CAP advocacy news? Take our new monthly news quiz and see how many you can get right and share your results on social media. Take the quiz.