Medicare Local Coverage Program
Medicare Local Coverage Program
The Senate Must Pass Medicare LCD Reform
The debate for the Local Coverage Determination Clarification Act has moved to the Senate and senators must now pass the bill. In the House, lawmakers passed the bill as a first step on September 12—but more can be done. The Senate must ensure coverage decisions are made by qualified health experts, through a transparent process, based on sound medical evidence that's not used selectively. Please urge your senators to pass this important legislation.
Read the Senate issue brief.
Read about LCD reform in STAT.
Download an infographic about the LCD Clarification Act.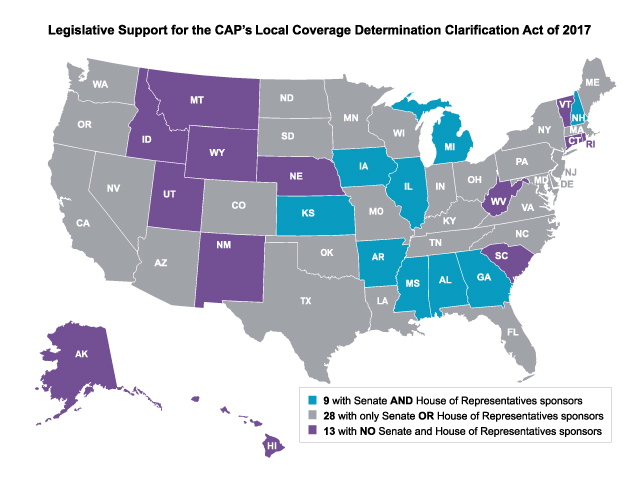 The College of American Pathologists and its pathology Carrier Advisory Committee (CAC) representatives advocate for fair reimbursement policies at the local Medicare level. By reviewing and commenting on pathology-related Local Coverage Determinations (LCDs) and policy changes before they are implemented, the CAP helps ensure that all pathologists are appropriately reimbursed for medically reasonable and necessary services provided to Medicare patients.
The CAP is grateful for the time and effort pathology CAC representatives spend participating in this important process. To assist them in their role, the CAP has implemented a program to assist with identifying, reviewing and developing comments on draft LCDs.
For more information on Medicare's local coverage process and the role of CAC representatives, refer to the Local Medicare Payment and CAP Coverage Program.
Related Resources