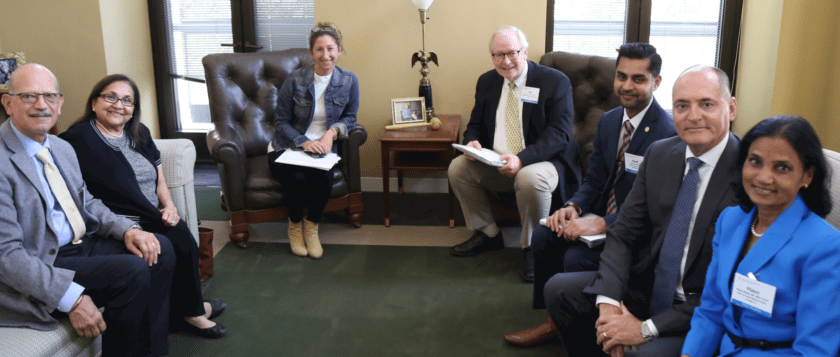 Elections Matter—So Do Facts
Your Expertise Matters Even More
With a new Congress in 2019, legislators, both experienced and new, will make important decisions that affect the practice of pathology and impact the health of patients.
Who better than you to provide the essential information needed to inform legislators decisions?
You are the expert who knows the facts.
You best represent the importance of pathology and the needs of your patients.
You understand the importance of fair and reasonable compensation for pathology services you provide.
Take Your Knowledge Straight to Washington
The 2019 Policy Meeting is your chance to speak directly to members of Congress and their aids. If you do not think your voice and presence matters, consider 94% of congressional staff report that in-person visits have a positive influence when deciding their position on an issue.*
Three Days That Make a Difference

Your presence at the policy meeting counts— join us and make a difference.
Day 1: Get updated on the key issues impacting pathology.
Day 2: Work with CAP lobbyists to prepare and practice for your CAP Annual Hill Day meetings.
Day 3: Meet face-to-face with members of Congress and legislative aides as part of our Hill Day.
Hear From the Experts
We need to educate our politicians on what we do and what we bring to the table. If we don't do it, then no one else is going to do it for us.

- C. Leilani Valdes, MD, FCAP
I thought my voice didn't matter. When you are one-on-one with the people who work with our elected officials, you recognize they care about what you have to say.

- Jennifer L. Hunt, MD, MEd, FCAP
---
* Citizen-Centric Advocacy: The Untapped Power of Constituent Engagement, Congressional Management Foundation
Attend the 2019 Policy Meeting
April 29—May1, 2019
Marriott Metro Center and Capitol Hill, Washington, DC
Register Now
Questions?
If you have any question regarding the 2019 Policy Meeting, please call (800) 323-4040, or email policymeeting@cap.org.