2017 CAP Pathologist of the Year Award
The CAP Pathologist of the Year Award honors a CAP leader for outstanding contributions to the field of pathology and to the programs and activities of the College of American Pathologists.

George F. Kwass, MD, FCAP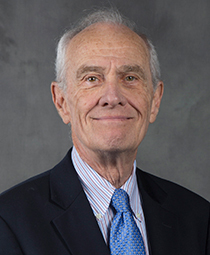 The College of American Pathologists presents George F. Kwass, MD, FCAP, with the 2017 CAP Pathologist of the Year Award in recognition of his more than 30 years of continuous service and dedication to ensuring that pathologists have a strong voice in organized medicine. Dr. Kwass was instrumental in navigating pathologists through evolving reimbursement programs, beginning with the implementation of Resource-Based Relative Value Scale (RBRVS) in 1992, which put the practice of pathology in jeopardy; through Dr. Kwass' successful advocacy before the American Medical Association Relative Value Update Committee (RUC), the RBRVS has instead solidified the recognition of pathology's value in US health care. He led the CAP's efforts to help pathologists thrive under pay-for-performance models, including the CMS Physician Quality Reporting Initiative of 2006, the subsequent Physician Quality Reporting System, through the Affordable Care Act of 2010.
He has been central to the development and management of the CAP's strategy for protecting pathologists' reimbursement through the most recent and significant expansion of pay for performance, the Medicare Access and CHIP Reauthorization Act of 2015 (MACRA).
From 2009 through 2015, Dr. Kwass served with distinction on the CAP's Board of Governors; his economic and policy development expertise, wisdom, and leadership as chair of the Council on Government and Professional Affairs has been instrumental in many notable achievements and in the elevation of the Advocacy Division to the level it holds today. Among his CAP colleagues, Dr. Kwass is a critical and strategic thinker and a tireless problem-solver who is also forthright, fair, and deliberative in forming an opinion. By protecting pathologists' position in organized medicine and tirelessly working to ensure fair reimbursement, Dr. Kwass has helped to maintain access for patients to the critical services pathologists provide.