2018 CAP Laboratory Accreditation Program Service Award
2018 CAP Laboratory Accreditation Program Service Award
Established in honor of Major General Joseph M. Blumberg
The CAP Laboratory Accreditation Program Service Award honors the memory and works of Major General Joseph M. Blumberg and recognizes a member of the College of American Pathologists who has contributed exceptional and outstanding service to the CAP's Laboratory Accreditation Program.

Kailash B. Sharma, MD, FCAP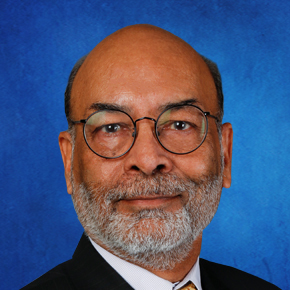 The College of American Pathologists presents Kailash B. Sharma, MD, FCAP, with the CAP Laboratory Accreditation Program (LAP) Service Award for his remarkable service to the CAP's pioneering accreditation program.
Dr. Sharma has been a Fellow of the CAP since 1974. Over the years he has served the LAP as the Georgia state commissioner and the Gulf regional commissioner; in these roles, he provided educational opportunities for laboratory professionals via inspector training seminars, assigned inspectors for Georgia laboratories, and made accreditation decisions for laboratories located in Florida, Georgia, Alabama, and Puerto Rico in his capacity as the regional commissioner. He currently serves as the deputy assigning commissioner for European civilian laboratories. In addition to his commissioner service, Dr. Sharma has been an LAP inspector for more than 30 years, having performed nearly 400 lifetime inspections. Consistently one of the most frequent inspectors over the past five years, Dr. Sharma has been very active in the growth of laboratories in India participating in our accreditation program.
Dr. Sharma also has contributed to the LAP by serving on a number of committees, including the Commission on Laboratory Accreditation, Council on Accreditation, International Venture Steering Committee, and Inspection Process Committee, which he chaired from 2012 to 2015. He currently serves as the chair of the Continuous Compliance Committee, as the vice chair of the Commission on Laboratory Accreditation, and as a member of the International Accreditation Committee. During his tenure as Inspection Process Committee chair the LAP instituted the well-received Inspector Recognition Program, which acknowledges the contributions of the CAP's 10,000+ annual volunteer inspectors. While Dr. Sharma's tenure on the committee concluded in 2015, the impact of his leadership is long lasting.
Under Dr. Sharma's leadership, the LAP also laid the foundational groundwork for several complex, multiyear projects, including the 2017-released Enhanced Inspector Feedback Project and the 2018 Laboratory On-boarding Project.
---
Dr. Sharma serves as a practicing pathologist at University Hospital in Augusta, Georgia. He is also the current president of the Georgia Association of Pathologists.