2018 CAP Pathology Advancement Award
The CAP established the CAP Pathology Advancement Award in 2013 to recognize a person or team who demonstrates components of foresight, resolve, and untiring commitment to both evolutionary and revolutionary undertakings that advance the positioning of the pathologist in the House of Medicine and the delivery of safer patient care. It recognizes efforts that are neither easy nor obvious, and the recipient will often be a change agent.

Jennifer Laudadio, MD, FCAP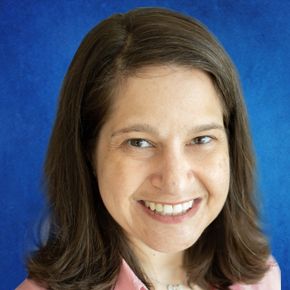 The College of American Pathologists presents Jennifer Laudadio, MD, FCAP, with the CAP Pathology Advancement Award for her outstanding contributions and extensive service to the CAP, the CAP Foundation, and the University of Arkansas for Medical Sciences (UAMS) to advance the specialty of pathology.
Working to advance genomics education, Dr. Laudadio served on the CAP's Curriculum Committee to plan the annual meeting educational program. She also served on the genomics curriculum and education work groups to develop a genomics curriculum for practicing pathologists and to plan related education, such as regularly scheduled webinars, to meet the curriculum's goals and objectives.
She has further advanced the specialty by serving on the Molecular Oncology Tumor Board Planning Committee, a collaborative initiative with the American Society of Clinical Oncology and the Association for Molecular Pathology. Dr. Laudadio also teaches at national and international meetings on topics related to molecular pathology, genomics, and quality improvement. She serves on the American Board of Pathology Molecular Genetic Pathology Test Development and Advisory Committee (TDAC) and on the Clinical Pathology CertLink (Maintenance of Certification) TDAC. Her collaboration with other pathology organizations enhances the standing of pathologists and the CAP in the medical community.
As president of the CAP Foundation from 2015 through 2016, Dr. Laudadio advanced its mission to champion patient-centered and humanitarian roles for pathologists. During her tenure with the foundation, the number of pathologists engaged in its flagship program, See, Test & Treat®, greatly increased, as did the number of women and families touched by the program and the number of sites hosting programs. External recognition and funding from corporations and other foundations also increased.
Her everyday work at the UAMS continues to advance pathology. Her leadership in its laboratory during the transition to a service line structure contributed to a greater institutional understanding of the contributions pathologists are making in quality improvement and utilization. As the residency program director, she has implemented innovative changes, such as creating and directing a leadership/career development longitudinal curriculum, initiating a quality improvement longitudinal curriculum, launching a genomics and informatics rotation, and enhancing opportunities for graduated responsibility.
---
Dr. Laudadio serves as pathology service line medical director at the UAMS in Little Rock, Arkansas.