2019 CAP Resident Advocate Award
The CAP Resident Advocate Award, established in 1990, recognizes outstanding contributions to and support of pathology residents and fellows.
Xiaoyin "Sara" Jiang, MD, FCAP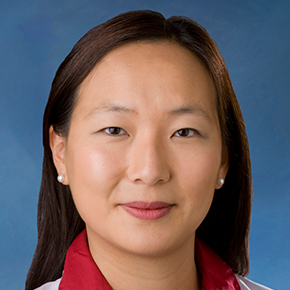 The College of American Pathologists presents Xiaoyin "Sara" Jiang, MD, FCAP, with the 2019 CAP Resident Advocate Award in recognition of her outstanding contributions and support of pathology residents and fellows.
Dr. Jiang served on the CAP Residents Forum Executive Committee as the CAP delegate to the American Medical Association Resident and Fellow Section (AMA-RFS), and subsequently as the delegate to the CAP House of Delegates. During that time, she advocated for pathologists at the AMA and worked to plan CAP Residents Forum meetings that engaged and educated residents. As faculty, Dr. Jiang continues to actively help with the Residents Forum meetings, having served several times as a speaker/panelist for sessions, in addition to teaching courses at the CAP annual meetings. As a fellow of the CAP and member of the CAP Surgical Pathology Committee, Dr. Jiang engaged six residents in writing Virtual Biopsy Program and Performance Improvement Program cases. In addition, Dr. Jiang serves as vice chair of the CAP Member Engagement Committee.

At her home institution, Dr. Jiang gives multiple lectures specifically designed to enhance residency education on the topics of research and cytopathology; in addition, she has lectured on anatomic pathology topics. She has engaged residents in research, authoring 13 publications with a trainee. For these and other efforts, she was awarded the Duke Pathology Department's Salvatore V. Pizzo Faculty Research Mentor Award.
Through her efforts on social media, Dr. Jiang has engaged and educated residents from around the world and worked through social media on projects involving residents from other programs in research, education, and advocacy. She has played a central role in efforts, such as #PathJC (online pathology journal club), #CAPCHAT (discussing HPV with William C. Faquin, MD, PhD, FCAP), and #Path2Path (online chats geared at sharing information about pathology as a career with medical students and pathologists in training). Her goal in these efforts is to build a stronger pathology community, connect residents to leaders in the field, educate residents and fellows, and recruit future pathologists.
---
Currently, Dr. Jiang is associate professor of pathology and associate director at Duke Biorepository and Precision Pathology Center at Duke University School of Medicine in Durham, North Carolina.