2019 CAP Resident of the Year Award
2019 CAP Resident of the Year Award
Established in 2010, the CAP Resident of the Year Award recognizes a Junior Member who has made outstanding contributions to the specialty of pathology, pathologists, laboratory medicine, and/or the general public.
Aadil Ahmed, MD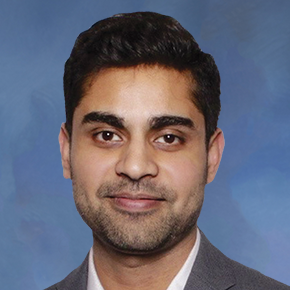 The College of American Pathologists honors Aadil Ahmed, MD, with the 2019 CAP Resident of the Year Award to recognize the diverse, creative, and effective ways in which he is serving and enhancing the pathology profession.
Building on his resume and involving himself within the world of hematopathology and dermatopathology, Dr. Ahmed, a PGY4 pathology resident in the Loyola University Medical Center pathology residency program, has secured a hematopathology fellowship at Yale University and a dermatopathology fellowship at the University of Arkansas for Medical Sciences by impressing the pathology world with his many amazing achievements. Dr. Ahmed has truly made a name for himself, his program, the specialty of pathology, and the CAP. He graduated from the CAP's Engaged Leadership Academy in 2017 and is an active member of the Engaged Leaders Network.
Dr. Ahmed served as the delegate from the Loyola University Medical Center pathology residency training program to the CAP's Residents Forum. He also is active in the American Medical Association (AMA), and has served as a state delegate in both the AMA's House of Delegates and its Residents and Fellows Section.
His advocacy for the pathology profession has been consistent and encompassed all levels, from his participation as a member of Loyola University Medical Center's Housestaff Governance and Resilience Committee, to his involvement with the Illinois State Medical Society (ISMS) as secretary and governing council member, and finally to his establishment of the ISMS pathology outreach program, which reaches out to high school students to inform them about careers in pathology and laboratory medicine.
---
Dr. Ahmed is finishing his residency in anatomic and clinical pathology at Loyola University in Chicago.