2019 CAP Staff Outstanding Achievement Award
2019 CAP Staff Outstanding Achievement Award
The CAP established the CAP Staff Outstanding Achievement Award in 2015 to recognize employees whose contributions during their career have greatly impacted and supported the growth and improvement of the College of American Pathologists, including its staff, its members, and patients.
Elizabeth "Liz" A. Cramer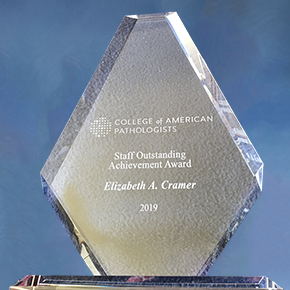 The College of American Pathologists presents Elizabeth A. Cramer with the 2019 CAP Staff Outstanding Achievement Award in recognition of her exceptional and outstanding performance as a CAP staff member for more than 40 years.
Liz began her career with the CAP in 1977 as an assistant, working in what would eventually become the Governance Services department. At the time Liz joined in 1977, the CAP had roughly 7,800 members, 130 employees, and not quite $8 million in revenue. Today, the CAP has grown to 18,000 members, nearly 650 employees, and more than $200 million in revenue. In support of that growth, Liz built a "best-practices" governance function. When it comes to governance, the CAP is out in front leading the association industry, thanks to Liz Cramer.
Among her many achievements in establishing the CAP's governance function, Liz created the first formal committee appointment process and member involvement database. She also established an orientation program for new Board of Governors members, which ultimately led to orientation programs for new committee members, new committee chairs, and new officers. She was part of the team that implemented the CAP Conflict of Interest policy and led the implementation of electronic voting for CAP elections. Liz also built the CAP's robust archives, led its transition to digital records, and established the medical librarian role.
Throughout her tenure, Liz has contributed to many CAP bodies and initiatives. She has supported the CAP officers, Board of Governors, House of Delegates, and Residents Forum. She contributed to the CAP Leadership conference, staffed numerous committees, and oversaw updates of the CAP's constitution and bylaws, as well as numerous updates to the CAP Policy Manual. Liz has contributed to initiatives on pathologists' involvement with the American Medical Association, the CAP's role with state pathology societies, and the collection of member demographic data. Liz oversaw the writing of our 50th anniversary book, In Pursuit of Excellence: The College of American Pathologists, 1946–1996, with past president Loyd R. Wagner, MD, FCAP. She is now working with past president Paul Bachner, MD, FCAP, on the 75th anniversary edition.
Over her 42 years with the CAP, Liz has supported, advised, and guided dozens of CAP governors and officers. She is known for the professionalism, partnership, and good humor she brings to everything she does. Liz diplomatically offers sharp insight based on decades of CAP experience and sound judgment, and she is a valued colleague of member leaders and professional staff. This award recognizes the significant impact Liz has had in shaping and facilitating the work of the CAP throughout the years.
---
Liz is the manager of CAP Policy and Records at the CAP's headquarters in Northfield, Illinois.