2022 CAP Pathologist of the Year Award
The CAP Pathologist of the Year Award honors a leader of the College of American Pathologists (CAP) for outstanding contributions to the field of pathology and to the programs and activities of the CAP.
Patrick Godbey, MD, FCAP, FACOG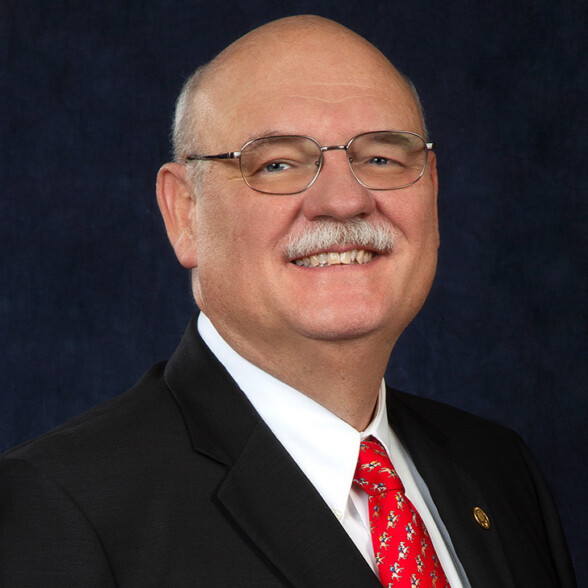 The College of American Pathologists presents Patrick E.T. Godbey, MD, FCAP, FACOG, with the 2022 CAP Pathologist of the Year Award in recognition of his long and distinguished career in pathology.
During his 30 years as a CAP member, Dr. Godbey has served two full terms as a member of the CAP Board of Governors, beginning in 2011. He also served as the chair of the Council on Government and Professional Affairs, overseeing the direction of the organization's legislative and regulatory advocacy efforts on behalf of patients, pathologists, and medical laboratories, and he has led numerous CAP councils and committees.
Most recently, Dr. Godbey served as CAP president (2019–2021). He skillfully led the CAP during the COVID-19 pandemic by positioning and promoting pathologists as indispensable. He also increased the flexibility and visibility of the laboratory throughout the pandemic. In addition, he led the CAP during the social justice movement of 2020, during which he condemned racism, inequity, and discrimination in any form. Dr. Godbey directed the formation of the CAP's Diversity, Equity, Inclusion Committee. Furthermore, Dr. Godbey conceived and helped direct the pathologist pipeline initiative, working to introduce the pathology specialty to more medical students.
Dr. Godbey joined the Southeast Georgia Health System medical staff in 1983 as an obstetrician and gynecologist before transitioning to the practice of anatomic and clinical pathology. He founded and continues to serve as CEO and laboratory director of Southeastern Pathology Associates.
In addition to the CAP, he is a fellow of the American College of Obstetricians and Gynecologists, board member of the Georgia Association of Pathology, and a member of the Alpha Omega Alpha Honor Medical Society, Phi Beta Kappa, the Chinese American Pathologists Association, and the Florida Society of Pathologists.
Dr. Godbey is chief of the Department of Pathology at Southeast Georgia Health System in Brunswick, Georgia, and chair of the Camden Healthcare Network's board.
---