2022 CAP Resident of the Year Award
2022 CAP Resident of the Year Award
Established in 2010, the CAP Resident of the Year Award recognizes a Junior Member who has made outstanding contributions to the specialty of pathology, pathologists, laboratory medicine, and/or the general public.
Samreen Fathima, MBBS, MD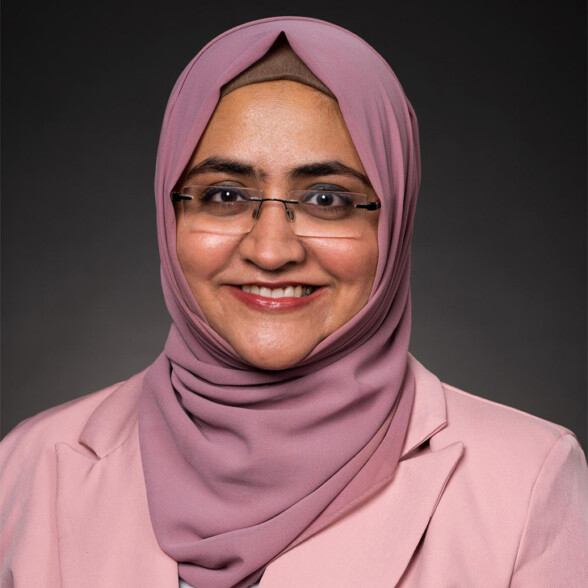 The College of American Pathologists (CAP) presents Samreen Fathima, MBBS, MD, with the CAP Resident of the Year Award to recognize her commitment to pathology, which began with her cardiovascular pathology research assistant post with William C. Roberts, MD, FCAP, before she entered residency.
Dr. Fathima has actively sought opportunities to develop herself in the pathology community and emerge as a leader. She has been recognized with a CAP Foundation Leadership Development Award, an Association of Pathology Chairs' Society of '67 Kinney Scholar Award, and an American Society for Clinical Pathology Trainee Global Health Scholarship Award.
Dr. Fathima is the chair of the Texas Society of Pathologists' (TSP) Digital Content Committee and also serves in delegate and ambassador roles within the CAP, American Society for Clinical Pathology (ASCP), and the United States and Canadian Academy of Pathology (USCAP). She understands the importance of community building and engagement and recognizes the significance of digital pathology as a growing field.
She excels scholastically, having authored numerous case reports and research studies, in both anatomic and clinical pathology, that have been presented at the national conferences of the CAP, ASCP, TSP, USCAP, and the Association of Molecular Pathology. Several of these studies were later published in peer-reviewed journals.
Within her residency program at Baylor University Medical Center, Dr. Fathima regularly provides input on the Curriculum Committee, Program Evaluation Committee, and on multidisciplinary teams within the hospital. She is dedicated to both teaching and research, and she stands out among residents and research collaborators.
Dr. Fathima has not only excelled within her pathology education but is driven to help advance the specialty as it continues to evolve. She selflessly emanates a passion for engaging and giving back to the community, and she serves as an exemplary role model of dedication to pathology.
Dr. Fathima is a resident physician at Baylor University Medical Center in Dallas.
---