To commemorate the CAP's continual efforts to improve patient care as the world's largest organization of board-certified pathologists, we developed the following timeline of CAP achievements and organizational milestones, as well as historically significant landmarks in the discipline of pathology at large.

1940's Genesis
The CAP was conceived by a group of pathologists who sought a national organization that could win recognition and respect for the specialty, while also addressing pathologist compensation issues nationally and improving laboratory medicine in the United States.

Frank W. Hartman, MD, of Michigan led the drive to create the CAP and was elected its first president.
1946: College of American Pathologists (CAP) formed at organizational meeting in Chicago, December 12 and 13, 1946
1947: Organizational meeting of CAP Board of Governors, January 4 and 5, 1947
1947: Secretary's Newsletter begins publication
1947: CAP incorporated in Illinois May 14, 1947
1947: First general meeting on October 27 approves CAP Code of Ethics
1949: First chemistry Survey conducted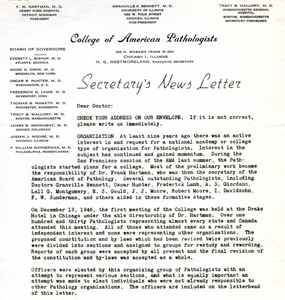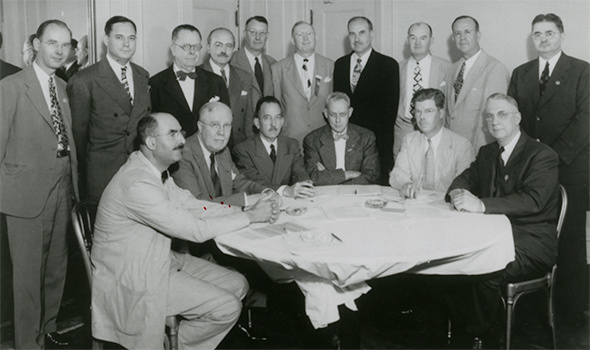 1950s Helping Define and Uplift the Profession
Pathology was recognized officially as the practice of medicine by an American Medical Association committee three years before the CAP was founded. Medical licensure was not required to practice pathology in many states and many labs were run by non-medical professionals.
Against that backdrop, a major focus of the CAP in its first full decade was to not only clearly define the practice of pathology, but to move the specialty forward.
1952: Board of Governors adopts definition of pathology
1952: First Legislative Committee established
1954: First Manual of Ethical and Contractual Relations published
1955: Iowa Hospital Association lawsuit legally establishes pathology as the practice of medicine; the CAP Board of Governors authorized the filing of a supporting brief in the case and funds from a voluntary solicitation of pathologists were also supplied
1955: Board adopts surgical pathology policy
1958: National Registry of Forensic Pathology founded with CAP support
1959: Standards laboratory established to carry out testing related to certification of hemoglobin standards.
1959: Suggested Guide for Procedures and Ethics Relating to Autopsies published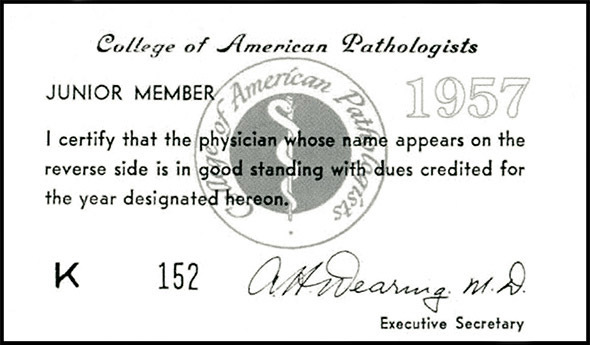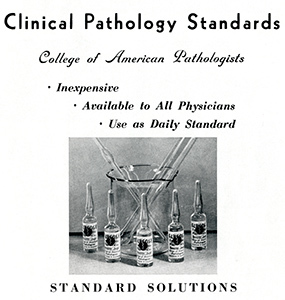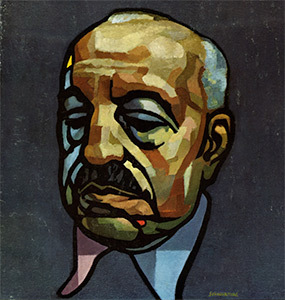 1960s Setting the Standard
The CAP has always been a leader in laboratory quality, particularly through its accreditation of laboratories. The organization established an inspection and accreditation program before Congress mandated one.
The 1960s were marked by CAP setting the standard for laboratory quality, as several important milestones were passed that have ensured greater public health for decades.
1961: Ad Hoc Committee on Laboratory Accreditation submits report to Board of Governors recommending establishment of accreditation program
1962: Board of Governors approves establishment of Inspection and Accreditation Program
1963: CAP Foundation established
1963: First comprehensive Surveys offered
1964: First laboratories accredited under Inspection and Accreditation Program
1965: First laboratory accreditation checklist compiled
1968: Basic Survey accorded equivalency under CLIA-67 by US. Dept. of Health, Education and Welfare
1969: Inspection and Accreditation Program declared equivalent to CLIA-67 standards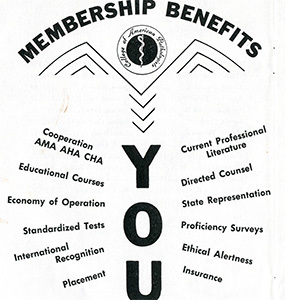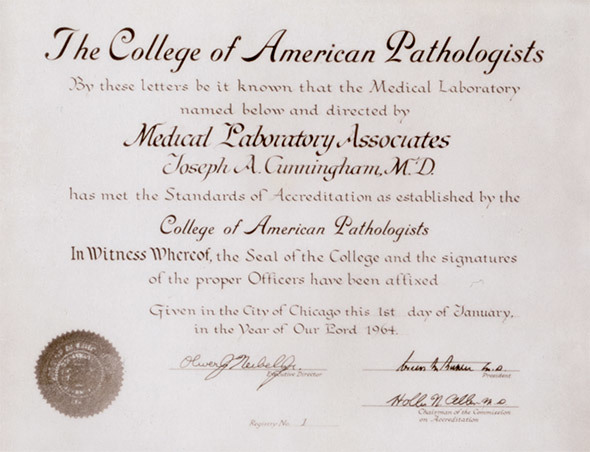 1970s Advocating for the Profession
The CAP has long served as the most prominent voice of pathologists and pathology. In the 1970s, the organization brought that voice to the capital city. Advocacy is a central tenet of what the CAP provides its thousands of members, and it has protected pathologists from potential harmful legislative action for decades.
1970: Washington, DC, office opens at 1775 K Street, NW
1970: Workload Recording Method inaugurated
1975: First CAP Conference "Clinical Relevance in Microbiology" held at Aspen, Colorado
1976: CAP efforts help to defeat bill to abolish Medicare coverage for professional component in laboratory testing
1978: CAP establishes research fellowship at National Bureau of Standards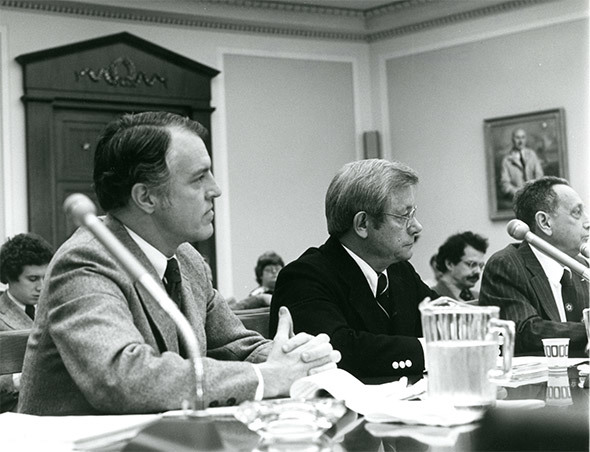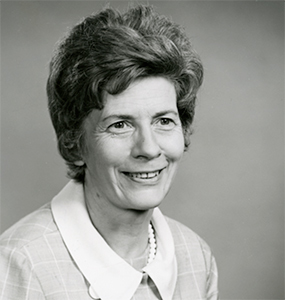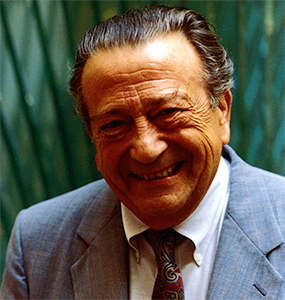 1980s Sustaining the Profession
Advocacy continued to be a key activity of the CAP in the 1980s. At the same time, the CAP presses rolled; several publications of the CAP were born during this decade. Both publishing and advocacy have increased the footprint, influence and standing of the CAP since that time.
1980: Arkansas lawsuit filed by CAP prevents implementation of excessively restrictive Medicare reimbursement regulations proposed by Health Care Financing Administration (HCFA)
1981 Digest of 1970-1980 Surveys data published as Data ReCAP
1982: Tax Equity and Fiscal Responsibility Amendments of 1982 (TEFRA) enacted, proposing severe new restrictions on Medicare payment for laboratory services. The following year, a CAP lawsuit challenged TEFRA regulations, resulting in significant modifications. A Joint Pathology Task Force was also established to coordinate the profession's response to TEFRA
1984: CAP begins joint publication of Archives of Pathology & Laboratory Medicine with the American Medical Association
1984: CAP Archives of Standards published
1986: Effective Laboratory Testing published
1986: First cancer specimen reporting guidelines published in Pathologist
1986: Introductory issue of CAP Today published. Regular publication of CAP Today commenced in January 1987.
1988: Q-PROBES program initiated. Q-PROBES are short-term studies that provide a one-time comprehensive assessment of key processes to aid in quality improvement efforts in a participant laboratory.
1988: CAP mounts public information campaign on cytology in response to Wall Street Journal "Pap mill" exposé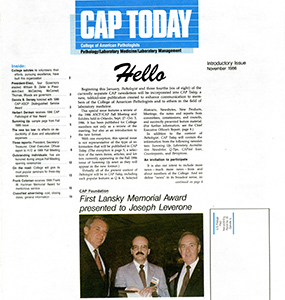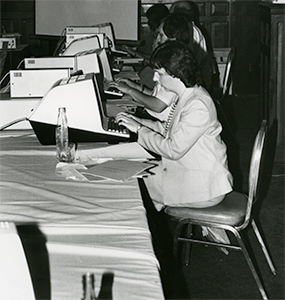 Participants in a microcomputer training workshop, summer 1982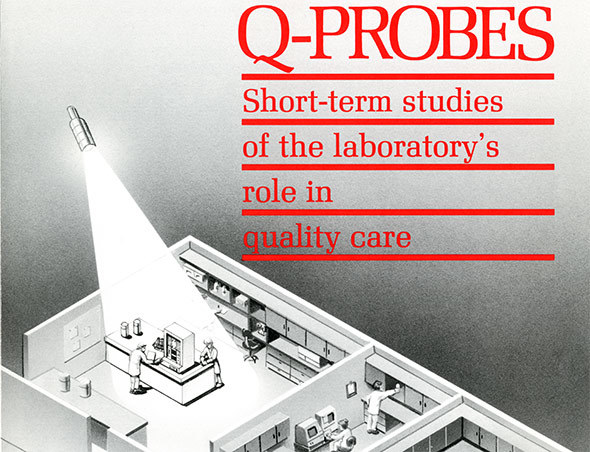 After a decade of publishing firsts, the CAP cemented itself in the digital space in the 1990s. Highlighted by the launch of cap.org, the CAP's Information Services Strategic Plan changed the way the organization communicated with its members and the world. During this decade, the CAP also saw significant growth and accomplishment in its accreditation programs.
1992: Laboratory Management Index Program (LMIP®) replaces Workload Recording Method. LMIP® is based on a standardized chart of accounts that more accurately identifies all costs, and from which have been developed a series of ratios to measure management performance
1992: PathPAC, the CAP political action committee, formed
1993: CAP reaches formal agreement with Joint Commission on Accreditation of Healthcare Organizations (JCAHO) on equivalency of CAP laboratory inspection for JCAHO accreditation
1994: CAP achieves deeming authority for LAP under CLIA-88.
1995: CAP assumes leadership for the publication of Archives of Pathology & Laboratory Medicine
1996: Information Services Strategic Plan adopted
1996: CAP's web site, www.cap.org, is launched
1998: CAP Extends its accreditation program to remote limited service laboratories and laboratory systems
2000s Refreshing the CAP for Tomorrow's Challenges
Securely in the digital age, the CAP has used the new century to look ahead. The Laboratory Accreditation Program underwent expansive improvements while the organization as a whole dived into significant initiatives to advance the specialty and to reinvigorate the brand.
Early in the century, the "See, Test & Treat" program was introduced and in years since has provided thousands of underserved women and their families with important screenings, other medical services and critical information to help maintain good health.
2001: First See, Test & Treat event held to offer free cervical cancer screenings to underserved women
2005: CAP Laboratory Accreditation Program announces new initiatives including mandatory inspector training and unannounced inspections, as well as formal assessment of laboratory director performance
2007: Multiyear initiative to advance the specialty of pathology introduced
2008: Launch of CAP 15189℠, a voluntary, non-regulated accreditation to the ISO 15189:2007 Standard as published by the International Standards Organization. CAP 15189℠ does not replace, but rather complements CAP's CLIA-based accreditation
2009: Laboratory Accreditation Program begins a multiyear redesign to improve quality and flexibility
2011: Launch of Biorepository Accreditation Program designed to improve the quality and consistency of facilities that collect, process, store, and distribute biospecimens for research
2014: Brand invigoration, including a refreshed identity and expression system (including a new CAP logo), and comprehensive brand strategy