Making cap.org Better for You
Making cap.org Better for You
Working to Improve CAP Website
November 2018
A new look for e-LAB Solutions Suite (ELSS)
In early November, we refreshed the ELSS landing page. Similar to the October 2018 refresh of cap.org's informational website (see more information below), we made these changes based on feedback from ELSS users, busy laboratory professionals like you.
We have refreshed the page to make it easier for you to take care of all of your laboratory's proficiency testing and accreditation needs, including easy access to your organizational profile which we also revamped in 2018.
Here's a snapshot of the new ELSS landing page: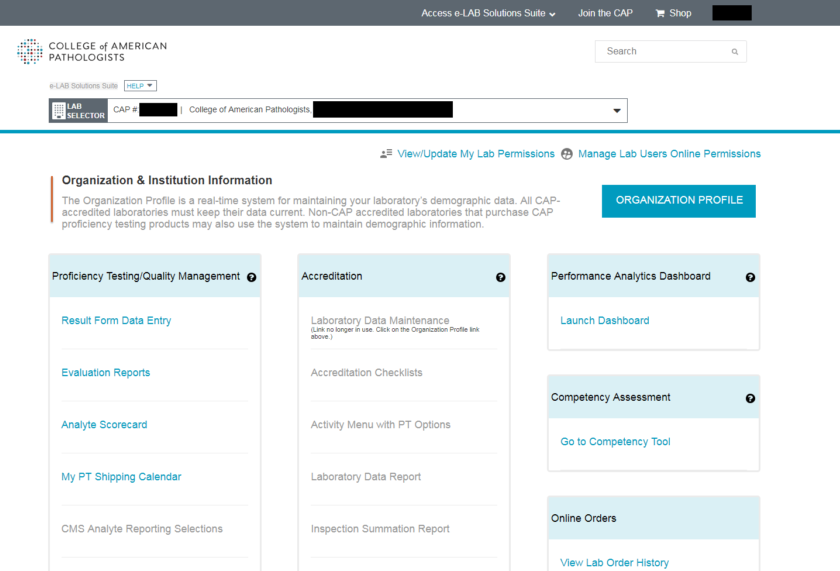 October 2018
A refreshed cap.org We launched a new look for cap.org's informational website. The new informational website, among many benefits, provides you with an optimal viewing and interaction experience across a wide range of devices including desktops, tablets, and mobile phones. Some of the most noticeable changes:
A new feature and welcome section on the home page with easy access to some of the most popular website items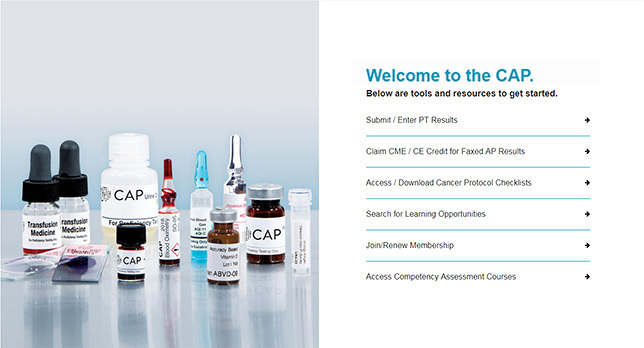 An updated top navigation bar for all pages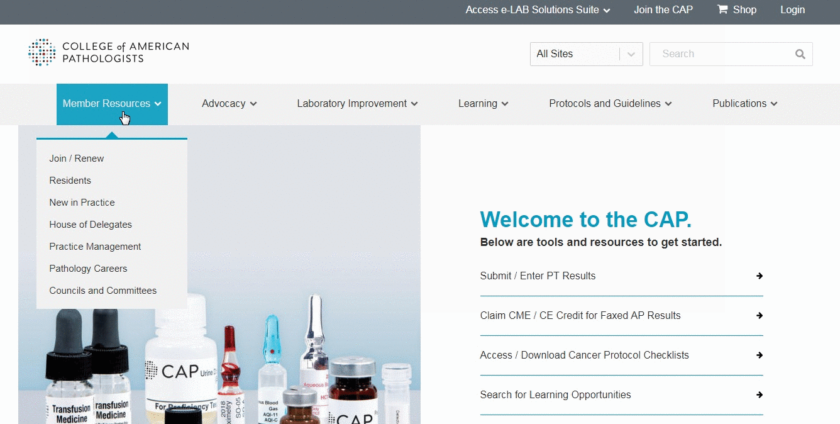 A new footer for all pages

Why did we do this?
Availability. Our new informational site is available when we have outages for improvements and maintenance to other parts of the site such as e-LAB Solutions Suite (ELSS), Surveys results forms, the online store, and learning courses.

Speed. The new site loads noticeably and consistently faster.
Responsiveness. The new site adjusts and arranges to provide an optimal viewing and interaction experience across a wide range of devices including desktops, tablets, and mobile phones.
Search Engine Optimization (SEO). Our new site enables us to implement SEO best practices to improve the discoverability of content. You will see improvements when using search engines or while using our internal site search.
Refreshed Look and Feel. The new site is more closely aligned with our CAP brand. More whitespace, larger text, and the opportunity to include more graphics renders a new look and feel.
More About cap.org Improvements
Background
For several years, the CAP has been engaged in upgrading and enhancing its systems starting from the ground up. The CAP has a very complex information services (IS) environment. Important components and infrastructure, many of which support proficiency testing (PT) and accreditation activities, dated back to the late 1990s and early 2000s.
In recent years the applications, particularly those for PT results entry, have been increasingly difficult for some users to access given evolving web technology, increased security via institutional firewalls and the underlying complexity of the applications themselves. This has resulted in inconvenience and inefficiency for some customers.
Tangible Improvement Made For You
After several years of installing the foundational components to a new platform, the CAP implemented a new general website in December 2014. Since then, we've directed our attention to the many applications that reside on the platform:
2015: We expanded the "My Profile" application and e-commerce capabilities and replaced the Learning Management application. We implemented a major web component, the e-LAB Solutions Suite (ELSS) portal.
2016: We continued with improvements such as a new Surveys results entry form with simplified steps for claiming CME, the Performance Analytics Dashboard for a comprehensive view of proficiency testing and accreditation performance, and automated CMS analyte reporting.
2017: We moved all PT Result Forms to the HTML format.
2018: We introduced a new online accreditation reapplication process. We optimized design and performance of the informational website and redesigned the ELSS landing page.
Action We Are Taking
Since mid-August 2015, we have significantly expanded direct focus on web stability and have implemented several changes that have resulted in improved performance. Additional work continued throughout 2016–2018 and will continue in 2019.
Website and ELSS performance remains a priority. Our Contact Center team is available to make sure your needs are met. If you encounter web instability, you may fax your results to 1-866-FAX-2CAP (866-329-2227). If you are having difficulty with other applications, or at any time need assistance, please contact us at 800-323-4040, Option 1 or +001-847-832-7000, Option 1 for International or by email at contactcenter@cap.org.
We appreciate your patience and thank you for being a loyal CAP supporter.