February 28, 2023
In this Issue:
Make Medicare's Coverage Process More Transparent: CAP and Advisory Committee Say
The Medicare Evidence Development and Coverage Advisory Committee (MEDCAC) voted to recommend updating its Medicare coverage with evidence development (CED) criteria to improve the timeliness of trials and the diversity of data collected. However, the CAP and others, including MEDCAC advisers, remain concerned that CED restrictions will limit patient access. The CAP has been fundamentally involved in ensuring adequate representation for coverage issues facing pathologists in the regulatory landscape.
The MEDCAC advisory panel voted to recommend the agency make its Medicare coverage with evidence development (CED) process more transparent and collect data on more diverse populations.
The CAP also said that the CED process must be selectively used only to provide evidence-based coverage that will accelerate and expand access to patient services and items rather than restrict providers' use. The revised CED criteria did not include patient representatives or drug industry experts.
In November of 2022, the CAP asked the Centers for Medicare & Medicaid Services (CMS) to "improve the current process by using CED selectively to provide evidence-based coverage, establishing specific and transparent timelines, and generally increasing transparency, flexibility, and stakeholder input to incentivize innovation and afford timely access to services for patients."
The CMS began implementing CED programs in 2005 and has reiterated over the years that the goal is to speed beneficiaries' access to new treatments and services while additional data are collected. The criteria CED programs must meet were last evaluated and codified in 2014.
CAP Asks Insurer Cigna to Update its Scientifically Inaccurate Special Stains Coverage Policy
On February 21, Cigna, as the Medicare Part A/B Medicare Administrative Contractor (MAC) for Ohio and Kentucky, held an open meeting in response to the CAP's reconsideration request regarding a local coverage determination (LDC) on special histochemical stains & immunohistochemical stains. The CAP has long advocated for the withdrawal of this LCD since it was issued in 2015. The CAP formally submitted a request for reconsideration on January 4, 2022, citing the policy's medically and scientifically inaccurate language and its attempt to define good pathology practice.
The CAP asked to reconsider the current version of the LCD during the open public meeting on revising the LCD. Jonathan Myles, MD, FCAP, chair of the Council on Government and Professional Affairs, and Debra Zynger, MD, FCAP, who is a professor and director of urologic pathology at Ohio State University Medical Center, provided presentations on the section of the LCD for special stains and/or IHC for prostate pathology. In addition, they thanked Cigna for proposing updates that the CAP requested in its reconsideration and continued to advocate for removing some of the limitations for prostate stains. The CAP will again submit formal comments by March 5.

Earn Free CME While Making an Impact at the Pathologists Leadership Summit
Earn up to 11.25 CME/CE while better understanding the reality of key advancements in your practice and inspiring the leader in you. The 2023 Pathologists Leadership Summit taking place in Washington, DC April 15-18, 2023, will offer CAP members unparalleled access to education and training with courses designed to help members grow personally and professionally.
Get an inside peek with faculty insights with these select courses or view the entire agenda here.
Multimedia Communication for Pathologists: Tools and Tips
As a premier benefit of CAP membership, this meeting has no registration fee, and we will meet both in person and virtually—so the choice on how you participate is yours.
PathPAC Welcomes New Board Chair – Dr. Kalisha Hill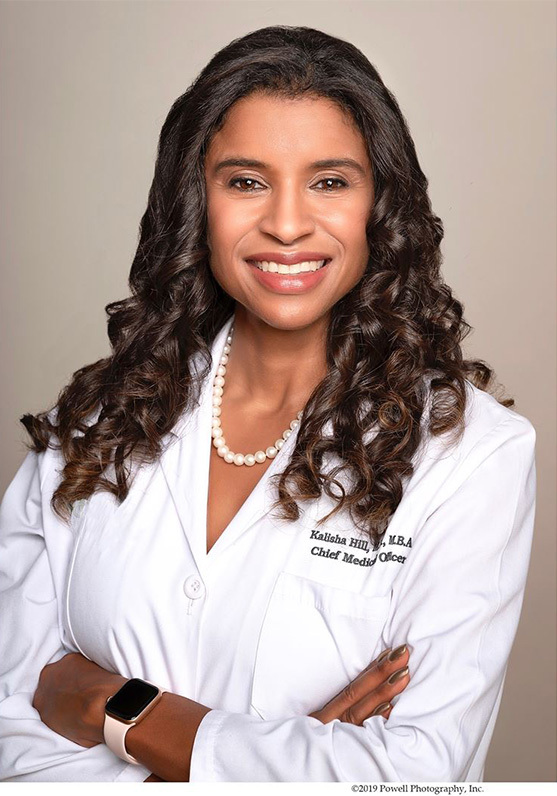 The CAP's political action committee, PathPAC, has enthusiastically welcomed Kalisha Hill, MD, MBA, FCAP, as the new Chair of its Board of Directors. Dr. Hill, a CAP Governor and regional Chief Medical Officer at AMITA Health System in Illinois, brings a full breadth of knowledge and leadership experience that will help the PAC reach its ambitious goals in 2023.
As chair, Dr. Hill is focused on raising PathPAC's visibility. "It is important that we remain persistent in educating our fellow colleagues on PathPAC's important role in advancing the CAP's advocacy objectives. Supporting the PAC throughout our careers helps ensure that our top policy issues remain relevant on Capitol Hill."
For 2023, Dr. Hill's other priorities include:
Successful execution of the Back the PAC competition within the House of Delegates.
The expansion of congressional engagement opportunities for PAC supporters.
A retention-focused fundraising strategy that converts first-time PAC donors from recent years into loyal, lifelong supporters.
In 2021 and 2022, the PAC gained historically high numbers of first-time donors, but the sustainable growth of the PAC will rely on these new donors remaining engaged with PathPAC annually, and for the span of their careers.
PathPAC creates opportunities for CAP members to connect and build relationships with their lawmakers. These interactions allow pathologists to educate members of Congress on the unique value of their profession and weigh in on the policies impacting their day-to-day work and long-term health care outcomes.
"The PathPAC Board is energized and prepared to play an active role in further increasing PAC participation levels among our peers. Pathologists in all stages of our careers—residents and retirees alike—stand to benefit from a strong, well-funded PAC amplifying our voices in Washington."
PathPAC is the only political action committee dedicated solely to representing pathologists at the federal level. PathPAC supports and represents the interests of pathologists on Capitol Hill through political and financial means. PathPAC strives to increase the political awareness of our members through political analysis, education, and helping our members build lasting relationships with members of Congress.
Through the PAC, the CAP provides direct support to federal candidates for Congress. The PAC also has a political education fund that supports the political education of our members through events like the annual Pathologists Leadership Summit in Washington, DC.
Click here to learn more about PathPAC.
AMA to Host Webinar on Physician Burnout
The American Medical Association (AMA) is excited to announce an upcoming special virtual event on physician burnout on Thursday, March 9 at 11 AM CT. The webinar features a powerhouse lineup of speakers, including the US Surgeon General, Vice Admiral Vivek H. Murthy, MD, MBA, and AMA President Jack Resneck, Jr., MD. Physician burnout demands urgent action, and the AMA is leading the charge. The CAP has a paper on the impact of physician burnout on pathologists lead by a workforce burnout workgroup.
Join us on March 9 at 11 AM CT and please share with your peers and members. Register.
Last Week to Test Your February Advocacy Know-How
It's the last week to test your knowledge with the February Advocacy News Quiz. See how you compare against your fellow CAP members and brag about your top scores on social!