March 28, 2023
In this Issue:
CMS Issues Updated Guidance for Independent Dispute Resolution Process
The Centers for Medicare and Medicaid Services issued revised guidance for the federal independent dispute resolution (IDR) process that is part of the No Surprises Act. The new guidance is the direct result of the federal litigation filed by the Texas Medical Association that was decided in favor of physicians. On March 17, certified IDR entities were instructed to resume making payment determinations and that they must consider all information submitted to determine the appropriate out of network rate (that is otherwise not prohibited).
Congress passed the No Surprises Act in December 2020. As legislation evolved, the CAP worked with federal lawmakers and other physician organizations to drastically improve this policy.
Certified IDR entities have now resumed processing all payment determinations after a delay issued by the Department of Health and Human Services (HHS) and other departments. In addition, the HHS and other departments have completed the necessary updates to the federal IDR portal and federal IDR process guidance documents to reflect these revised payment determination standards.
In both the March 2023 IDR Guidance for Disputing Parties and the March 2023 Federal IDR Process Guidance for Certified IDR Entities, the Departments specify that the IDR entities must consider that qualifying payment amount (QPA)(s) for the applicable year for the qualified IDR item or service, and other information submitted by a party as long as it does not contain prohibited factors. This removes the flawed "double counting" specification or other weight to the QPA. Also, starting March 17, disputing parties will begin receiving most of their payment determination notices from the IDR portal, specifically from auto-reply-ederalidrquestions@cms.hhs.gov.
This development does not address the CAP's other issues with the implementation of the federal IDR process, including abuse of the open negotiation process, the volume of IDR cases, batching, and the incredibly high non-refundable administrative fee. The CAP continues to engage with Congress and federal agencies to ensure an accessible and equitable system for resolving payment disputes.
Check out the CAP's No Surprises Act resources.
CAP and Coalition Urges House Leaders to Fund Pandemics Preparedness
The CAP and over 40 other medical and health groups representing a broad range of scientific, public health, and clinical professionals asked Congress to support the Centers for Disease Control & Prevention (CDC) Advanced Molecular Detection (AMD) program. In its 2023 federal funding legislation, Congress included a bill championed by the CAP to ensure the nation is prepared for future pandemics. The group wants Congress to continue its commitment by committing $175 million to the CDC program in 2023.
In a March 23 letter to congressional leaders, the groups said this funding level aligns with the level authorized in the Tracking Pathogens Act, which was enacted as part of a year-end legislative package in 2022.
Specifically, the recommended funding would:
Continue and bolster support to state and local public health support for genomic sequencing and surveillance.
Maintain support for the Pathogen Genomics Centers of Excellence.
Sustain support for informatics and workforce training.
Provide funding for continued internal innovation and improvement to ensure the AMD program maximizes its value and work for the whole of CDC and beyond.
Nominate a House of Delegates Leader for Pathology Achievement Award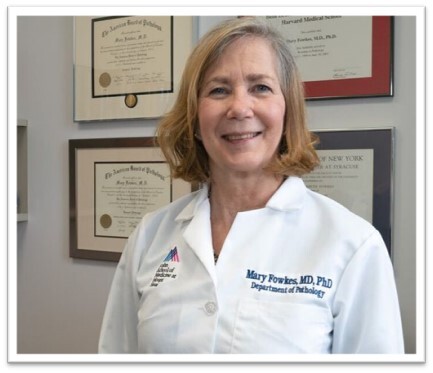 Nominations are open for the Dr. Mary Fowkes HOD Pathology Achievement Award.
This new award will honor the legacy of the late Mary Fowkes, MD, FCAP, who demonstrates commitment, achievements, bridging state, federal resources to advance pathologists; or effectively works for the specialty across organized medicine. This annual award will be presented to a current or former CAP House of Delegates member.
Any current or former HOD can submit nominations. The 2023 nomination period is open through May 31, 2023.
Set Your Path to Leadership with a Meeting that Accommodates Any Schedule
The 2023 Pathologists Leadership Summit, April 15–18, offers a flexible meeting format to deliver a healthy balance between professional and personal needs. Attend in-person or virtually—all four days, or only sessions of interest—and even view the session recordings after the close of the meeting until June 13.
A robust agenda enables you to:
Help shape pathology's position on the important issues facing pathology at the House of Delegates Meeting on Saturday, April 15.
Learn advanced communication and leadership skills through educational sessions with experts on Sunday, April 16.
Gain a better understanding of key issues affecting pathology and learn to be effective advocates at the Federal Policy Agenda and Hill Day Preparation on Monday, April 17.
Participate in meetings with colleagues as we educate our legislators in Congress on the issues impacting pathology and our patients at our Annual Hill Day on Tuesday, April 18. (Note: In-person attendance is required)
The Pathologists Leadership Summit is a premier benefit of your CAP membership. Don't miss the chance to earn up to 11.25 free CME—there's no registration fee.
Last Week to Test Your March Advocacy Knowledge
It's the last week to test your knowledge with the March Advocacy News Quiz. See how you compare against your fellow CAP members and brag about your top scores on social!