May 18, 2021
In this Issue:
Medicare Proposes to Abandon Hospital Pay Methodology Opposed by the CAP
A new Medicare proposal would repeal a requirement that hospitals report specific negotiated charges for all its Medicare Advantage, which the CAP had previously advocated against as it may not capture the value of the professional component of clinical pathology services. The proposal, published by the Centers for Medicare & Medicaid Services (CMS) on April 27, would repeal a market-based Medicare Severity-Diagnosis Related Group (MS-DRG) relative weight data collection and change in methodology also opposed by the CAP.
The CMS released these changes in the proposed 2022 Medicare Hospital Inpatient Prospective Payment System and Long Term Care Hospital regulation. The payment system provides fixed reimbursements for diagnosis-related groups for hospital services. The CAP is carefully reviewing the proposals, which would go into effect in 2022, and will provide its input by a June 28 comment deadline.
1,000 New GME Positions
The CMS also proposed implementing policies for graduate medical education (GME) that were included in the 2021 Consolidated Appropriations Act. The act was signed into law in December 2020. The provisions impact direct and indirect payments for GME that provide 1,000 new GME positions to be distributed beginning in fiscal year 2023 and several changes to the full-time equivalent resident limits of urban and rural hospitals.
The proposed regulation also would create a new Medicare group for Chimeric Antigen Receptor (CAR) T-cell immunotherapy. The CMS proposed not to use clinical trial cases where the hospital does not have a cost for the therapy product. The CAP advocated for the appropriate pricing for these services.
Additionally, the agency requested information about adopting a digital measurement approach for its hospital quality and value-based purchasing programs and strategies to close the health equity gap in those programs. Specific changes are proposed for the quality reporting programs for acute inpatient hospital stays, Prospective Payment System-exempt cancer hospitals, and long-term care hospitals.
House Committee Urges HHS Secretary to Restore FDA's Authority Over LDTs
House Energy and Commerce Committee Democratic leaders urged Health and Human Services (HHS) Secretary Xavier Becerra to reverse the previous Administration's policy to remove the Food and Drug Administration's (FDA) premarket review requirements for COVID-19 laboratory-developed tests (LDTs). Committee members raised the regulatory uncertainty leading to liability concerns for the COVID-19 test and performance of LDTs during the pandemic.
In a May 11 letter to Secretary Becerra, House Energy, and Commerce Committee leadership Chairman Frank Pallone, Jr. (D-NJ), Health Subcommittee Chairwoman Anna G. Eshoo (D-CA), and Oversight and Investigations Chair Diana DeGette (D-CO) stated the importance of LDTs during the COVID-19 pandemic. In August 2020, the HHS announced that the FDA would no longer require premarket review of COVID-19 LDTs. Although the HHS also announced that LDT developers could continue to voluntarily seek Emergency Use Authorizations (EUA) for their tests, in October, the FDA announced that it would decline to review EUA requests for LDTs.
In response to concerns that new LDTs would no longer be eligible for liability protections under the Public Readiness and Emergency Preparedness (PREP) Act, the Trump Administration instructed the National Cancer Institute (NCI) to review LDTs in FDA's stead.
Laboratory-developed tests remain under enforcement discretion, and the FDA is advocating for legislative action to resolve these regulatory issues. Still, the FDA is taking action on tests when needed. In May 2021, the agency took action against the GenBody antigen test.
Dr. Herrmann Earns CAP Foundation Leadership Development Award
Dr. Herrmann Earns CAP Foundation Leadership DeDuring the 2021 Pathologists Leadership Summit, the CAP recognized Amanda Herrmann, MD, from McGovern Medical School at the University of Texas Health Science Center at Houston, as the 2021 CAP Foundation Leadership Development Award recipient.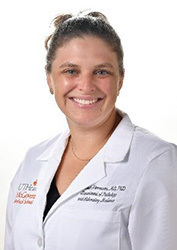 The CAP Foundation Leadership Development Award introduces pathology residents to the specialty's issues and leadership opportunities. Dr. Hermann said that "learning about the work that needs to be done to advance both the practice of pathology and laboratory medicine, as well as patient care in general, is something I am excited to continue." During her first Hill day, Dr. Herman was scheduled to participate in five meetings with federal representatives and senators from Texas.
The CAP Foundation Leadership Award is eligible for all CAP Junior Members and funds the recipient's travel expenses to attend the Pathologists Leadership Forum to enhance education and experience on issues challenging the pathology specialty.

Test Your Advocacy Knowledge with the News Quiz!
Think you know your CAP advocacy? Then test your chops with the Advocacy News Quiz. Last month, over 60 pathologists took the quiz. See how you compare against your fellow CAP members' in the May News Quiz and brag about your top scores on social!