October 3, 2023
In this Issue:
ICYMI: CAP Seeks 120-Day Comment Period for FDA Proposal on the Oversight of LDTs
On Friday, September 29, the CAP President Emily E. Volk, MD, MBA, FCAP, issued a statement following the release of the US Food and Drug Administration (FDA) proposed rulemaking on laboratory-developed tests (LDTs). Due to the complexity of the rule and implications for laboratory testing, the CAP is calling on the FDA to extend the comment period to at least 120 days to give stakeholders more time to review the proposal and respond. The proposal anticipates and seeks comments on a number of exceptions and exclusions from the FDA requirements.
The proposed rule would phase-out the current enforcement discretion approach by the FDA for LDT oversight. Once fully implemented in 2028 all in vitro diagnostics (IVDs) offered as LDTs by a laboratory would generally fall under the same enforcement approach as other IVDs. The current regulatory authority by FDA is based on a three-tiered system with quality management system, registration and listing, labeling, investigational device exemption, and adverse events medical device reporting requirements.
"The CAP requires additional time to evaluate the proposed rule, including the FDA arguments regarding oversight jurisdiction", Dr. Volk said. "Going forward, we will continue to seek a balanced approach that allows patient access to safe and reliable diagnostic tests supported by a regulatory framework that is the least burdensome for laboratories."
CAP Molecular Proficiency Testing Programs Demonstrate Accurate Clinical Cancer Sequencing Results
Molecular testing laboratories using CAP proficiency testing (PT) programs exhibit excellent testing performance based on a recent reanalysis of a pilot study that was published in the Archives of Pathology & Laboratory Medicine.
As a result of a recent reanalysis of The Sustainable Predictive Oncology Therapeutics and Diagnostic (SPOT/Dx) quality assurance pilot study results on molecular oncology next generation sequencing (NGS), the CAP Molecular Oncology Committee concluded that these pilot results should not be extrapolated to all molecular oncology testing and should not be used to market products or change policy affecting all molecular oncology testing.
The initial SPOT/Dx pilot study was based on a limited set of rare to never observed mutations at low frequencies and during a limited time period several years ago. Given the robust evidence of strong testing performance in clinical laboratories using CAP proficiency testing (PT) programs, there is no additional benefit for third party proof of performance of molecular testing in these laboratories. The CAP PT data are among the highest quality, demonstrating excellence in laboratory performance across the over 23,000 laboratories around the world that participate in this program. Read more.
Pathologists Send Over 1,700 Messages to Congress to Stop 2024 Medicare Cuts
Due to a recent grassroots advocacy network action alert, CAP members answered the call in a big way. A total of 542 CAP members sent 1,726 messages to 363 members of Congress urging them to pass legislation to provide additional relief from the Medicare cuts scheduled to take effect in 2024.
PathNET is CAP Advocacy's grassroots advocacy network and a resource for CAP members to connect with their elected officials at the federal and state level. Through PathNET, pathologists and CAP advocacy are capable of getting results like no other group. Participants will gain the knowledge and expertise to advocate effectively to their members of Congress and state legislators, with the support from the CAP staff. PathNET members are eligible to receive the PathNET quarterly newsletters, specialized action alerts, as well as support when setting up meetings or laboratory tours with their members of Congress. PathNET members will also get access to the resources that will enable them to develop a relationship with their representatives and are eligible to be featured in the PathNET newsletter and Advocacy Update.
PathPAC Members Meet with Local Lawmakers to Influence Policy
Over the summer, PathPAC members came out in force working to develop relationships with their local Senate and House of Representatives while Congress was home for August recess. Karim Sirgi, MD, MBA, FCAP of the Colorado delegation joined Sen. Jerry Moran (KS) at a political retreat in Colorado Springs. The event was attended by more than eight senators, many of whom are on the key committees with jurisdiction over health care issues.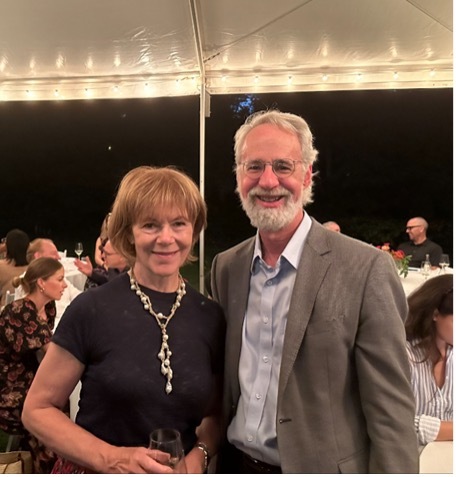 Ross Simpson, MD, FCAP (below) of the Minnesota delegation also participated in an August event for Sen. Tina Smith (MN) at the Senator's home in Minneapolis. Dr. Simpson and the Senator, who sits on the Senate Committee on Health, Education, Labor, and Pensions, exchanged contacts, and learned of shared connections in the state.
Jared Abbott, MD, PhD, MBA, FCAP (below) of the Iowa delegation (and a former PathPAC Board Chair) attended political receptions at the Iowa state fair in August. He connected with nearly all of Iowa's congressional delegation, including Sen. Joni Ernst and Reps. Mariannette Miller-Meeks, MD, Randy Feenstra, and Zach Nunn. Rep. Nunn told Dr. Abbott he would be interested in learning more about pathology and agreed to touring a lab this fall. Rep. Jason Smith (MO), Chair of the powerful House Committee on Ways and Means, also attended the event.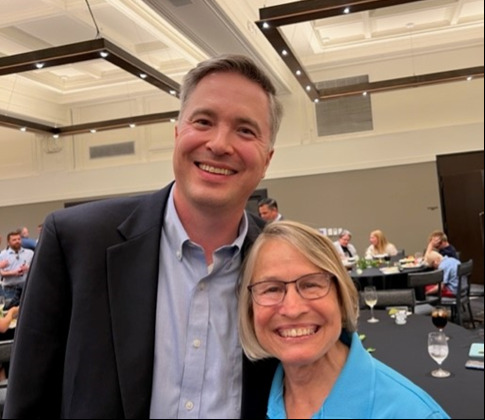 This valuable facetime in a more personal setting helps to positively promote pathology and lays a strong foundation for future advocacy touchpoints. These connections help develop more pathology champions in the Senate and House of Representatives—and will help move pathology interests forward as a busy fall legislative session is already underway.
CAP's New Advertising Campaign Pressures Congress to Stop Medicare Cuts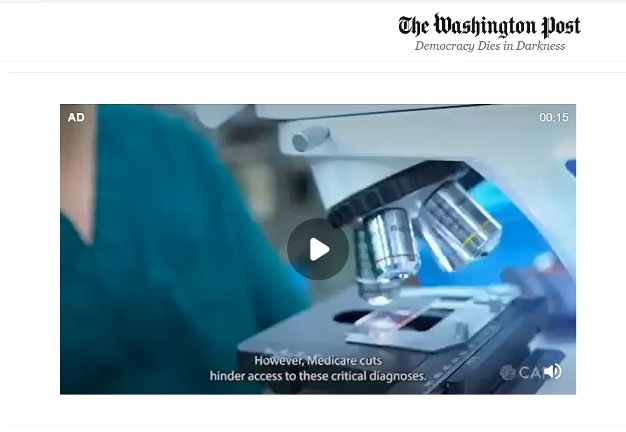 The CAP is continuing to educate lawmakers on the impacts of the proposed Medicare cuts on pathology and how pathology services are an integral part of our nation's health care delivery, with a new digital advertising campaign running in the Washington Post. Look for both a :30 second and :15 second ad that will be running in October that will appear in articles on the washtingtonpost.com website. The goal of the ads is to encourage the audience to join pathologists and the patients they serve by urging lawmakers to take action on preventing needless cuts and extending relief through 2024. Click here for more information.
Take Our News Quiz for October
Are you up to speed on CAP advocacy news? Take our new monthly news quiz and see how many you can get right and share your results on social media.