Laboratory Accreditation Program
Laboratory Accreditation Program
The College of American Pathologists (CAP's) Laboratory Accreditation Program accredits the entire spectrum of laboratory test disciplines with the most scientifically rigorous customized checklist requirements.
The CAP's peer-based inspector model provides a unique balance of regulatory and educational coaching supported by the most respected worldwide pathology organization.
The Laboratory Accreditation Program inspects a variety of laboratory settings from complex university medical centers to physician office laboratories, and covers a complete array of disciplines and testing procedures.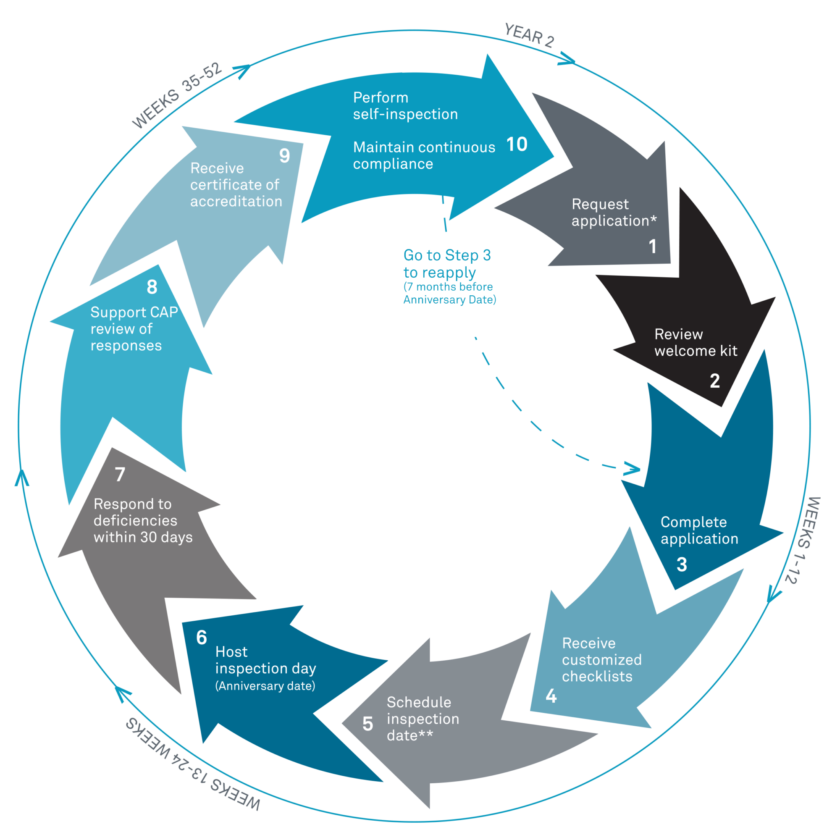 CAP Laboratory Accreditation helps laboratories:
Meet Clinical Laboratory Improvement Amendments (CLIA) regulatory requirements (specific to laboratories subject to US regulations)
Ensure compliance through the guidance of the most comprehensive scientifically endorsed laboratory standards
Maintain accuracy of test results and ensure accurate patient diagnosis
Increase the value they bring to organizations, customers, and patients
Program Details
Eligibility Requirements
The CAP accredits laboratories performing testing on specimens from human beings or animals, using methodologies and clinical application within the expertise of the program. Laboratories must be appropriately licensed to perform testing when required by law.
The laboratory accreditation program is available for laboratories in the United States and for international laboratories.
Information specific to international laboratories interested in CAP Accreditation is available in the International Laboratories section.
Find a CAP-accredited laboratory
The Centers for Medicare and Medicaid Services (CMS) granted the CAP Laboratory Accreditation Program deeming authority, which allows CAP inspection in lieu of a CMS inspection. It is also recognized by The Joint Commission, and can be used to meet many state certification requirements.