First Pediatric Clinical Genomics Center in the UAE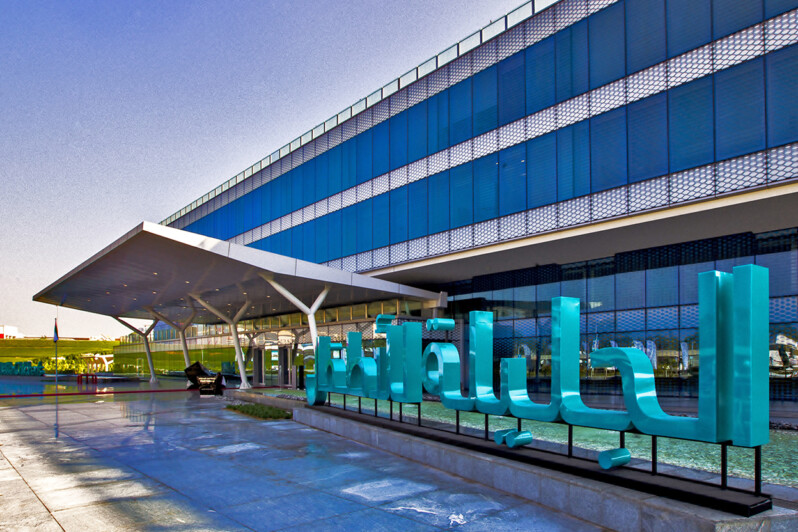 Al Jalila Children's Specialty Hospital (AJCH), the first standalone tertiary care center in the United Arab Emirates (UAE) dedicated to children and adolescents, opened in November 2016. With a focus on the delivery of high-quality patient care, their Al Jalila Genomics Center Diagnostics Laboratory earned the College of American Pathologists (CAP) laboratory accreditation while evaluating and treating more than 168,000 patients within three years of opening. Moving quickly, with a laser focus on quality, proved fortuitous in facing the pandemic that took the world by surprise.
Working Together for World Care, Close to Home
AJCH is a 200-bed government-owned medical center in Dubai, UAE, a sophisticated city often called the gateway between East and West. While excellent multispecialty medical care is widely available, families whose children suffered from more complex and less common medical conditions sometimes travel overseas for subspecialty care in pediatrics-specific medical centers with on-site clinical collaboration. Travel for comprehensive assessment and treatment could involve a stressful weeks-long trip far from home for the entire family. The strongest argument for establishing a comprehensive, integrated source of pediatric subspecialty care within the UAE was cultural: families of very sick children wanted care close to home.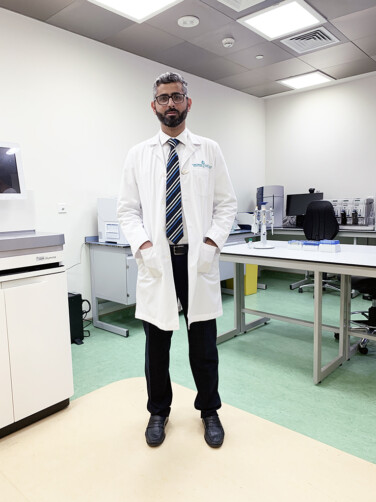 Dr. Ahmad Abou Tayoun is an American board-certified clinical molecular geneticist who earned his PhD from Dartmouth College and completed fellowship training from Harvard Medical School. When he was director in the Division of Genomic Diagnostics at the Children's Hospital of Philadelphia, AJCH recruited him to establish the Al Jalila Children's Genomic Center and build its state-of-the-art Diagnostics Laboratory. AJCH shared his vision for a center that was stitched into the institution's patient-care mission, and appreciated the value of international training and experience, which builds comfort and skill in collaboration to address rare conditions.
The diverse team of Al Jalila Genomics Center integrates seamlessly across hospital departments via its laboratory diagnostics services and a counseling core that supports patients, families, and clinicians on everything from risk assessment and results disclosure to test ordering and billing. Multidisciplinary collaboration is the norm: Dr. Abou Tayoun works closely with physicians in relevant specialties and the genetics counselor routinely presents joint clinics with (and for) clinical colleagues, resulting in comprehensive 360-degree service from wet bench to bedside.
Laboratory members (a genetics counselor, a PhD bioinformatics scientist, a PhD genome analyst, a master's level molecular specialist, and two molecular technologists) also embed with clinical and research specialists in neurology, pulmonology, endocrinology, orthopedics, neurodevelopment, and mental health. For families, that ensures timely information about potential disease progression and risks of recurrence.
This collaboration within AJCH extends to the world. Researchers at Al Jalila Genomics Center continually refine what is understood about the genomic landscape for certain pediatric disorders more commonly seen in the UAE and Middle East. The pandemic is sharpening communication and the best ways to identify pathogenic variants. It will also inform efforts to incorporate the more common mutations or genes into national screening programs. For this international team and stage, AJCH knew that global accreditation would play a part.
CAP Inspection and Accreditation for Today and Tomorrow
The Al Jalila Genomics Center Diagnostics Laboratory performed 400 complex tests in its first year and earned CAP accreditation in October 2019. Global collaboration is a part of accreditation. Rana Domiati Saad, PhD, a board certified high-complexity laboratory director who conducted the CAP laboratory accreditation site visit, says that the Al Jalila team performs high quality molecular testing and demonstrated adherence to the 385 requirements on the CAP molecular laboratory checklist. Dr. Abou Tayoun says, "Dr. Saad could tell us if we were on the right track or not. It was very helpful."
While preparing for CAP accreditation is a lot of work, Dr. Abou Tayoun says, completing the exercise was an airtight argument for its value. The team thought through the process and sorted checklist items into more refined buckets – SOPs, policies, competencies, validations, quality assurance programs. "We gave everyone a job and made them responsible for their workflows and their competency assessments," he says. That one step made what had been a smart routine into something more personal. "Now," he says, "they can check on themselves." Additionally, participation in the CAP proficiency test programs would keep quality metrics on the dashboard throughout the year.
"I want to be sure my team is competent," he says. "Here's this checklist. I want to make sure that there are no errors, that there's no sample mix-up, that the wrong tests haven't been done. I want to know that batches aren't failing and causing deficiencies. The CAP checklist covers all of that." It's easy to set the test up with an eye to consistent quality, he says, when the CAP checklist is there to reinforce the importance of sensitivity, specificity, precision, and accuracy.
The accreditation process drove confidence…[and] the CAP checklist is there to reinforce the importance of sensitivity, specificity, precision, and accuracy.

Ahmad Abou Tayoun, PhD, DABMGG
Director of the Genomics Center at Al Jalila Children's
Records will confirm that all the pieces are in place, but it is the accreditation site visit that demonstrates the skills, attitudes, borderline-obsessive perfectionism, and mutual support that characterize high-performing laboratory teams. "The accreditation process drove confidence in our test results," Dr. Abou Tayoun says. "We spent more time on the validation and making sure all the metrics were logged; that everyone knew the validation documents and SOPs that were based on them." The checklists created a reality-based foundation.
About a year after accreditation, the laboratory logged another milestone in November 2020: 360-degree care under one roof for a 5-month-old girl with spinal muscular atrophy, a debilitating and often-fatal genetic disease. Evaluation and management with a clinically validated assay enabled genetic diagnosis within 48 hours. Less than two years ago, patient and family would have faced a costly trip abroad instead of one within their local community. Serving their local community through global quality accreditation would expand to the serve the world.
Contributing to the Understanding of COVID-19
Arguments for investment in high-tech medicine continue to grow. When the first cases of SARS-CoV-2 were reported from Wuhan, China in December 2019, Al Jalila Genomics Center Diagnostics Laboratory had been CAP accredited for less than three months. The rigor required to achieve accreditation grew their collective competence and confidence, and its highly qualified laboratory team members met standards required in top-tier laboratories across the world. Their team could be a critical asset if a sudden medical emergency – say an international plague – demanded a quick and seamless scale-up.
Since fighting SARS-CoV-2 becomes more challenging as it mutates, genomics is crucial to the international pandemic response. The immediate public health goal is to construct a fully dimensional (a/k/a spatiotemporal) map of local transmissions with which scientists can identify and characterize infection hotspots and help predict where the next ones will appear. Within their genomics laboratory, AJCH used powerful statistical tools to keep the map up-to-date and keep international partners informed. Dr. Abou Tayoun and colleagues published papers in Clinical Chemistry and Nature Scientific Reports, sharing their findings and making highly technical material truly accessible.
With precision, persistence, and ready collaboration, Al Jalila's CAP accreditation experience further highlights a well-prepared laboratory as an invaluable asset, especially when a public health crisis creates inflexible demand for scaled-up perfection. When everyone is on the same page, or checklist, the future for international public health glows brighter.