Dr. Rouba Ali-Fehmi: Paving the Way for Future Arab American Pathologists
Originally from Syria, Rouba Ali-Fehmi, MD, FCAP, came to the US in 1993 to pursue higher studies and training in the field of pathology. In addition to her responsibilities as a professor of pathology and gynecologic oncology, she's been heavily involved in the Arab American medical community and routinely dedicates her time to helping medical students from the Arab world find programs and opportunities in medicine.
We spoke to Dr. Ali-Fehmi for Arab American Heritage Month to hear her story and get her thoughts on how the CAP can help the next generation of Arab American pathologists.
What made you decide to pursue pathology?
Pathology is the science side of medicine. In addition to routine diagnoses, we come across diagnostic challenges and questions that may lead to research endeavors and new discoveries about disease. This aspect of the specialty is very fulfilling to me.
Although pathologists don't routinely see patients face to face, we are as involved in patient care as the clinicians who do work with patients.
Coming from Syria, was your path to practicing pathology in the United States a difficult one?
I studied medicine at Damascus University, and all the instruction was in Arabic. In Syria, we don't learn English starting in kindergarten; it's typically taken in high school as a subject. Since English is not my first language, I had to do a lot of translating to take the USMLE, 1, 2, and 3.
So, learning the language once here was my first challenge. Additionally, I had to overcome cultural differences between here and back home. But the US has been warm and welcoming place, a "land of opportunity" where hard work pays off. In this country, if you work hard, the opportunities are limitless.
As a past president of and someone who's been very involved with the National Arab American Medical Association (NAAMA), why did you establish NAAMA NextGen?
NAAMA NextGen is an organization for pre-med and medical students of Arabic descent, founded with the purpose of empowering Arab-American students to play a role in health care advocacy and community service. The goal is to establish a collaborative and inclusive community focused on the future success of our youth. NextGen's aim is to support our younger members by creating opportunities for leadership, mentoring, research, and social engagement.
For instance, regarding our mentorship opportunities, a student interested in pathology can work with their NAAMA NextGen chapter to team up with a pathologist or fellow students in their region. A more senior medical student could mentor incoming students, or a medical student might mentor a pre-med student.
In terms of the research opportunities, working in collaboration with NAAMA member physicians, NextGen student members have conducted and published studies on obesity in the Arab American population, HPV prevalence in Arab American women, and COVID-19 vaccine hesitancy among Arab Americans in health care. Our work on vaccine hesitancy was presented at a town hall meeting at the White House. We also did another study on vaccine hesitancy in the Arab American community in general, nationwide.
We started NextGen with only two chapters (at the University of Michigan and Wayne State University) in 2018. Currently, we are proud to have over 40 chapters in major universities across the US.
What are the challenges facing Arab and Arab American pathologists getting started in the specialty, or in medicine more broadly?
Arab medical students and residents coming from overseas face the biggest challenges. They must quickly adapt to a new society and learn the culture while proving themselves as competent doctors. These students are super smart to [be able to] pass their exams back home and reach here, but they need mentors and help adjusting to life in the states before starting residency.
Even after residents enter their program, they need help getting familiar with our medical system, as well as support with advancing their career goals. I'm blessed being in Michigan because we have the largest Arab American community in the nation. But a different state might have only a couple of Arab American families in the area or one physician out of the entire hospital.
Fortunately, pathology is a collaborative specialty. We work closely together, which allows for seamless integrations. Most of the people here are so supportive, but it helps to have that little extra piece of cultural awareness. For example, it would be so beautiful for someone to say "Happy Eid" to an Arab colleague (if they are Muslim) after Ramadan. Or to know that a student was fasting during the month prior, while working the same hours as everybody else.
How can the CAP support and empower the younger generation of Arab American pathologists?
Many incoming pathology residents today are International Medical Graduates (IMGs) from foreign countries. Sponsorship opportunities provided by the CAP and larger pathology community would help to engage IMGs and aspiring Arab American pathologists. Being a mentor and providing resources makes all the difference. By working with organizations like the International Academy of Pathology's Arab Division and NAAMA, the CAP could potentially assist Arab students in finding pathology residencies. It would be great to have more internship programs or research assistant/associate positions created for IMGs interested in pathology.
How can Arab and Arab American pathologists make a positive difference on the health issues impacting their community?
They can help by doing more research and testing, because awareness is key. For example, NextGen conducted a study on obesity in the Arab American population. It was a massive effort, with 20 students working on it and producing one of the largest studies published on the topic. The results were surprising. I thought, because of the Middle Eastern diet, obesity rates among Arab Americans would be less than the control population. But no, we matched the Caucasian population in Michigan (where the study took place) for obesity.
Based on the data and findings, and with a grant from NAAMA, the students started a two-year campaign raising awareness around obesity. They went to mosques, sports clubs, and schools to raise awareness and educate about healthy diet, exercise, what BMI means and how to have it tested, and more. They created programs like "Cycling Against Obesity" and even did a Got Milk? campaign.
We need to have awareness of the health issues impacting our community. The more studies like this we can do, the better for the community.
Do you have any words of advice for Arab American pathologists as we close out the heritage month?
Connect with your community, be a mentor, and celebrate your Arab heritage.
---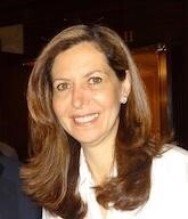 Dr. Rouba Ali-Fehmi, MD, FCAP, is a professor and vice chair in the departments of pathology at Wayne State University and Karmanos Cancer Institute, as well as director of the surgical pathology fellowship program at Wayne State University. Since starting as a staff attending, she has mentored many gynecologic oncology and pathology fellows, which ultimately led to more than 140 peer-reviewed publications and presentations at national and international meetings.

Dr. Ali-Fehmi is very active in the International Academy of Pathology – Arab Division, where she gives interactive lectures and workshops in most Arab countries. She is the immediate past president of the National Arab American Medical Association (NAAMA) and the founder and current chair of NAAMA NextGen. Dr. Ali-Fehmi has also pioneered many research studies to investigate medical and health related topics in the Arab-American population.