Twitter Chat Wrap-Up: How Pathologists Can Confront Challenges Related to Vaping-Associated Lung Injury
On June 16, 9pm EST, I took over the @Pathologists Twitter handle to host a Twitter discussion about what pathologists need to know about E-cigarette or Vaping Product Use-Associated Lung Injury (EVALI).
I also participated as a panelist under my Twitter handle (@YasmeenButtMD), and was joined by leading pulmonary pathologists Timothy Allen, MD, JD, FCAP (@TimAllenMDJD) and Sanjay Mukhopadhyay (@smlungpathguy).
Below are some highlights from the hour-long discussion.
---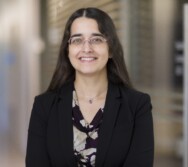 Dr. Butt is a new-in-practice thoracic pathologist who is part of a busy pulmonary consultation service at Mayo Clinic Arizona. She is the author of numerous book chapters and articles in pulmonary pathology. She is a member of the CAP New In Practice and Digital Content Committees and a past member of the Resident Forum Executive Committee. She can be found on Twitter @YasmeenButtMD.