2020 CAP Resident Advocate Award
The CAP Resident Advocate Award, established in 1990, recognizes outstanding contributions to and support of pathology residents and fellows.
Kamran M. Mirza, MD, PhD, FCAP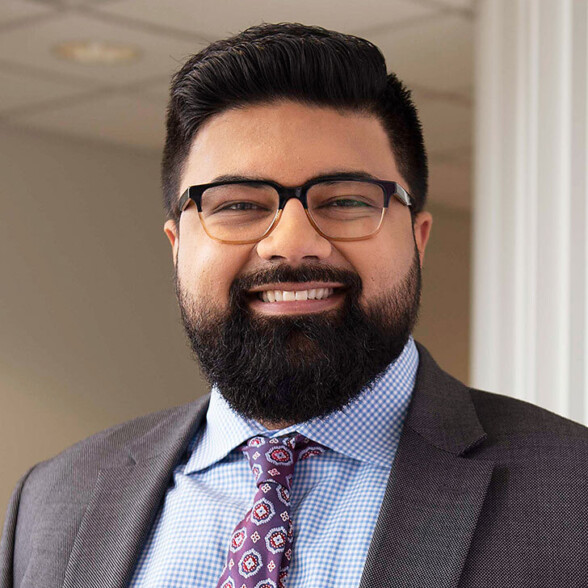 The College of American Pathologists honors Kamran M. Mirza, MD, PhD, FCAP, with the 2020 CAP Resident Advocate Award, recognizing his dedication to resident education and mentoring that ensures the future of the specialty.
Dr. Mirza is the quintessential resident advocate and mentor. At Loyola University Chicago's Stritch School of Medicine, he serves as associate program director for the AP/CP residency program and as the director of the molecular pathology and hematopathology curriculum for residents and fellows. Dr. Mirza is the consummate educator who has been recognized repeatedly within the past few years for his dedication to GME teaching.
His research at Loyola revolves around novel pedagogical techniques for pathology education, and he has spoken at multiple meetings across the world and received multiple awards and grants. A huge advocate of residents and fellows in hematopathology, Dr. Mirza volunteered for and served in the working group that developed the new ACGME Milestones 2.0 for hematopathology. Though still in their survey/feedback phase, these updated milestones are already receiving rave reviews. His work as founder of pathelective.com, with #TwitterHomework and #HallwayPathQuiz, and as a founding member of #HemepathJC (hematopathology journal club) are also seminal contributions in his advocacy for residents, fellows, and medical student education.
With a strong social media presence, Dr. Mirza is internationally known. He has been on the Pathology Power List for two consecutive years, placing fifth in 2019. Through his efforts on social media, Dr. Mirza has engaged and educated residents from around the world along with the students in the pathology pipeline (Path2Path online chats). He uses his platform (personal, local, national, international, and social media) to speak up for and educate residents and fellows in order to change the misperceptions about our field in the medical community and beyond.
Dr. Mirza is a member of the CAP's Digital Content Committee and Member Engagement Committee. He has served as a guest for the "How Pathologists Can Engage + Connect with Medical Students" Twitter chat and also served as a speaker for a CAPcast interview on social media's crucial role in pathology education. As a graduate of the CAP's Engaged Leadership Academy (ELA) and member of the Engaged Leadership Network, Dr. Mirza recently served as a guest/expert panelist for the 2019 ELA program, speaking on "Telling Your Story."
Dr. Mirza is an associate professor and vice chair of education in the Department of Pathology and Laboratory Medicine at Loyola University Health System in Chicago.
---