2021 CAP Resident of the Year Award
Established in 2010, the CAP Resident of the Year Award recognizes a Junior Member who has made outstanding contributions to the specialty of pathology, pathologists, laboratory medicine, and/or the general public.
Mariam Anwar Molani, DO, MBA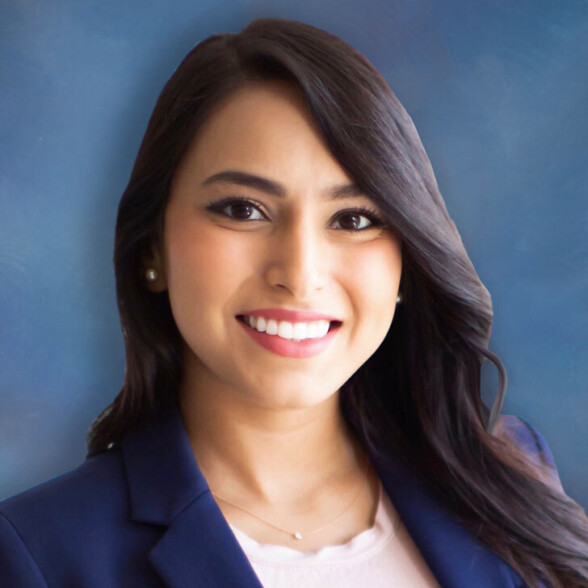 The College of American Pathologists presents Mariam Anwar Molani, DO, MBA, with the CAP Resident of the Year Award to recognize her innovative trainee contributions to graduate medical education and to the CAP.
Dr. Molani displayed interest early through her undergraduate medical education, during which she pursued a dual degree program combining her DO from the Kansas City University College of Osteopathic Medicine with a Master of Business Administration in Health Care Leadership through the Rockhurst University Helzberg School of Management, graduating magna cum laude with multiple additional academic honors. She is currently a resident at University of Texas Medical Center.
Dr. Molani's commitment to pathology is displayed through significant CAP activity. She was a delegate to the Residents Forum from her first year, progressing to the Residents Forum Executive Committee as digital strategy liaison in 2018 and vice chair in 2019, when she was also a presenter at the National Policy Meeting in Washington, DC. She served as resident representative on the In Vivo Microscopy Committee and the Digital Content Committee.
She received a Leadership Development Award from the CAP Foundation in 2019. She also received a Leadership Development Award and a Society of '67 Scholars Award from the Association of Pathology Chairs. Dr. Molani currently serves as one of 11 trainees on the American Board of Pathology's Resident Advisory Committee.
Dr. Molani stands out in her use of social media, both independently and in affiliation with professional organizations, to promote pathology as a specialty choice for students. She has been quoted as saying, "Because we're so often 'behind the scenes,' it's hard for students to connect with us. I wanted to give the specialty a face, someone tangible to reach out to when they were exploring the field." To this end, she single-handedly designed and currently maintains a popular website— "LibraMed"—through which she works to reach students and provide a visible role model, a source of information, and a connection to prospective mentors in pathology.
For her social media activities in support of pathology, Dr. Molani was recognized on The Pathologist's "Trailblazers" Power List for 2019. An even more impressive achievement was her receipt of the 2020 David C. Leach Award from the Accreditation Council for Graduate Medical Education, which honors innovative trainee contributions to graduate medical education.
Dr. Molani is a fellow in cytopathology at the University of Texas Southwestern Medical Center.
---