This program offers one challenging case each month from the CAP Performance Improvement Program in Surgical Pathology. For each case, you will use a virtual microscope whole slide image of a surgical specimen to diagnose diseases.
You will be presented with information on each case including: specimen source, clinical history, laboratory findings, and a representative whole slide image of the surgical specimen. After you complete each case, you will receive a case summary with three multiple-choice questions that relate to the case.
Please note: DigitalScope® is supported with Microsoft Internet Explorer 11.0 (limited support for IE 9 and 10) or later, or FireFox 4.0 or later, or Safari 3 or the latest Google Chrome version.

---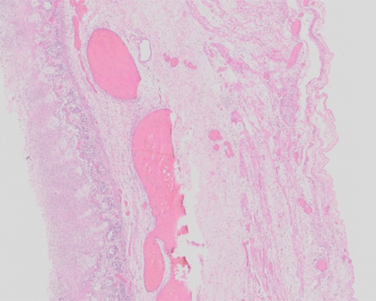 Colon
A 72-year-old woman presents to the emergency department with copious watery diarrhea for three days. Her abdomen shows diffuse tenderness on palpation. She is febrile (101.5˚F), mildly hypotensive, and clinically appears dehydrated. She notes an episode of sinusitis three weeks ago that was treated with antibiotics. Her previous medical and surgical history is uneventful. She is admitted to the hospital. She fails medical management and requires surgical intervention.
Read the Case of the Month
---
Previous Cases of the Month
View a list of previous cases using the virtual microscope to examine various surgical specimens and diagnose diseases.