This program offers one challenging case each month from the CAP Performance Improvement Program in Surgical Pathology. For each case, you will use a virtual microscope whole slide image of a surgical specimen to diagnose diseases.
You will be presented with information on each case including: specimen source, clinical history, laboratory findings, and a representative whole slide image of the surgical specimen. After you complete each case, you will receive a case summary with three multiple-choice questions that relate to the case.
Please note: DigitalScope® is supported with Microsoft Internet Explorer 11.0 (limited support for IE 9 and 10) or later, or FireFox 4.0 or later, or Safari 3 or the latest Google Chrome version.

---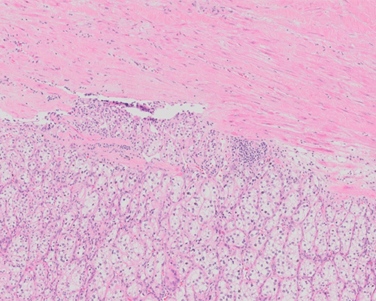 Chest Wall
A 67-year-old man presents with hematuria. An abdominal computed tomography (CT) scan reveals a 9 cm mass in the upper pole of the left kidney. A radical nephrectomy is performed. Gross examination reveals a 9.3 x 9.0 x 6.5 cm circumscribed, unencapsulated, golden-yellow, solid and cystic mass with areas of hemorrhage. The tumor appears to invade into the hilar fat. Surgical margins, including distal ureter and renal vein, are negative for tumor. The adrenal gland is unremarkable.
Read the Case of the Month
---
Previous Cases of the Month
View a list of previous cases using the virtual microscope to examine various surgical specimens and diagnose diseases.