This program offers at least two challenging cases each month from the CAP Performance Improvement Program in Surgical Pathology. For each case, you will use a virtual microscope whole slide image of a surgical specimen to diagnose diseases.
You will be presented with information on each case including: specimen source, clinical history, laboratory findings, and a representative whole slide image of the surgical specimen. After you complete each case, you will receive a case summary with three multiple-choice questions that relate to the case.
Please note: DigitalScope® is supported with Microsoft Internet Explorer 11.0 (limited support for IE 9 and 10) or later, or FireFox 4.0 or later, or Safari 3 or the latest Google Chrome version.

---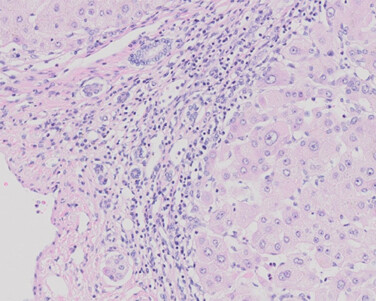 Liver
A 47-year-old man who recently immigrated to the United States from China presents with abdominal fullness, jaundice, and fatigue. Physical exam reveals multiple spider angiomata on the surface of his abdomen and large volume ascites. Liver function tests show mildly elevated alanine aminotransferase (ALT) and aspartate aminotransferase (AST), but normal alkaline phosphatase (AP). Serologic studies are positive for HBsAg (hepatitis B surface antigen) and hepatitis B core antigen (HBcAg). The decision is made to proceed with liver transplantation, and his liver explant specimen is sent for pathologic evaluation. The liver weighs 1828 grams and displays a firm, nodular, dark green surface.
Read the Pathology Case Challenge
---
Previous Case Challenges
View a list of previous cases using the virtual microscope to examine various surgical specimens and diagnose diseases.