January 4, 2022
In this Issue:
CDC Warns of Supply Shortages as Testing Spikes in Wake of Omicron Variant
With an expected increase in laboratory testing due to the transmissibility of the SARS-CoV-2 Omicron variant and holiday-related travel and gatherings, the US Centers for Disease Control and Prevention (CDC) is encouraging laboratories with testing capacity to contact state and local health departments to coordinate surge testing.
The CAP discussed the need for surge testing in January with officials from the CDC and the Department of Health and Human Services Testing and Diagnostic Task Force, and other laboratory organizations, on December 27. The CAP followed-up by sending an alert with information about the surge to the laboratories it accredits. The first COVID-19 case attributed to Omicron was reported in the United States earlier in the month. Omicron has now been reported in all 50 states. The CDC is working with state and local public health officials to monitor the spread of Omicron in the United States and identified a rapid increase in infections consistent with what has been observed in other countries. Multiple large clusters of Omicron variant cases have demonstrated the virus's rapid spread.
Due to the long lines being reported at specimen collection and drive-through testing sites, the CDC encourages laboratories to assist with specimen collection or stand-up drive-through testing sites to contact your local or state public health laboratory or health department.
If your laboratory is experiencing supply chain issues, please report these to the CDC at LOCS@cdc.gov or to the HHS Testing and Diagnostics Working Group (TDWG) at TDWGInfo@hhs.gov. Please also contact the CAP at accred@cap.org so we are aware and can further engage with government agencies, if necessary.
3 Federal Changes Taking Effect in 2022 that Pathologists Should Know
With a new year, there are several new laws and regulations now impacting pathologists and their practices. Below is a recap of what changes you should know for 2022.
New Pathology Clinical Consultation Codes
The CAP worked with the American Medical Association's (AMA) CPT Editorial Panel to establish pathology clinical consultation codes and develop new payment rates, through the CAP's role in the AMA/Specialty Society Relative Value Scale Update Committee (RUC), for 2022. The four new pathology clinical consultation services describe physician pathology clinical consultation services provided at the request of another physician or qualified health care professional at the same or another facility or institution. The distinction among the new code family involves a degree of complexity and/or time of service, broken down by 20-minute increments each for codes 80503, 80504, and 80505, along with an add-on code 80506 reflecting additional 15–30-minutes above that spent on CPT 80505.
Register for a webinar to review these codes on January 20.
Medicare Cuts Mitigated for 2022
On December 9, Congress responded to the CAP's Advocacy by passing the Protecting Medicare and American Farmers from Sequester Cuts Act. The legislation increased payments on the Medicare Physician Fee Schedule in 2022 by 3%. The Centers for Medicare & Medicaid Services (CMS) followed by implementing the provisions in the law and increasing the conversion factor used to calculate Medicare physician fee schedule rates to $34.6062 from $33.5983.
The CAP updated its analysis of Medicare payment changes to pathologists. Download our 2022 Medicare Physician Fee Schedule impact table showing these changes.
No More Surprise Medical Bills
Provisions in the No Surprises Act, enacted in 2020, took effect on January 1, 2022. On December 7, the CAP hosted a webinar where experts reviewed the details of the No Surprises Act and how it affects pathologists. Check out the recording and download the slides.
The federal government issued its first interim final regulation in July 2021 regarding patient-cost sharing protections, notice and consent standards for waivers, rules to calculate qualifying payment amounts, disclosure requirements, and complaints processes. Unfortunately, the government issued a second interim final regulation in September 2021 that gives insurance companies the upper hand during the independent dispute resolution process where physicians and insurers can fairly resolve disputes. Read the CAP's letter to the HHS detailing the problems with the regulation and how the CAP proposed to fix it.
On December 23, the CAP filed an amicus brief in support of a lawsuit challenging the government's flawed implementation of the act.
Dr. Luu Appointed to Federal Health Information Technology Committee
On December 20, the Government Accountability Office (GAO) appointed Hung Luu, MD, FCAP, and six others to the Health Information Technology Advisory Committee (HITAC). Dr. Luu will serve a three-year terms and may be reappointed for subsequent three-year terms. The CAP nominated Dr. Luu for the HITAC as he is an active member of the informatics and standards committee at the CAP.
The HITAC will advise the Office of the National Coordinator for Health Information Technology (ONC) on policies, standards, implementation specifications, and certification criteria relating to implementing a health information technology infrastructure that advances the electronic access, exchange, and use of health information.
Dr. Luu is the Director of Clinical Pathology at Children's Health, a health system with hospitals in Plano and Dallas, Texas. Dr. Luu is also an Associate Professor of Pathology at the University of Texas Southwestern Medical Center. He serves as the co-chair of the implementation committee for the Food and Drug Administration's SHIELD initiative, a multi-stakeholder initiative to improve laboratory data quality, interoperability, and portability.
CMS Outlines Phase-In of 1,000 Residency Slots
On December 17, the Centers for Medicare & Medicaid Services (CMS) released a hospital inpatient final regulation to implement the legislative changes to Medicare direct graduate medical education and indirect medical education payments to teaching hospitals. These changes were part of the Consolidated Appropriations Act of 2021 and included a requirement for 1,000 new Medicare-funded medical residency positions. The number of residency slots represents the largest increase in more than 25 years and advances key priorities to close the health care equity gap and enhance the health care workforce in rural and underserved communities.
The CAP supported the proposals through its public comments earlier in the year. The CAP said that increased Medicare funding for medical residency positions for all medical specialties will help ease current physician shortages and bolster the foundation of our health care system. The CAP stressed that shortages are also occurring in overlooked specialty areas such as pathology, and that additional funding for medical residency positions in pathology should be considered, especially in rural areas.
The agency will phase in 1,000 new residency slots over five years beginning with 200 positions available in fiscal year 2023 and each subsequent year until 1,000 have been distributed. Applications for the new residency slots must be submitted by March 31, 2022. Hospitals will be notified of the increases awarded by January 31, 2023, and positions will be effective July 1, 2023.
The agency also finalized its policy to prioritize applications from qualifying hospitals operating residency programs serving underserved populations by using its Health Resources and Services Administration's score in allocating full-time equivalent (FTE) residents.
The CMS is modifying its proposal that limited the number of residency positions to each hospital to no more than one FTE each year. Instead, the CMS will allow five FTEs per year, with the maximum award amount contingent on the length of the program for which the hospital is applying.
2021 Practice Leader Survey: Impacts of Client Consolidation
The CAP published the 2021 Practice Leaders Survey Report providing invaluable support for setting advocacy priorities and for informing lawmakers and regulators of the important issues facing pathologists. The survey collects information about practice demographics, case mix revenue and sources, hiring and staffing, market and regulatory issues, problems with coverage and payment. This installment focuses on the impacts of client consolidation. The 2021 survey asked practice leaders about the impact of consolidation and structural changes among their clients (eg hospitals, physician offices, or other entities to which their practices provided services).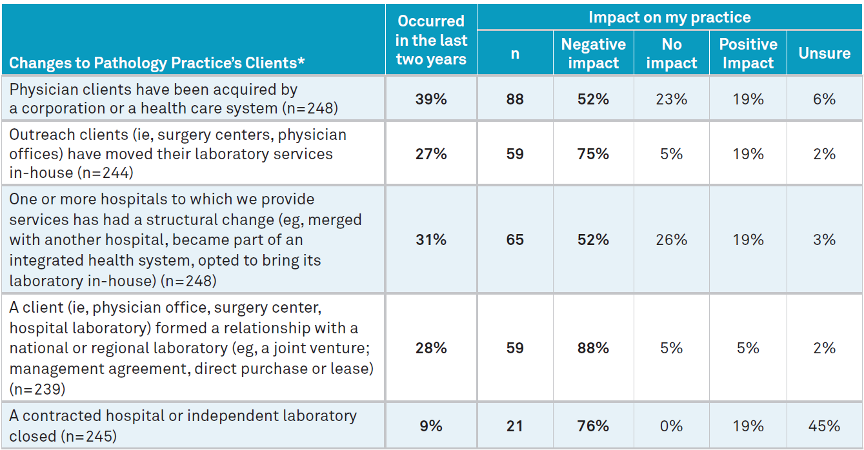 * The observations in each row exclude those who responded "Unsure" to that part of the question. Source: Q37–Within the last two years, which of the following changes have occurred and if they have, what was the financial impact? As the table indicated, nearly 40% of respondents stated that physician clients had been acquired by a corporation or a health care system over the last two years. Just over half of this—52%—reported that these acquisitions had a negative impact on their practice.
Additionally, over 25% of practices stated that outreach clients moved their laboratory services in-house; that one or more hospitals to which they provided services merged with another hospital, became part of an integrated health system, or opted to bring its laboratory in-house; and/or that a client formed a relationship with a national or regional laboratory in the last two years. Most practices experiencing this reported that the impact was negative, with the negative impact being highest for clients moving laboratory services in-house and clients forming relationships with a national or regional laboratory.
Only 9% of respondents reported that a hospital or independent laboratory with which they contracted closed in the last two years. Of those practice leaders to whom this did occur, 76% reported that it had a negative impact on their practice.
Download the full 2021 Practice Leader Survey report (member login is required).
Webinar: CAP Experts Provide Pathology Consultation Codes Implementation Tips
On Thursday, January 20 at 1 PM ET/ 12 PM CT, the CAP will offer a complementary live webinar where CAP experts will review implementation tips for the pathology consultation codes and answer questions. Webinar presenters will be the Council on Government and Professional Affairs Chair Jonathan Myles, MD, FCAP; and Economic Affairs Committee Vice-Chair Ronald McLawhon, MD, FCAP.
New Year, New Advocacy News Quiz
It's 2022 and we have a new Advocacy News Quiz. See how you compare against your fellow CAP members in the January News Quiz and brag about your top scores on social!