October 10, 2023
In this Issue:
Coalition and CAP Ask Congress to Halt New Add-On Service Responsible for Medicare Budget Cuts
The CAP and a coalition of 46 healthcare organizations representing over 1.2 million physician and non-physician providers and the patients they serve urged Congress to halt the implementation of the evaluation and management service add-on code G2211 created by the Centers for Medicare & Medicaid Services (CMS). In a letter to both the House and Senate, the groups said that absent congressional intervention, this code, and the resulting Medicare payment cuts will negatively impact many medical practices – including pathology practices—and threaten patents' timely access to care.
The coalition said G2211 is duplicative of work already accounted for by existing codes, which have been updated. The new add-on code will inappropriately result in overpayments to those using it. At the same time, implementing G2211 will penalize clinicians who cannot, or do not, use it with yet another budget-neutrality-related reduction to the conversion factor.
The letters asked Congress to permanently stop the implementation of G2211 because it would provide clinicians with fiscal stability, they need to ensure Medicare beneficiaries have access to a broad continuum of care in their communities.
CMS Partially Reopens Independent Dispute Resolution Process Portal
The Center for Medicare and Medicaid Services (CMS) partially reopened its independent dispute resolution (IDR) portal to resume initiation of certain new single and bundled (but not batched) disputes on October 6. Processing of both in-progress and new batched disputes remain temporarily suspended while the government works to create guidance and operations that align with recent court orders.
The Texas Medical Association had sued CMS over several aspects of the No Surprises Act. In August, CMS suspended the IDR process after a federal court judge ruled in favor of the association. The judge found that CMS did not follow processes to increase fees and ruled that the Department of Health and Human Services (HHS), jointly with the departments of Labor and the Treasury cannot impose a substantial fee change without notice and comment rulemaking. The CAP has advocated to both Congress and CMS about concerns over the fees and other issues with the IDR process. On September 20, the departments proposed a new fee structure for the federal IDR process. This proposal would amend existing regulations for the IDR fees charged for single and batched determinations. The CAP will submit comments in response to the proposal by the October 26 deadline.
Read more at the CMS's No Suprises Act webpage and visit their new FAQ page here. For more information from the CAP, visit our webpage here.
CAP Urges House Committee to Create Stable Payment Systems for Pathologists
The CAP has been aggressively advocating for immediate improvements to our nation's health care infrastructure, especially to improve access and quality care in rural and underserved areas. Data from a recent CAP survey shows that 44% of pathology practices provide services to hospitals or laboratories in rural areas. Further, workforce issues, increasing health care consolidation, and "patchwork financing models" contribute to access to care issues. The CAP wrote a letter to the House Ways and Means Committee outlining recommendations on how to create payment systems that are predictable and stable, to ensure that physicians can remain in practice, especially in rural and underserved areas.
CAP recommendations included passing legislation that will end the cycle of Medicare payment cuts, reduce the cost and burden of participation in the Quality Payment Program, and meet the demand for pathologists by increasing the number of pathologist residency positions available each year.
The CAP encouraged the committee to provide innovative solutions that minimize physician administrative, financial, and technological burdens of participation that do not hinder the quality of patient care.
Advocacy Highlights at CAP23 in Chicago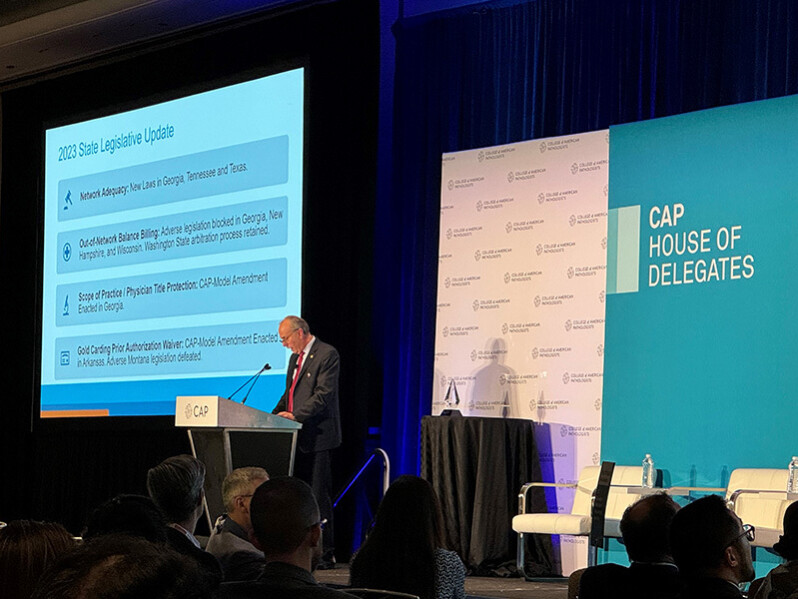 At CAP23, scores of attendees received updates on legislative and regulatory achievements and how the CAP is tackling the challenges ahead for pathologists through its advocacy programs.
CAP Council on Government and Professional Affairs Chair Joe Saad, MD, FCAP, presented to the House of Delegates on October 7 an update on advocacy efforts to stop Medicare cuts to pathologists and activities to protect the value of pathology services. Dr. Saad discussed how the CAP is lobbying Congress to mitigate future Medicare cuts to physicians and what pathologists can expect in the 2024 Medicare Physician Fee Schedule. The CAP and its members, for example, sent more than 1,700 messages to members of Congress that urged lawmakers to provide additional relief from the Medicare cuts scheduled to take effect in 2024.
Dr. Saad also provided an overview of the Food and Drug Administration's proposed regulation for laboratory-developed tests (LDTs) and what the CAP is doing to counter adverse policies sought by private health insurers.
These topics were later discussed in greater detail during our annual advocacy town hall event on October 9. The town hall featured newly inaugurated CAP President Donald Karcher, MD, FCAP; Dr. Saad; and, Council on Government and Professional Affairs Vice Chair Diana Cardona, MD, FCAP.
Dr. Knight Receives CAP Advocate of the Year Award
The 2023 Advocate of the Year award was presented to Kathryn T. Knight, MD, FCAP. The award recognizes outstanding accomplishments in advocacy on the CAP's behalf in the legislative, regulatory, and/or political arenas. It is presented to a member who has made significant contributions to the CAP's advocacy efforts and demonstrated dedication to helping achieve the CAP's advocacy goals.
Dr. Knight is also an active member of the Council on Government and Professional Affairs and is a member of the PathPAC Board of Directors as well as chair of the CAP's State Pathology Societies Initiative project team. She previously served in other advocacy-related leadership activities, including as chair of the Federal and State Affairs Committee, president of the Georgia Association of Pathologists, and as the CAP state issue advisor for Tennessee.
PathPAC Keynote Speaker
Eyal Press, PhD, journalist and author of several critically acclaimed books, was the 2023 PathPAC luncheon keynote speaker who discussed how the health care system has changed – and continues to do so – in ways that impact the practice of medicine and the workplace for pathologists at all stages of their careers. During his talk on October 7, attendees also discussed their views of how market forces are affecting their pathology practices across the country.
PathPAC then hosted a thank you reception on October 8 for all contributors to the only political action committee solely representing pathologists. PathPAC celebrated its supporters with two receptions attended by pro-pathology Members of Congress, Rep. Danny Davis (IL-08) and Rep. Raja Krishnamoorthi (IL-07). CAP members had the opportunity to thank both Congressmen for their work to improve patient access to care and expand the physician workforce. Rep. Krishnamoorthi acknowledged the "perennial issue of cuts" to Medicare payments and encouraged CAP members to continue to advocate for legislative solutions that will add economic stability to the health care system.
PathPAC has raised nearly $15,000 during the CAP23 Annual Meeting.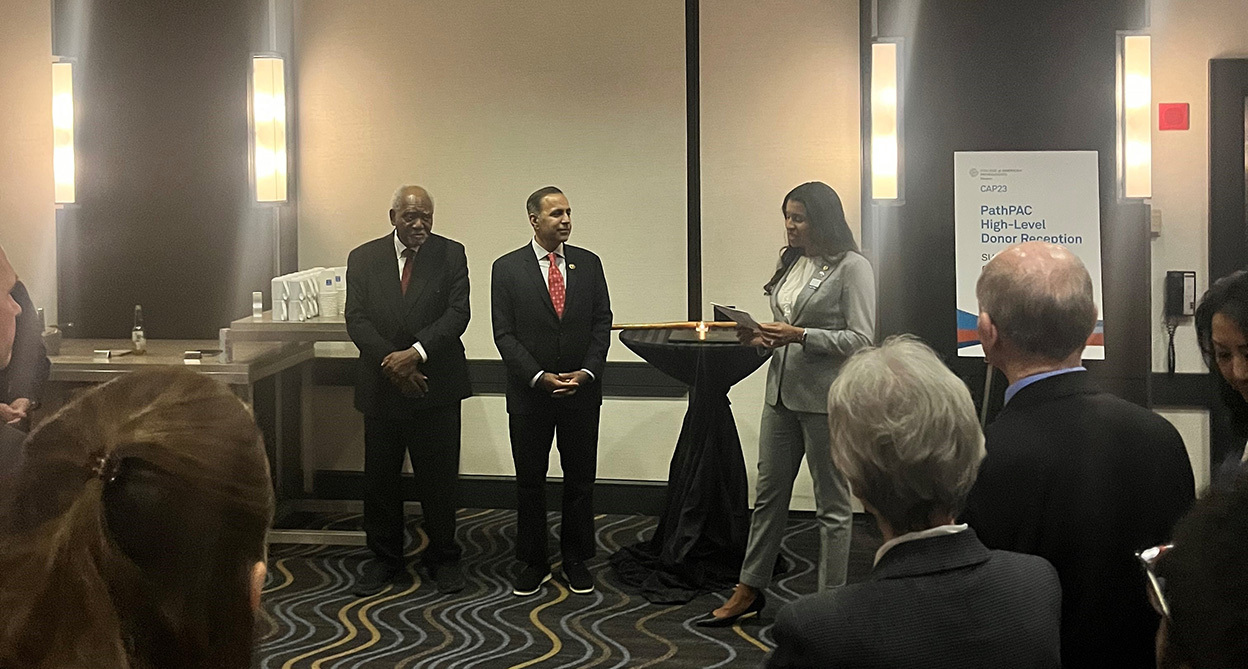 Reminder: CAP Urges Pathologists to Respond to AMA-Mathematica Physician Practice Expense Survey to Ensure Accurate Medicare Pay Rates
The CAP is one of more than 170 health care organizations supporting a new national study by the American Medical Association (AMA) and Mathematica that will collect representative data on physician practice expenses. The aim of the AMA Physician Practice Information Survey is to better understand the costs faced by today's physician practices to support physician payment advocacy.

Pathologists and their practices must watch for invitations to complete the survey. Invitations and reminders about the costs survey will come from PPISurvey@mathematica-mpr.com with the subject line: "American Medical Association requests your input on physician practice expense and patient care hours." Invitations and reminders about physician hours worked will come from PhysicianHoursSurvey@mathematica-mpr.com with the subject line: "Please help to update accurate physician payments." Your input will ensure future pathology payment rates are accurate.
The study will serve as an opportunity to communicate accurate financial information to policymakers, including members of Congress and the Centers for Medicare & Medicaid Services (CMS). The survey will be administered from July 2023 – April 2024.
Physicians will be randomly selected to participate. If contacted, you will receive a $100 stipend for participating in the survey and your individual practice data will be kept private. Participation is voluntary but critical to the success of efforts to support accurate resource-based physician payment.
Again, the CAP strongly urges all physicians who are selected for the surveys to respond as soon as possible. For more information read the Physician Practice Information Survey Methodology Report.
Take Our News Quiz for October
Are you up to speed on CAP advocacy news? Take our new monthly news quiz and see how many you can get right and share your results on social media.