Power of Peer Inspections
Our Accreditation Programs are built on a unique, reciprocal, peer-based inspection model that benefits both the laboratories being inspected and the laboratory providing the inspection team. Our pathologist/director-led inspection teams:

Include trained, practicing laboratory professionals who understand the workflows and challenges you face because they face them every day as well.
Have the opportunity to observe and learn from a variety of laboratory environments while exchanging best practices to ensure high quality patient safety and care.
The expertise of our inspection teams is matched to the size and scope of your laboratory services.
There's a real educational benefit when the [inspection] team is from a comparable institution and they have relevant experience. Being able to bounce ideas off of them and understand how they deal with certain issues is invaluable.

Laboratory Medical Director, Academic Medical Center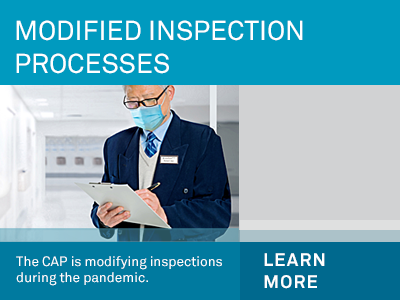 Specialty Inspectors Provide Valuable Insight
Only the CAP makes use of specialty inspectors for highly complex specialties. These inspectors understand the issues and technology for their specialty and can provide valuable insight and practical advice to the laboratory being inspected. Specialty inspectors are used for:
Molecular pathology
Clinical biochemical genetics
Cytogenetics
Histocompatibility
Flow cytometry
The inspection team from our last peer inspection was excellent. They not only knew molecular diagnostics forwards and backwards, they worked closely with us to ensure that our laboratory was meeting all the requirements.

Laboratory Medical Director, Molecular Diagnostics Laboratory
In-Depth Inspections Across All Areas
While other accreditors may offer only a high-level overview of your laboratory's performance or operations, only inspecting where their process happens to take them, CAP inspections thoroughly examine every discipline within your laboratory. Drawing from their own work experience and CAP checklists to guide them, our trained inspectors provide a more efficient, comprehensive, and educational inspection. They drill deep, using our R.O.A.D. (Read, Observe, Ask, Discover) inspection methodology.
Read: Inspectors review a sampling of laboratory documents. This information helps guide the "Observe" and "Ask" techniques.
Observe: Inspectors examine laboratory activity and compare it to documented policies and procedures. Deviation from documented policies and procedures are noted.
Ask: Inspectors ask open-ended, probing questions. This helps corroborate findings uncovered using the "Read" and "Observe" techniques.
Discover: Inspectors drill down using a variety of techniques such as following samples through the process (also known as the tracer technique). This aids in the understanding of pre-analytic, analytic, and post-analytic processes while reviewing multiple requirements simultaneously.
Inspection Options for Every Organization
For laboratories in the US and Canada, routine inspections for a single laboratory or a main laboratory with affiliated satellite laboratories are typically completed within one day. The CAP will match the pathologist/director-led inspection team to the size and complexity of the laboratory providing a peer inspector for each discipline within the laboratory.
For laboratories outside of the US and Canada, laboratories within the same geography with similar anniversary dates will be organized into one to two-week inspection tours. Experienced US-based pathologists act as team leaders. If needed, regional inspectors may supplement the team. Inspections are typically completed in one to two days.
Coordinated inspections are available for affiliated laboratories with their own CAP/CLIA number that have the same anniversary date and are located within 15 miles/30 minutes of each other. Coordinated inspections use the same inspection team and typically take place on the same day.
System inspections are available for two or more full-service laboratories with highly integrated services that are under the same ownership and administration. This option has specific eligibility requirements for participation.