Thailand's Top Teaching Hospital Achieves CAP Accreditation, Elevating Their High-Quality Education and Care
English | ไทย | Tiếng Việt
Established over 130 years ago, the Siriraj Hospital at Mahidol University in Bangkok, Thailand, was the country's first medical school and public hospital. Today, it's the first teaching hospital in Thailand to achieve Laboratory Accreditation from the College of American Pathologists (CAP). As Thailand's largest tertiary and quaternary-care medical center and the country's top teaching hospital1, Siriraj continues to evolve and transform itself, but one thing remains the same: its commitment to providing exemplary medical services and compassionate care.
Mission-Driven Leaders Focus on the Future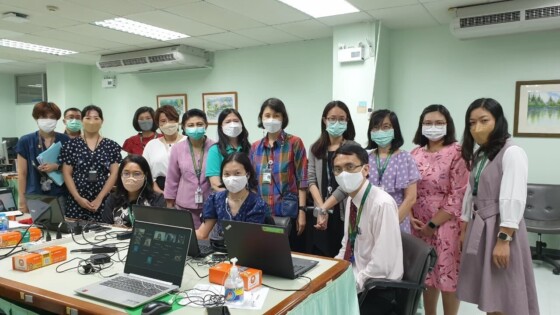 In 1990, Laboratory Director Panutsaya Tientadakul, MD, decided to join the Department of Clinical Pathology as a member of Siriraj Hospital's Faculty of Medicine. She was drawn to the organization's mission to provide quality education, conduct research, and deliver leading medical services. Since then, she has played a pivotal role in helping Siriraj move forward. In fact, she continued the vision of the prior department head (Nisarat Opartkiattikul, MD, PhD) by leading Siriraj's efforts toward CAP accreditation.
One of the reasons Dr. Tientadakul decided to pursue accreditation was to improve the Department of Clinical Pathology's laboratory processes and quality—especially since it was responsible for performing most of the hospital's tests. With more accurate results, the hospital would be able to increase patient safety and satisfaction. She also believed that being recognized as a high-performing organization would attract top clinical pathology residents and medical technologists, while supporting the hospital's strategic objective of being an internationally trusted leader in medicine. Moreover, the CAP's reputation for excellence would support Siriraj's position as the hospital of choice in Thailand.
Last, Siriraj Hospital needed to prove that it met globally recognized standards for quality to improve its chances for receiving international research grants. The CAP Laboratory Accreditation Program has earned a worldwide reputation for excellence because of its high standards with an exclusive focus on laboratory medicine and pathology, and it holds every laboratory to the same standards regardless of location.
Collaboration Paves the Way to Success
After receiving full support and budget approval from the dean and faculty executives, Dr. Tientadakul and her team began their CAP accreditation journey. Their first step was helping staff understand why they were taking on this major initiative. After explaining the benefits of accreditation and how the staff members' day-to-day actions would lead to better patient care, the team was motivated to work toward this ambitious goal.
As the project manager for the accreditation process, Busadee Pratumvinit, MD, was responsible for training the staff and monitoring their progress. She was supported by a core team of dedicated volunteer staff members. Together they studied the comprehensive checklists and helped other team members understand the requirements, then conducted a gap analysis and implemented changes.
According to Dr. Pratumvinit, the team then prepared for the inspection by visiting and consulting other CAP-accredited laboratories in Thailand, including Bumrungrad International Hospital, HIV Netherlands Australia Thailand (HIV NAT) Research Laboratory, US Army Medical Directorate–Armed Forces Research Institute of Medical Sciences, and the HIV/STD laboratory at the Thailand Ministry of Public Health–US Centers for Disease Control (CDC) and Prevention Collaboration. When the staff needed additional support and advice, they turned to their local CAP representative and the experts at the CAP, who are committed to a smooth accreditation process.
The Siriraj Hospital staff also performed a self-inspection using their customized CAP checklist, during which they discovered deficiencies and learned about issues related to high-quality laboratories and patient care.
During the official peer inspection, the entire team gained even more insight on laboratory excellence as inspectors identified other deficiencies and discussed ideas for improvement. This included suggestions based on their own real-world experiences, such as building a computer system to store documents so they can quickly and easily be identified and retrieved. The inspectors also encouraged the Siriraj Hospital staff to focus on continuous improvement after accreditation to ensure the best patient care possible.
"CAP inspectors do more than inspections. They teach, share, and encourage you as colleagues in the field of laboratory medicine," said Apichat Asavamongkolkul, MD, current Dean of Faculty of Medicine at Siriraj Hospital.
I'm confident that being a CAP-accredited laboratory is the best way for continuous improvement.

Dr. Panutsaya Tientadakul
Siriraj Hospital Laboratory Director
Accreditation Drives Insights and Improvements
Along the path to accreditation, the team acquired even more knowledge on the technical and managerial aspects of running a high-quality laboratory. For instance, they learned that proficiency testing/external quality assessment (PT/EQA) specimens can be used for staff competency assessments.
By having all relevant staff—including those working both official and non-official hours—perform PT/EQA analysis, the team was able to improve the reliability and accuracy of their test results for patients. In one instance, after applying for the malaria rapid antigen program, the team learned of incorrect test results. Through problem-solving exercises, they discovered an issue with the test kits. This experience helped the staff understand why the CAP focuses on the quality of the entire laboratory, not just one part of it.
The team also implemented a series of other improvements to comply with the requirements in the checklist. One of the biggest changes they made was establishing a "One Barcode" system, which significantly reduced the number of mislabeled specimens and decreased turnaround time from 50–55 minutes to 44 minutes. Another significant change involved aligning the laboratory's key performance indicators (KPIs) with the checklist. This has helped the team better track patient outcomes, experiences, and satisfaction.
During the accreditation process, the team also discovered that Siriraj's strong culture2, which is based on integrity, respect, and innovation, helped them successfully achieve their goal. Going forward, they expect to implement even more improvements.
Educational Skills Strengthen Laboratory Practice
As a preeminent teaching hospital, education is a top priority. By going through the CAP accreditation process, residents and employees learned not only about laboratory quality, but also about the latest advancements and industry best practices. As a result, the team now has more confidence in the quality of their tests, services, education, and training.
According to the former Dean of Faculty of Medicine at Siriraj Hospital, Prasit Watanapa, MD, PhD, "The accreditation process was a very good experience. It motivated the team and showed them that there is still room to continually improve their processes." The next challenge is maintaining accreditation. But since the CAP provides access to a broad range of resources and annually updated checklists, the team is well prepared to take on this important task.
For others seeking CAP accreditation, Dr. Watanapa, strongly suggests they do it not only for their own benefit, but also for the reputation of the healthcare services for their entire country.
CAP accreditation makes us feel more confident in our services, education and training activities, and quality.

Dr. Prasit Watanapa
Former Dean of Faculty of Medicine at Siriraj Hospital
---
1 Best Global Universities for Clinical Medicine in Thailand. https://www.usnews.com/education/best-global-universities/thailand/clinical-medicine. Accessed December 14, 2022.
2 Siriraj's culture is composed of:
Seniority (Brotherly Love)
Integrity
Responsibility
Innovation
Respect
Altruism
Journey to Excellence and Sustainability