Changing Jobs: Finding the Right Fit
Most of us have heard that one shouldn't have too many jobs/change jobs too frequently, or people will wonder what is 'wrong' with you. Well, I'm proof that you can have 3 jobs in 5 years and still be a 'good' pathologist…at least I hope so!
I do know of people 5 to 6 years out in practice whom have never worked somewhere for more than 18 months, who also have less-than-optimal diagnostic skills or excessively 'eccentric' personality traits. And be aware of this stigma, because if you are going to switch jobs multiple times in a relative short time span, you need to be prepared to face this assumption. And indeed, with my most recent new job, I did.
I was raised and trained in Florida and always hoped to end up back in the Sunshine State near friends and family. But completing a Bone and Soft Tissue fellowship at a time when there were only five in the nation brought me to Pennsylvania, and getting back home to Florida took a little longer than expected.
My first job brought me to San Antonio, Texas, which was funny to my husband and I because when I asked if I should apply to a job in Louisiana, he replied "No, because it's too darn close to Texas!" However, contrary to some opinions, San Antonio was a great place to live and my first job was the perfect place for me after training—busy services, good cases, good colleagues, and people who understood that your first year is the hardest. I will forever be grateful to my colleagues there (shout out to Frank Sharkey, Phil Valente, Amanda Profit). BUT we had no other friends or family nearby, so I started looking for jobs closer to home.
Three and a half years later, I found myself in rural upstate Alabama. This time I was really alone…90 minutes from the rest of the group. Although they were a good group, and the hospital system I worked for was wonderful, and they REALLY needed someone to improve processes, rural Alabama really wasn't for me and my family—I like to say, "I didn't want to judge a book by its cover, but now I've read the book."" Still, after only 11 months, I did not plan on leaving quite yet when I ran into an attending and friend from residency and learned about an open position, back where I had trained. In the end, I was in Alabama for 18 months.
Now I have now been in Florida for several months and I truly hope this was the last move. My forever job. The tough job market and my niche fellowship did not do me any favors. However, I feel that I have only learned and improved with this vast experience in such a short time, and now I can be a better part of this team than I would have been right out of fellowship. NOTE: Yes—they did ask me personally why I had moved around so much and if I planned on leaving again…as well as my references.
This is my story and no two are alike. However, there are often similarities and common things to think about when switching positions. Here are a few pointers/things to think about. My email address is available, so feel free to contact me to bounce some ideas or ask specific questions.
1. Be aware of any time specifications in your contract.
Mine had a two-year clause for which I would have to pay back benefits if I left too soon. A colleague who started at the same time did not have this clause…she was from Texas.
Know how long your notification has to be i.e. 30, 60, 90, or 120 days in advance of departure.
2. Don't tell your current job you are leaving until you sign your next contract.
This may vary depending on your situation and how you interact with your colleagues, but this is a general rule that most follow.
It is acceptable to tell your interviewers not to contact your current employer until you have told them yourself—and they should understand (If not, be concerned!)
3. Once the decision is made, tell your current workplace ASAP.
You don't want them to hear from someone else.
You want them to start looking for your replacement.
Start with the 'highest' boss i.e. Chair, Head of Group (see point #1).
Tell your colleagues and the clinicians you work with regularly.
4. Be careful job searching on "their" time.
You don't want people to inadvertently see your job searches and related materials on your computer screen or via the office printer.
5. Be prepared to explain why you are leaving your current job.
Prepare, even if this is your first switch.
Be honest or don't be completely deceitful—although finessing a 'bad' situation may be necessary. Be aware that they will likely talk to your current employer at some point.
6. Plan time off ahead of time for interviews (aka "vacation").
Don't leave your colleagues high and dry by calling in sick…that's horribly unprofessional and could come back to bite you.
7. Be conscious of not taking on new huge responsibilities when your leaving is imminent/in the near future.
I had to tell the current program director I was leaving (before I told the Chair), because she was informing me about how they were promoting me to that position. I didn't want her to continue thinking this immense load was off her shoulders (as she was also being promoted to another time-consuming position). Plus she was a friend.
8. Make sure everyone has your new contact information.
Consider not just the HR people, but also other colleagues and clinicians who might need to contact you.
Consider an automatic email reply saying something to the effect of "I will be leaving Said Employer on X date. Here is my permanent contact information…"
---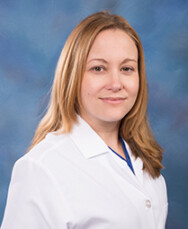 Dr. Riddle is a senior pathologist for Ruffolo, Hooper, and Associates, providing services at Tampa General Hospital, the academic center for the University of South Florida (USF) Health Morsani College of Medicine, where she is also the pathology residency site director. There, she does general anatomic pathology with a focus in bone and soft tissue, neuropathology, and dermatopathology. She is also associate professor, associate residency program director, and program research liaison for the USF Health Department of Pathology and Cell Biology.

Heavily involved in organized medicine, Dr. Riddle is active within the CAP, the American Medical Association, the United States and Canadian Academy of Pathology, and her state pathology and medical societies. She has a special interest in high reliability medicine and creating a culture of quality and patient safety. Dr. Riddle was selected for the American Society for Clinical Pathology's 2018 40 under Forty "Top Five" and Pathologist Magazine's "Power List." In 2021 she was honored with the CAP Resident Advocate Award.