Dr. Emily Volk's Response to The Wall Street Journal on Diagnosing Rare Diseases
In late August, The Wall Street Journal published an opinion piece "Are You Sure You Have Cancer" by Dr. Mikkael Sekeres, a hematologist at the University of Miami. The article generated much debate and concern from CAP members over generalizations of the instances of misdiagnoses and when patients should obtain a second opinion.
I responded to the Journal with a letter to the editor, see below. The letter was in the queue for publication but the editors did not have the space to run it given rapid changes in news coverage and current events. While my letter did not appear on the pages of the newspaper, you can reference it here as part of our work to clear up misconceptions of the practice of pathology and laboratory medicine for our patients.
---
Two statements by Dr. Mikkael Sekeres (Are You Sure You Have Cancer?, Aug. 26) may mislead patients to believe 1 in 5 cancer diagnoses are errant, and thus all cancer diagnoses should get a second opinion. In the case cited by Dr. Sekeres, there is insufficient clinical information to understand where the diagnostic breakdown may have occurred. While it is difficult to judge the clinical significance of the study mentioned in the article, pathology misdiagnoses are rare. They are closer to a fraction of a percent in some studies and nowhere near 20 percent. Indeed, pathologists are physicians, and the practice of patients seeking a second opinion from another physician, no matter the specialty, can be appropriate and impactful. Practicing pathology is the practice of medicine. The process of rendering a diagnosis from a patient's blood or tissue sample is not a simple task. As physicians who specialize in the diagnosis of disease, pathologists have an integral role in determining the right test at the right time. The 2015 Institute of Medicine study Improving Diagnosis in Health Care made several important recommendations that would enhance diagnostics, including coverage of the time spent by pathologists to advise ordering clinicians on the selection, use, and interpretation of diagnostic testing for specific patients. Ultimately, this patient did get the right diagnosis. However, a pathologist's advice at the very beginning could have helped the patient and the hospital physician better understand the initial bone marrow findings and prevented much distress and unnecessary expenses.
Dr. Volk is president of the CAP. You can reach her at president@cap.org.
---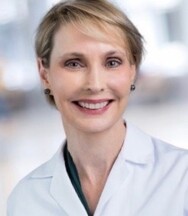 Emily E. Volk, MD, FCAP, is president of the College of American Pathologists and chief medical officer at Baptist Health Floyd, New Albany, Indiana. She is also an associate professor of pathology at the University of Louisville.